I'm Checking A Bag Just So I Can Bring These 10 Products Home With Me For The Holidays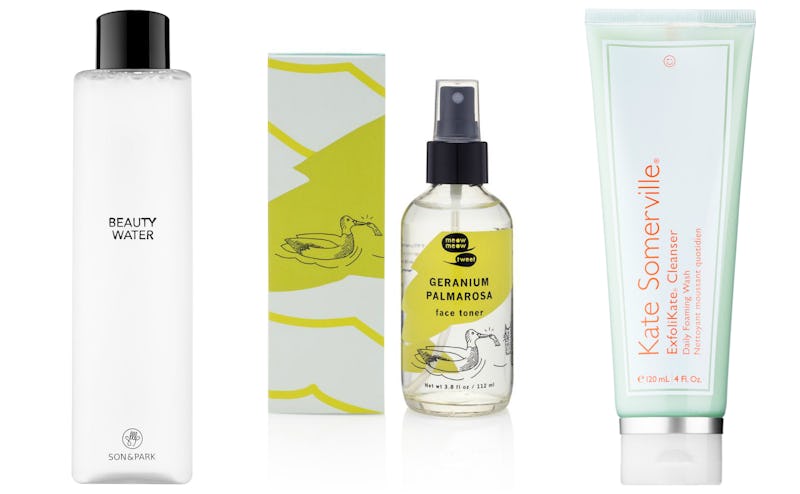 The holiday season can be full of unexpected miracles, but there is one thing the world can always rely on: Me, sweaty and late, rolling a far-too-heavy suitcase through the airport. It's a truth I've come to accept about myself over the years. It's not that I overpack, per se, but that I am far too committed to my full-size beauty products to part with them, even for a week-long journey to an aesthetically low pressure place like Cleveland.
Granted, not all my beauty products make the cut. I purchase some in travel sizes, and some stay home in my medicine cabinet until we can reunite in the new year. However, there are some full-size products that I simply can't sacrifice for the joy of having a light, breezy carry-on bag situation. Instead, I check a bag, refusing to conform to TSA's oppressive three ounce liquid rule. I'm not exactly proud of it, but I refuse to be ashamed. Some may even call me a hero.
This year, my checked bag is going to be stacked with effective skin and hair care to get me through all of the long dinners, bourbons, and sugar I'm bound to consume from December 20 to December 29. Considering the epidermal aftermath of that kind lifestyle, I figure that the 25 dollar checked bag fee will be the best money I've ever spent.
Meow Meow Tweet Geranium Palmarosa Toner
Geranium Palmarosa Toner, $24, Meow Meow Tweet
I recently discovered the Meow Meow Tweet brand and was instantly impressed — it's a small batch vegan skin care line that uses all natural and organic ingredients, and their products are very affordable. There is a travel size of the Geranium Palmarosa Toner (all of their products are designed as if they are a "modern culinary dish"), but with the amount I use it, I'll be requiring the full 3.8 ounce bottle for my trip home, TSA regulations be damned.
Arbonne Rescue & Renew Mask & Bath Soak
Rescue & Renew Detox Soak, $38, Arbonne | Rescue & Renew Detox Mask, $44, Arbonne
I will admit that traveling with a glass container full of bath salts is slightly dramatic, but imagine how clutch it's going to be after a stressful political discussion at a family dinner. The Rescue & Renew Detox Soak contains turmeric, which helps boost skins radiance while the sea salt removes surface impurities. It's a perfect companion for the French pink clay mask with rosemary oil. You'll emerge from the bath with soft, glowing skin — and maybe even a fire response to that comment your uncle made about Black Lives Matter.
Kat Burki PH+ Enzyme Essence
The Kat Burki PH+ Enzyme Essence, $100, Kat Burki
I'm not sure how to fully describe all the ways in which this peculiarly hued produce has improved my skin (seriously, don't let the color turn you off). I use it after toner to return my skin to its perfectly pH balanced state before moisturizer, and the results include smoother, more even skin. I simply can't be without it — even if it means I have wrap it in bubble wrap and pay for it to go below deck.
Snow Fox Skin Care Soothing Facial Mousse
Snow Fox Soothing Facial Mousse, $35, Snow Fox Skincare
The Snow Fox brand is one of my newest skin care discoveries, the Soothing Facial Mousse is truly a wonder for sensitive skin. I like to use it in the morning, when I don't need a ton of cleansing but do need to get rid of the product buildup from my nighttime skin care routine. It also comes in travel sizes — I just happen to have the full size one, so it's just going to have to come along.
Kate Somerville ExfoliKate Cleanser & Moisturizer
Kate Somerville ExfoliKate Cleanser, $38, Sephora | Kate Somerville ExfoliKate Glow Moisturizer, $65, Sephora
One my fellow Bustle beauty editors, Sara Tan, has the most incredible skin I have ever seen. She also highly recommends Kate Somerville's ExfoliKate products — and since her forehead literally looks like it's made of glass, who am I to not follow her instruction? I use the ExfoliKate Cleanser as part of my nighttime skin care routine, and the Glow Moisturizer each morning. If I didn't take it home with me for the holidays, my skin would be an unholy mess by the time I returned.
Son & Park Beauty Water
Son & Park Beauty Water, $30, Sephora
I am always shocked when I use Son & Park's Beauty Water — I wash my face diligently, put some of this on a cotton pad, and swipe it across my face. The amount of dirt that remains on my face after a thorough cleansing is made apparent to me, making Beauty Water basically invaluable. Sure, I could decant some of this into a smaller, carry-on friendly bottle — but why would I?
Origins Smoothing Souffle Whipped Body Cream
Origins Smoothing Souffle, $35, Origins
It's been a challenge for me to find a body butter that doesn't feel too heavy or make my sensitive skin break out into hives — Origins Smoothing Souffle is the one for me. The super lightweight, whipped formula feels like nothing once it's rubbed in, and the mint inside of this particular blend leaves my skin feeling refreshed and cool. Great work, Smoothing Souffle: You have secured yourself a place in my 300 pound suitcase.
Function Of Beauty Custom Shampoo & Conditioner
Personalized Shampoo & Conditioner, $26-$38, Function of Beauty
I almost wish I'd discovered the glory of Function of Beauty after the holidays, so I wouldn't be forced to travel with them. How can I be expected to live with just a small, travel-size amount of my custom made shampoo and conditioner? Yes, I am a diva, but don't judge: All of Function of Beauty's products are custom blends (there are over a billion combinations). You take a personalized quiz to determine your hair goals, and based on your responses you get a shampoo and conditioner set tailored to your specific needs.