Immigrant Teens Say Abuse By Detention Guards Included Strapping Them To Chairs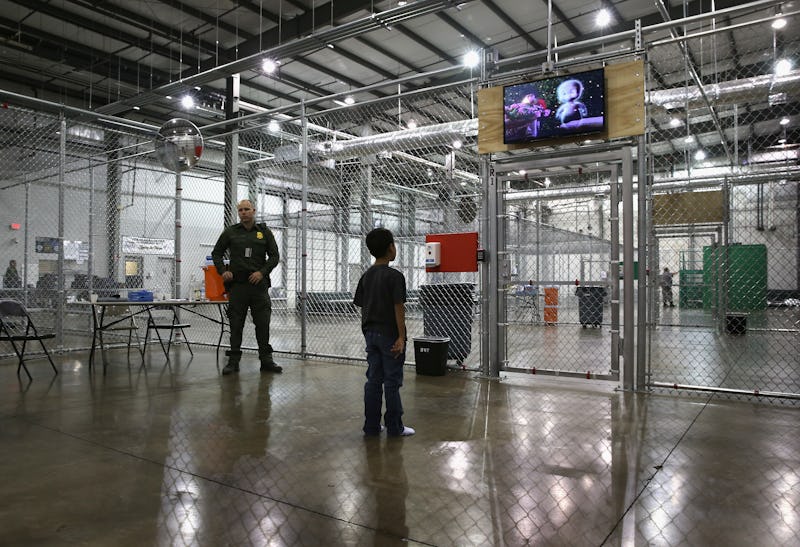 John Moore/Getty Images News/Getty Images
Immigrant teens held in U.S. detention centers allege in a new class-action lawsuit that guards restrained them in metal chairs and forced them to wear "spit masks" over their faces, according to The New York Times. Immigrant teens claim the restraint chairs were used as a form of punishment for detainees with behavioral problems.
The teens were held at the Shenandoah Valley Juvenile Center in Virginia, which holds both Americans and undocumented immigrants who have "emotional, behavioral, and psychological issues," The Times reported. Undocumented immigrant teens housed at these facilities might also have a history of violence or may be believed to have a gang affiliation.
Bustle has reached out to the Office of Refugee Resettlement (ORR) and to the Shenandoah Valley Juvenile Center for comment. Kenneth J. Wolfe, a spokesman for the Administration for Children and Families, which oversees ORR, told The Times that they take action when there are claims of abuse and added:
Our office also conducts federal monitoring visits and medical reviews, and takes seriously the responsibility of caring for each child.
One detainee, identified as R.B. in the lawsuit, was sent to the Shenandoah Valley Center for "behavioral problems," The Times reported. He alleges in the lawsuit that guards subjected him to extreme solitary confinement, which made him so isolated and angry that he often fought with other inmates. "They locked me in a room that was 8x10, or maybe 8x16, for 23 hours a day, all by myself," he said.
Guards reportedly used mesh spit masks, which cover the entire head and face, on teens and children whom they suspected would try to spit on them. And teens claimed in testimony that guards also use a metal chair chair that restrains detainees with padded straps at their wrists, ankles, and waists.
In June, a Honduran detainee, who was 15 when he was held at the facility, described the chair and the mask in his sworn statement, according to the Associated Press:
Strapped me down all the way, from your feet all the way to your chest, you couldn't really move. ... They have total control over you. They also put a bag over your head. It has little holes; you can see through it. But you feel suffocated with the bag on.
A former child-development specialist who worked at the facility also told the Associated Press that she saw kids there with serious injuries. And despite President Trump claiming that Border Patrol agents are "cracking down" on gang members, Kelsey Wong, a program director at the facility told the Associated Press the children are not gang members, but have actually developed mental health problems as a result of trauma they experienced in their home countries. She told the AP:
The youth were being screened as gang-involved individuals. And then when they came into our care, and they were assessed by our clinical and case management staff ... they weren't necessarily identified as gang-involved individuals.
Many of the children and teens also said they were treated much differently than the white children housed at the facility. The immigrant detainees claimed they were segregated from white detainees, whose units reportedly had "plush chairs and video gaming consoles," the AP reported. Although U.S. children reportedly had a large recreation yard, some of the Latino children alleged in statements that they weren't allowed outside for the duration of their detainment.
Virginia Gov. Ralph Northam announced an investigation into the Shenandoah facility after the Associated Press initially reported allegations from detained immigrant teens in June. The investigation is ongoing, as is the class-action lawsuit.