These Attorneys & Journalists Reportedly Can't Enter Mexico To Meet With Asylum Seekers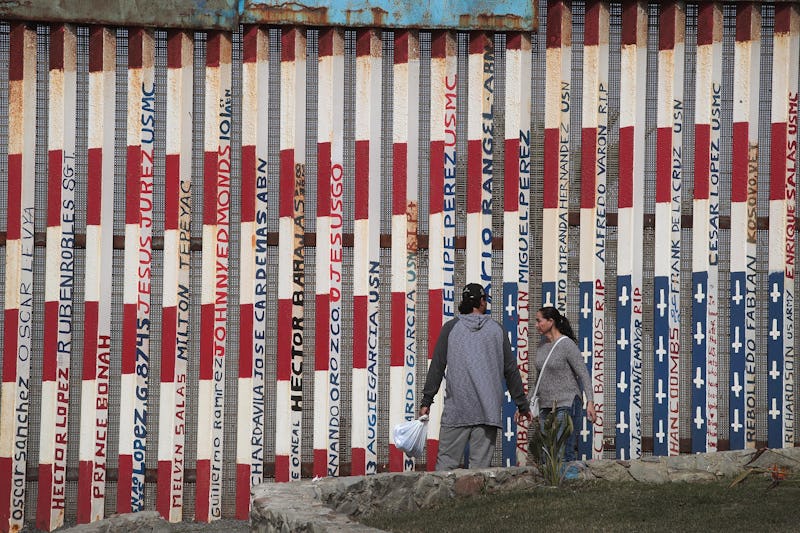 Scott Olson/Getty Images News/Getty Images
Prominent lawyers working for immigrant rights group Al Otro Lado and journalists covering the migrant caravans from Central America have been "flagged" and were unable to enter Mexico in recent days, The Los Angeles Times reported. These immigration attorneys and journalists were denied entry into Mexico just as the Trump administration started to enforce a new policy making asylum seekers remain in Mexico while their asylum cases move forward in the United States.
Mexican officials told those affected that their passports had been flagged with alerts by another government, and at least one was told it was the United States.
A spokesperson for Customs and Border Patrol (CBP) told Bustle to reach out to the Mexican government as to "reasons why these individuals were not permitted into their country" and said CBP "did not pass any form of security alerts to the Mexican government on these individuals." Bustle reached out to the Mexican Embassy in D.C. for comment as well as Interpol, the U.S. State Department and the Department of Homeland Security (DHS).
Four people described their experiences to The Times, two attorneys and two journalists. Both attorneys work for Al Otro Lado, a non-profit based between Los Angeles and Tijuana that has given legal advice to migrants in Tijuana and has criticized the Trump administration for policies like family separation, and even sued the government for violating the law.
Al Otro Lado's legal and litigation director, Nora Phillips, flew to Guadlajara, Mexico, on Thursday just for a vacation with her husband and 7-year-old daughter. She told The Times she and her daughter were detained for nine hours on a cold floor without food or water and she was then sent back to Los Angeles.
"I think this is retaliation," Phillips told The Times. "I think this is because we sued the U.S. government. I think it's that we're pointing out gross, flagrant human rights violations being committed by the U.S. government, and they don't like that."
Erika Pinheiro, Al Otro Lado's policy and litigation director, told The Times that she was trying to enter Tijuana, where she lives, on foot when she was turned back. She said she was not even allowed to go pick up her 10-month-old who is a dual Mexican-American citizen and was in Tijuana at the time.
The journalists involved, Canadian-American dual citizen Kitra Cahana and Spanish citizen Daniel Ochoa, both described similar instances. Both had followed the migrant caravan to Tijuana and had been photographed by U.S. Border Patrol agents during their work. They'd also had their passports taken and photographed by Mexican police, they told The Times.
Cahana is the one who told The Los Angeles Times that Mexican officials told her "the Americans" had placed the Interpol alert on her passport when she flew into Mexico City from Detroit. She has also tried to cross via the border with Guatemala and was detained and denied entry. Cahana is a freelance photographer whose work has appeared in The New York Times and National Geographic.
Tuesday marked the beginning of the Remain in Mexico policy when a Honduran man who applied for asylum at the border was sent back into Mexico to wait while his court case progressed. Migrant advocates have said they plan to challenge the policy in court when they've gathered enough evidence about how the policy, officially deemed "Migrant Protection Protocols" or MPP by DHS, is being carried out.
Nicole Ramos, an attorney who works for Al Otro Lado, tweeted about the "dramatic irony" of the timing. "The US government flags my co-directors' passports so Mexico will deny them entry during the same week that MPP is unveiled at the Tijuana border, while at the same time telling asylum seekers kicked back to Mexico to go to the offices of @AlOtroLado_Org," she wrote. "Dramatic irony anyone?"
In other words, asylum seekers are being sent back to Mexico — but lawyers who represent them and journalists who might document their plight can't go with.