Why Blake Lively Loved Playing A Villain In 'A Simple Favor'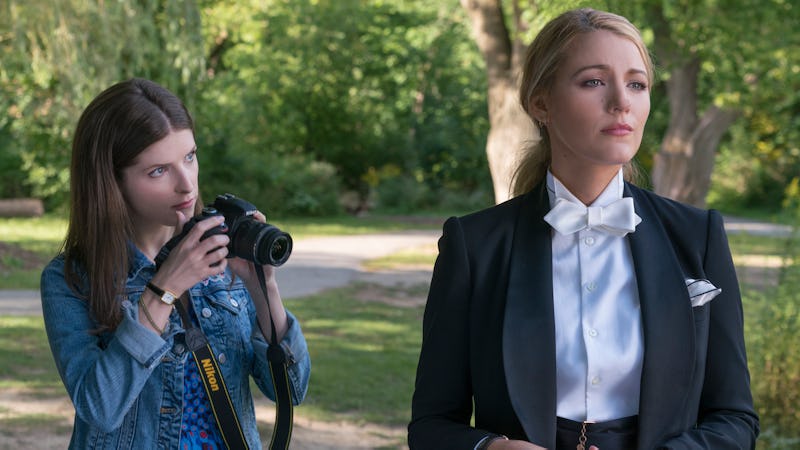 Lionsgate
Small spoilers ahead. In her new thriller A Simple Favor, Blake Lively takes on a role that's completely different from any she's played before: the villain. Emily isn't your traditional bad guy though, as she earns the trust of mommy vlogger Stephanie (Anna Kendrick) by exposing her supposed pal's vulnerabilities. But when Stephanie does Emily a favor by picking up her son from school, Emily disappears — and it's revealed she's hiding a nefarious plan. At the red carpet for the September world premiere of A Simple Favor, Lively told Bustle just how much she loved portraying such a a dark, complex character.
"Every villain is the hero of their own story, right? So she just knew why she did what she did, she did it with conviction, and she just did it unapologetically and I loved it," explained Lively.
A Simple Favor marked an on-screen first for the actor, but it also was a milestone for director Paul Feig. The filmmaker is known for comedies, such as Bridesmaids, Spy, and the Ghostbusters reboot, and so this was the first time he deviated from the genre. But even though the movie might feel very different to viewers than Feig's previous work, he assures Bustle that it wasn't actually as different to film because there were still many fun, humorous moments that shined through in Lively and Kendrick's performances.
"It was fun, because normally we'll do a lot more improvisation. This was so tightly scripted. But still, within that, we found ways to do it, because Blake and Anna are so inventive that way, and they would just change things up, or change the performance sometimes," explains Feig on the red carpet. "They'll go like, 'Let's play it really awkward this time,' 'Let's play it over-the-top this time.' So you're constantly being surprised by it as a director, definitely, and that's where the humor comes from."
A Simple Favor centers around Emily and Stephanie's dynamic, showing how Emily is able to manipulate her friend and the impact that Emily ends up having on her life once she's vanished. But one of the most surprising aspects of the women's relationship is how Stephanie goes through an intense transformation, shedding her "perfect mom" persona and adopting Emily's traits she most admired. And (spoiler) in the midst of Stephanie's transformation is Sean, Emily's husband, played by Crazy Rich Asians' Henry Golding. Without his wife around, Sean finds solace in Stephanie…and more.
"He's a guy who's stuck in the middle of these very two, strong, contrasting women," explains Golding, speaking at the premiere. "Blake and Anna bring such life to these characters, so they really do steal the show, so it's nice to sort of be that guy that is somewhat fought over, but not at the same time. You don't quite know where he stands."
It seems that both the movie's cast and director got pushed out of their comfort zones to explore darker sides of themselves for A Simple Favor, and as a result, audiences will leave the intense, thrilling movie wondering who they can trust.