Gretchen Carlson Wants You To Share Your Sexual Abuse Stories, But She's Missing A Huge Point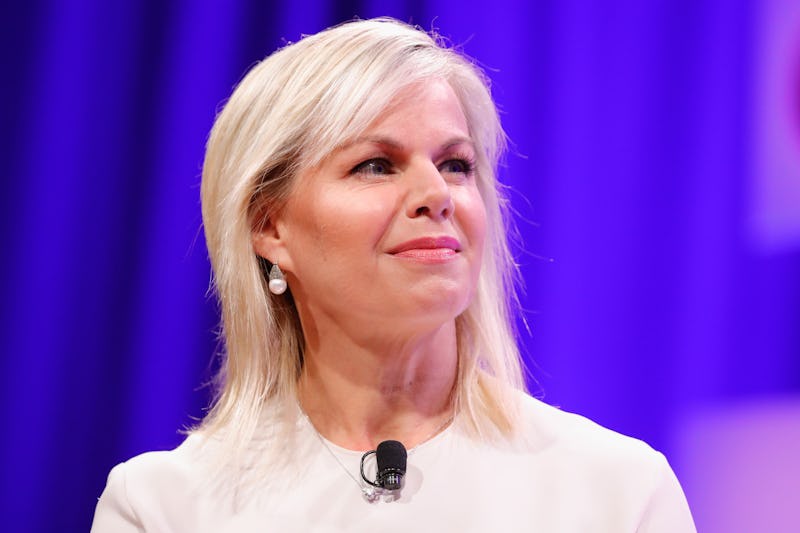 Paul Morigi/Getty Images Entertainment/Getty Images
Until recently, sexual harassment in the workplace has been swept under the rug. It was viewed as a commonplace experience — something that women were expected to grin and bear if they wanted to be successful in their professional lives. Information about men was spread via whisper networks, flying below the radar of human resources and management. But in recent weeks, the #MeToo movement has spread in an effort to get more people speaking openly about their experiences with sexual harassment and abuse — in the workplace and beyond.
As millions of women already know, and as journalist Gretchen Carlson reminds us in her new book Be Fierce: Stop Harassment And Take Your Power Back, sexual harassment can happen to anyone — no matter their background, no matter what their wearing, no matter their age. In Be Fierce, her second book, Carlson tells the stories of women from across the country whose experiences with sexual harassment or assault haven't made national news.
A former Fox & Friends host and 1989 Miss America, Carlson came to the forefront of the workplace harassment debate when she filed a sexual harassment lawsuit against her former employer, ex-Fox News CEO Roger Ailes, in June 2016. The suit was settled out of court a few months after she filed, and Ailes later resigned his position. In the months that followed, Carlson says she found support from women who shared similar experiences. "I learned that every woman has a story," she writes. "People came up to me in restaurants and airport lounges, plopped right down and started talking."
As part of the settlement, Carlson signed a nondisclosure agreement with Fox, so if you picked up Be Fierce in search of juicy details from her case, you're going to be disappointed. In fact, Carlson doesn't talk much about her years at Fox News at all in the book. She does, however, talk about her life as Miss America, an experience she says provided her "a tremendous amount of opportunity" but also made some people feel as if she had "agreed to be objectified." She explains that, as Miss America, she "had become a target on which men could and did project their true perceptions of women."
Be Fierce by Gretchen Carlson, $18.88, Amazon
In one particularly powerful anecdote, she opens up about "an important television executive" who asked her to dinner to talk about her career. In the car on the way home, he lunged at her. "His mouth pressed against mine, and he jabbed his tongue down my throat," she writes. "Shocked and horrified, I wrestled out of his grasp… I felt stupid and unnerved… How had I believed he was truly interested in my talent?"
However, Carlson's personal stories are rare. Instead, in Be Fierce, she chooses to share the stories of the women who opened up to her about their own struggles after hearing about hers.
One woman told Carlson of the first business trip she took as an employee of her advertising firm. It began harmlessly enough — two of the top executives asked her to dinner. No problem, right? But then things turned ugly. "At one point, she said, they started to write a list on a cocktail napkin of the things she could get for sexual favors, such as a raise and an office with a window," Carlson writes.
All of the women's experiences, Carlson points out, are "one piece of a much larger issue related to all efforts to disempower women, especially in the workplace." Every time a man feels ownership over a woman, which manifests as sexual harassment and assault, his actions play into the larger scope of rape culture.
Sexual harassment and rape culture are inextricably linked through men "demeaning women for power," Carlson writes. Every woman who is affected by sexual objectification and harassment at work is stuck in a catch-22: either put up with the harassment and continue to feel unsafe in their environment or report the incident and face retaliation that, in many cases, negatively impacts their career and livelihood.
Carlson reminds women that they "have a right to excel without malicious interference" and "to be treated with respect in [their] professional and personal lives." This, she says, can be accomplished by consistently standing up for yourself when treated unfairly at work and by thoroughly documenting every instance of harassment in order to have enough proof to file a lawsuit.
However, it's this "report it, report it, report it" mindset that proves to be the biggest downfall of the book. It simply doesn't have much consideration for women who are financially unable to take legal action or can't afford to risk losing their job or other be otherwise punished, overtly or subtly, for reporting the harassment or assault. According to the Equal Employment Opportunity Commission (EEOC), one in four women reports facing sexual harassment at work, but only between 7,000 and 8,000 sexual harassment claims are filed every year.
Be Fierce is certainly not perfect. The assumption that most women who experience sexual harassment have the means to hire a lawyer and risk their employment is unrealistic. The EEOC reports that in 41 percent of families with children, women are the primary breadwinners. Too many women can't afford to lose their jobs.
But of course Carlson doesn't have all the answers. If she (or anyone) did, discrimination against women would be solved and rape culture would be a thing of the past. Regardless of its flaws, Be Fierce is an important book, if only because it encourages conversation — something that the #MeToo movement has proven to be incredibly powerful.
By coming forward with her own experiences, Carlson writes that she "decided to jump off a cliff, all by myself, with no safety net and no way of knowing what would lie below." In sharing her story — and in searching for the stories of others — she is phenomenally and extraordinarily courageous.
Be Fierce by Gretchen Carlson, $18.88, Amazon