Michaela Coel's New Musical Role Made Her Uncomfortable & That's Exactly What She Wanted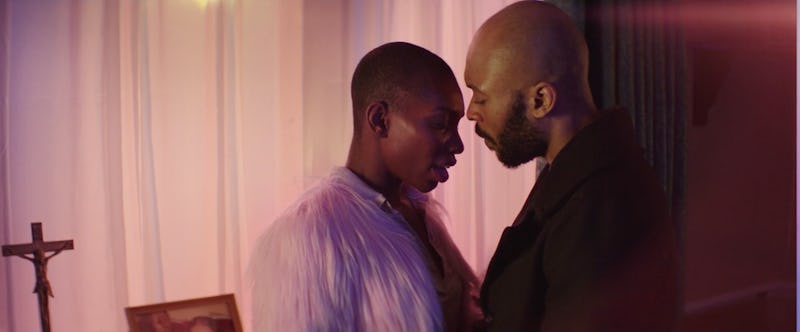 Netflix
This has been a huge year for Netflix's original romance flicks, but the service hadn't served up a romantic musical — until now. The Netflix musical Been So Long is adapted from the 2009 British stage musical, which itself was adapted from a 1998 play. Both the musical and the movie feature an all-black cast, but this new version, out Oct. 26, brings in brand new talent, including Chewing Gum star Michaela Coel. In that series, which she also wrote, she plays a socially awkward young woman trying to break free from her religious upbringing. She even sings the show's theme song. But though she's shared her musical talents before, with Been So Long, Coel was pushed her out of her comfort zone.
"I used to sing before I was an actress. I was a singer and a poet," says Coel speaking over the phone from London. But making this movie was unlike any other singing experience she had before. "It was very new, and I liked the new things and I like being uncomfortable as much as I like making other people uncomfortable with Chewing Gum. This was a great chance to try and learn new skills and be confident with them."
In the film, Coel plays Simone, a single mother who is focused on taking care of her daughter rather than letting loose and reviving her love life. This all changes when her friends force her to go out for the night, where she meets Raymond (Arinzé Kene), a charming, good-looking man who has just been released from prison. The film, much like the hit musical it's based on, involves gorgeous, elaborate dance numbers, as it takes viewers on a vibrant journey through Simone and Raymond's romance. Though this isn't Coel's typical role, the actor felt it was a very important story to be involved in.
"This was very special because the heart of it was working class Camden, the heart of it was a single mother, as my mom was a single mother, who has a lot of barriers and lots of defenses and that's what was special about this particular musical," says the actor. But don't expect to see Coel on Broadway or The West End anytime soon. "I can't say that I'm going to be doing Cats or Les Mis, that's probably not my calling," assures Coel.
Coel's character Simone seems so different on the surface from the actor's other roles because of her unique experience as a single mother who had to mature quickly, but there are many aspects of her that resonate with the actor. "I think she's very strong. I think she doesn't shy away from love because she's insecure. She shies away from love because she doesn't believe in it," she explains. "She's a bit of a cynic. But realizes she needs to change her mind."
Coel has often portrayed strong, independent characters, but she believes there's more to that side of them that's worth exploring, revealing that they're actually not as strong as they appear to be. And this is something that she sees in Simone, too.
"I think normally whenever there's a strong independent character, it means she's incredibly broken and vulnerable," notes Coel. "That is probably the common thread through all of my characters. You may look on the surface and see strong, but it isn't strong, it's been broken and trying to gather parts of your life to make it look like a life. That is something that runs through every single problem, I'd say. And I think that's something that runs through the entirety of humanity."
The actor has officially closed the door on making more Chewing Gum, leaving just the existing two seasons for fans to rewatch. But now she can shift her focus to working on projects that will take her in different directions than those she's used to. No doubt she'll continue to play characters who show the innate duality of strength and vulnerability that has already made viewers fall in love with her work.