In An Era Of Body Positivity And Inclusion, Why Are We Still Screwed Up About Feet?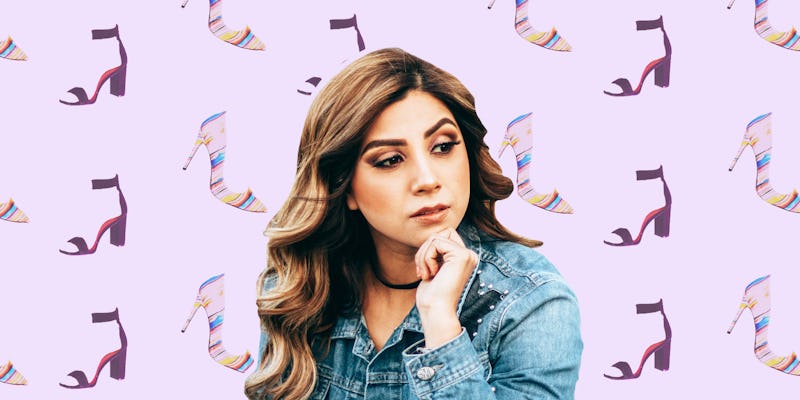 Austin Courrege/Bustle
Back in February, Maya Rudolph and Tiffany Haddish broke with tradition by donning matching fuzzy slippers on stage while announcing an award together at the Oscars. When Haddish cracked a joke about her designer shoes causing her pinky toe to fall off, the audience — and certainly plenty of people watching from their couches — erupted in knowing laughter. Seventy-three percent of women wear high heels, which means that most of us intimately understand Haddish's pain. We've been there and suffered through it, too.
Feet are made up of 26 bones, 33 joints, and over 100 tendons and ligaments, and they are also perhaps our most regularly injured body part. From the unbearable pinch of a pointed heel, to blisters that can't be contained by a single — or even four — BandAids, to lost toenails or bone protrusions, countless women have experienced pain and even deformities brought on by years of wearing strappy, high-heeled, poorly constructed, too-tight footwear. But, for women with larger than average sized feet, this pain can be compounded by an intense feeling of alienation and shame. The "ouch" isn't just physical — it's emotional, too.
Like women with larger bodies, women with larger feet are sometimes made to feel bad about literally not "fitting in." Liz Wiltsie, who was sharing shoes with her mom by the time she was 9 years old, recalls going to shoe stores as a teenager and feeling mocked by salespeople who scoffed at her size.
"They'd look at my feet, then look at my face, and ask, 'are you sure?'" she tells Bustle.
Wiltsie, who now wears a size 11, sometimes 12, says that, to add insult to injury, she often went home without a new shoebox. Because few brands manufacture shoes above a size 11, out of desperation, Wiltsie says she would occasionally force her feet into shoes that were too small and painful, just to have something to wear.
"I would tell myself, some shoes aren't supposed to be comfortable. You're not supposed to be able to walk that far while you're wearing them," she said.
Thankfully, amid the current cultural shift toward body positivity and inclusion, there is a silver (shoe) lining: Brands and designers are starting to recognize the need for a broader range of shoe sizes, and trendy online retailers are creating custom, beautiful, and occasionally affordable options for women with larger feet. While the shopping experiences of her younger years still stand out in Wiltsie's mind, in 2018, shoe departments have started slowly transforming into a safer place for women of every size to shop.
"It's near constant repetition of the same thing: 'Damn, what size do you wear?'"
The idea that women are supposed to love shoes is drilled into us at an early age, from Dorothy's ruby-red slippers to Cinderella's glass ones, Barbie's hot pink pumps to Elsa's shimmering snowflake heels in Frozen. As we get older, the suggestion that women don't just love, but are obsessed with shoes — the more frivolous and expensive, the better (think: Carrie Bradshaw's engagement Manolo Blahnik, Cher's Clueless selection, or Kris Jenner's closet situation) — remains a relative constant, as well. As is the idea that splurging on shoes is a form of self care, when for some women, it can be anything but.
For women with larger feet, casual shoe shopping is not a fun, Saturday afternoon excursion — never mind an orgasmic, life-altering experience— but rather an arduous, sometimes humiliating task. And a lot of that has a lot to do with how women with large feet are treated by loved ones and strangers alike.
Sydnee Lloyd, 26, tells Bustle that she takes special care not to leave her size 11 feet open for comment in social settings, because she's been the victim of countless rude and unsolicited comments. "If I'm hanging out with a group of people and everyone is taking their shoes off, I'll put mine somewhere that they're not the center of attention, because the questions get annoying," Lloyd says. "It's near constant repetition of the same thing: 'Damn, what size do you wear?'"
Lloyd has experienced this kind of shaming in her love life, too. "I've had partners who are embarrassed that they have smaller feet than I do," she says. "I'm like: I'm sorry, I didn't realize this was your problem." It's no wonder that the way guys react to her foot size has become a barometer for whether or not they're someone she'd like to see again.
While Lloyd may still feel stigmatized by her foot size, more women than she might expect share in her pain: A century ago, most wore a 3.5 or a 4; by the 1970s, the average climbed to a 7.5. Nowadays, the majority of women — around 70 percent — are in the ballpark of 8.5 or 9, while an estimated 11 percent of women wear size 10 or up.
"I detest shopping — I'll go to DSW and they'll have rows and rows of cute, pretty, eye-catching shoes and none of them are close to being in my size."
Just this month, Jeffrey Campbell announced they would be launching a capsule collection of shoes meant to meet the needs of plus and extended size consumers. While the launch will take place sometime this spring, the actual details, like sizing and pricing, are still under wraps. But while the brand's size inclusivity campaign is sign of progress, it's also evidence of just how limited the options for women who wear extended size shoes actually are. There are 554 shoes currently available on the Jeffrey Campbell website, but the new collection that — as the brand put it on Instagram — is made to fit "everyBODY," only includes five styles total. (Jeffrey Campbell did not respond to requests for comment. *UPDATE*: Jeffrey Campbell's creative director, Sanam Sindhi, tells Bustle via email, "We cannot give too many details about the collection at this time but I can confirm that there will be boot options as well as some mules for those with wider feet. We are taking our time with this as it is important to us to make sure that we do the best job possible but also stay receptive to feedback and criticism. Since this is our first time making a size inclusive shoe collection and there is no formula to follow, we are looking to our customers to let us know how we can change, improve, and cultivate a community based brand that makes everyone feel good.") Imagine walking into a store and finding that only .009 percent of anything on the shelves fits your foot.
"It's almost like cute things are not something I'm supposed to have as footwear," Anna Goldfarb, a writer based in Philadelphia who wears a size 12, tells Bustle. "I detest shopping — I'll go to DSW and they'll have rows and rows of cute, pretty, eye-catching shoes and none of them are close to being in my size. It feels so blatant, like: It's not for you. It's something I'm very self conscious about."
"A friend of mine has been talking about this radical, experimental surgery to make your feet shorter and smaller. ... It sounds like the most risky, painful thing imaginable."
If there's a body part women feel ashamed about, there's likely a doctor who will try to fix it for them. Hence the rise in cosmetic foot surgeries, like The Cinderella Procedure, which shapes your foot to fit more comfortably in high heels, or The Perfect 10, which is a shortening of the toes. Dr. Yolanda Ragland, the founder of fixyourfeet.com, she said that she hadn't come across anyone — doctor or patient — who would remove a toe or two to so that a foot would fit into a Manolo (she also wonders what doing so would mean during sandal season). But, she does have plenty of patients who come to her with cosmetic concerns about their feet, such as bunions and hammertoes, which she corrects with her signature "Tiara Toe" technique.
Ragland, whose medical mantra is to provide necessary surgery that also has a cosmetic result, notes that often the women who come to her are wearing ill-fitting shoes for a variety of reasons — including a general lack of knowledge about how much foot pain is normal.
"A lot of people are under the impression that it's shoes that cause bunions and hammertoes," she says — and sometimes that's true. But more often, Ragland explains, too small shoes exacerbate a pre-existing problem, rather than being the root cause. Still, she estimates that ill-fitting footwear is the reason that patients walk into her office with foot issues about half the time.
"Shoes that are too small and constrict your toes can wind up giving people hammertoes or corns eventually," Ragland says. "Down the line, it's definitely going to be painful, and if you don't like how your feet look, that's going to require a repair."
Societal expectations around feet aren't particular to one segment of women, either, and while cosmetic foot surgery may seem over-the-top for some, it can be wholly necessary for others.
"For somebody who was assigned male at birth, my feet are actually quite small for my height," Katelyn Burns, 36, tells Bustle. For that reason, Burns, who wears a size 12, considers herself lucky compared to some of her friends in the trans community who have sought out foot surgery as part of their transition. "A friend of mine has been talking about this radical, experimental surgery to make your feet shorter and smaller," she says. "It makes me think of foot binding. It sounds like the most risky, painful thing imaginable."
"My whole life was influenced by the struggle and pain of not being able to find shoes in my size."
There's a simpler option that doesn't involve going under the knife: Shoes can catch up with the times and become more size inclusive. Thankfully, the demand for larger stylish footwear and the desire to promote a more diverse beauty ideal have created a small, but extremely necessary wave of bespoke retailers who are making custom shoes for larger feet. Oftentimes, these brands are even founded by women who have experienced the physically and emotionally painful aspects of having larger feet firsthand, and therefore know exactly what their customers need.
As a little girl in Poland, Monika Kusinska remembers wearing shoes that were too small and also thinking that discomfort was just part of being a woman; later, when she moved to London to study fashion in the '90s, she started realize that pain caused by shoes didn't have to be normal — but not before poorly fitting footwear did enough damage that she ultimately had to have surgery, at 23, to treat her bunions.
"My whole life was influenced by the struggle and pain of not being able to find shoes in my size," Kusinska tells Bustle. When she moved to New York in the early 2000s and switched from working in the apparel industry to footwear, she started to understand why women's shoes are so painful — they're simply designed incorrectly, especially as they size up.
"I was going to factories all over the world, and I realized that they were getting the concept of grading wrong," says Kusinka.
"How many times have we walked home with our heels in our hands? Most people don't even know what good feels like."
As with most body parts, a "one size fits most" measurement for feet doesn't really exist. If a shoe fits in the length, it might be too large in width, but, as Kusinska points out, the need for a wider fit doesn't always translate to a a longer foot. "People think that size is proportionally scaled up," she says. "But a lot of feet are longer, not necessarily bigger [all over], and so a lot of larger shoes are poorly constructed, and just too wide."
Getting it right requires a shoe producer that is committed to serving the needs of this underserved consumer by investing in a less potentially lucrative niche market — a challenge that Kusinska, who wears a size 12, ultimately decided to take on herself. Her company, Autograf, launched in 2014 and focuses on offering chic, practical options for the extended size market. The aim is to show shoppers that they don't have to sacrifice comfort for style.
Another pioneer in the extended size shoe industry, Jodie Fox, one of the co-founders of Shoes of Prey, is also adamant that there is just no such thing as "standard" feet. Her company designs custom footwear in a vast variety of styles and sizes that can be shipped anywhere in the globe within two weeks. The business model is predicated on the statistic that 77 percent of women are a non-standard size, and that it's ill-fitting shoes that are the problem, not women's feet.
"While about one-third of the market wears a size 8 — which is no doubt a lot — if you separate out size from width, the graph starts to flatten out," Fox tells Bustle.
Internally, Shoes of Prey refers to every one of their customers as Cinderella (clearly a common trope in foot-related industries): Each and every person deserves a perfect fit.
"How many times have we walked home with our heels in our hands?" Fox says. "Most people don't even know what good feels like."
Unfortunately, feeling good still comes at a price. A pair of custom-made shoes by Shoes of Prey starts at three figures, which Fox acknowledges will be expensive for some, but, she notes that customers will greatly benefit from not just reaching for what's on the shelf. "We really are making one pair of shoes at a time, so there is of course a different comparatively with off-the-shelf products," she says. The platform also has a generous return policy, which gives consumers some wiggle room.
"If I want something that's trendy and cute, I'm know I'm spending $150."
But even if you can afford to drop hundreds of dollars on a pair of perfectly fitting shoes, that doesn't mean that you don't wish for lower-priced options. "I've always spent more money on shoes than my friends," Wilstie says. "If I want something that's trendy and cute, I'm know I'm spending $150."
Similar to the other size inclusion efforts happening in the fashion industry, some women suggest that a better case scenario would be for existing brands to rise to the occasion and actually meet this consumer need — an act that would go a long way in normalizing larger sized feet and start to take some sting out of the stigma, not to mention some anxiety out of reviewing your credit card bill.
There are some stores that are already meeting the needs of this market — the women Bustle spoke to for this story referenced Payless ShoeSource, the U.K. site Long Tall Sally's, and Nordstrom (as well as Nordstrom Rack) as go-tos, as well as various online sites where they could filter first for size, like Zappos and Macy's. Brands like Old Navy can go up to a size 11, and the sneaker market is much more shoppable than other styles. It also helps that, as gender-neutral clothing becomes the new normal, "men's" shoes are an increasingly acceptable and often fashionable choice for women.
For now, many women with larger feet still feel a painful apprehension upon entering a shoe store. Burns shared a story about the first time she went to buy a pair of shoes after her transition: She was at a Nordstrom in San Francisco and fell hard for a pair of black leather heels. When the associate brought them out in a size 12 and they didn't fit, Burns couldn't help it — she started to cry.
"It was like, You have got to be kidding me," she said. "This is the one place that's supposed to have my size and they don't!" But then something wonderful happened. "Honey, what's wrong?" the salesperson, who had noticed her sniffling, asked right away. When Burns told him that the shoes didn't fit, he kindly offered to go grab the next size up. It hadn't even occurred to her that they would carry a size 13 in the style she wanted. "Then I cried for different reasons," she says. It was a signal to Burns that she belonged in those aisles, too.