See The Cover For Jasmine Warga's New YA Novel!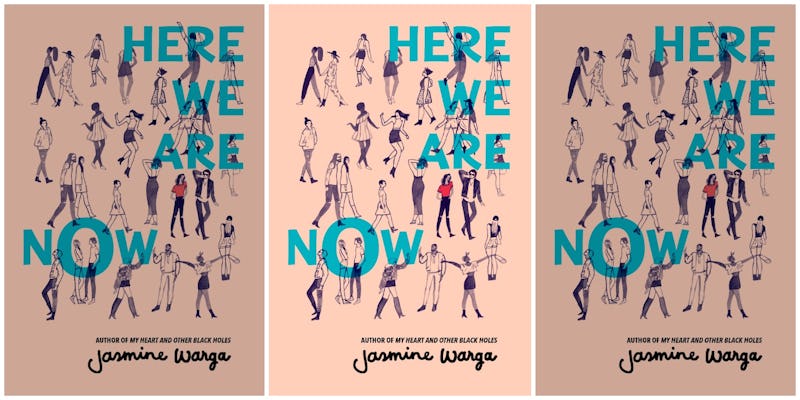 Jasmine Warga's debut novel My Heart and Other Black Holes took the YA community by storm when it was released in 2015. The book, about a 16-year-old physics nerd named Aysel, tackled issues of violent crime, depression, suicide, and the way friendship can change a life. Warga's writing was celebrated, her characters beloved, and she was even compared favorably to John Green.
Fans have been eagerly anticipated Warga's second book since then, and now it's finally on the horizon. Here We Are Now is an inter-generational story of family and legacy and the way love informs both of those things. It's about secrets and the debt of silence. It's about the power of songs. And most of all, it's about learning how to say hello. And goodbye.
It tells the story of Taliah Abdallat, who despite receiving letters from Julian Oliver since she was thirteen, has never actually met him. But one day, while her mother is out of the country, the famed rock star shows up on her doorstep. This makes sense — kinda — because Julian Oliver is Taliah's father, even though her mother would never admit it to her. Julian asks if Taliah if she will drop everything and go with him to his hometown of Oak Falls, Indiana, to meet his father — her grandfather — who is nearing the end of his life.
Taliah, torn between betraying her mother's trust and meeting the family she has never known, goes. With her best friend Harlow by her side, Taliah embarks on a three-day journey to find out everything about her 'father' and her family. But Julian isn't the father Taliah always hoped for, and revelations about her mother's past are seriously shaking her foundation. Through all these new experiences, Taliah will have to find new ways to be true to herself, honoring her past and her future.
Okay, so that's the plot. But, where's the cover? We've got the gorgeous reveal right here!
"From the first time I saw the cover, I've been obsessed! I think it's so fresh and so cool," Warga says. "It really captures the spirit of the book while also just being a piece of art that's really visualizing interesting. I want to hang out with the illustrated figures. They seem so hip! I'm really grateful to Jenna Stempel, whose amazing vision also shaped the My Heart and Other Black Holes cover, as well as Monica Ramos, the illustrator who did the artwork for the Here We Are Now jacket."
Here We Are Now is an Own Voices book, as it subtly explores Arab-American identity (with Taliah's mother being an immigrant from Jordan) though that is not the only focus of the novel. It's about finding family, it's about music and creativity and how that can become a major part of your identity. Warga is even in the process of compiling a list of all the songs that are mentioned in the story, and the finished copies of Here We Are Now will have the list at the back of the book for your mix making convenience.
"Taliah Sahar Abdallat lives and breathes music. Songs have always helped Tal ease the pain of never having known her father," Warga says. "Her mother, born in Jordan and very secretive about her past, won't say a word about who her dad really was. But when Tal finds a shoe box full of old letters from Julian Oliver – yes, the indie rock star Julian Oliver – she begins to piece the story together."
So, what does it take to put together a novel that lays bare so much and takes bits and pieces from your own life...while everyone is eagerly, sometimes obsessively, awaiting it?
"I always thought it would be easier to write a book under contract, but it proved to be the absolute opposite. I had a lot of voices in my head and I had to learn how to turn them off," Warga says. "I started writing a bunch of different projects, but they would all lose steam for me around 25-30 pages. Sometimes I think it was my nerves that got the better of me, and other times, I realized the project just didn't really have legs, so to speak."
But in December of 2014, while she was doing interviews in preparation for the release of My Heart and Other Black Holes, inspiration finally struck.
"One of these interviews asked me about my top five albums from when I was a teenager. I had so much fun writing that blog post — it was the most enjoyable writing I'd done in ages — and so a light bulb went off. I should write about music. Here We Are Now was born from that spark," Warga says.
Of course, inspiration isn't all you need to write a book, and Warga went through a long process to get to her finished product.
"I'd love to be able to say it was smooth sailing from that spark of inspiration, but it wasn't. The story has gone through so many different iterations. It started more as an ode to music fandom and has ended up as a book that's less interested in music fans and more concerned with music's relationship to our understanding of self and time," she says. "There's a magical alchemy to songs, the mixture of music and words, and the book is sort of an ode to that. It's also a novel that's really interested in the way the past informs the present."
Well, if Warga's past book has any bearing on her present, we're sure to fall completely in love with Here We Are Now when it hits shelves on November 7, 2017.