Lily Allen Talks About Sexual Assault, Addiction & Family In Her New Book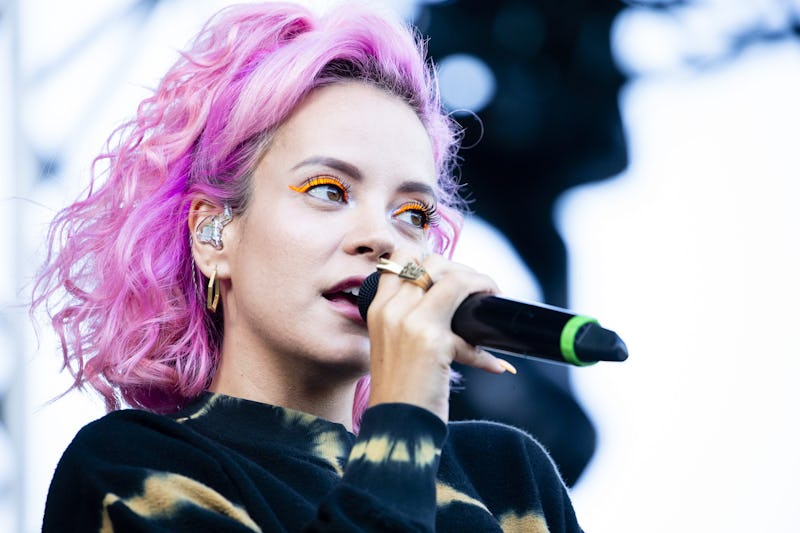 This month, Lily Allen will release My Thoughts Exactly, a memoir that addresses abuse in the music industry, her issues with drug and alcohol addiction, and her difficult relationship with her family. In the book, she recounts her sexual assault at the hands of an industry executive who preyed on her after a party; Allen describes the music industry as an environment that "allows and sometimes even endorses toxic behaviour by men towards women." Lily Allen's autobiography, set for release on September 20, also details her mental health issues and the pressures of motherhood.
According to the Guardian, Allen was assaulted in a hotel room by a record executive; though she wanted to name him in her book, she was legally advised not to by her publisher. Like many survivors of sexual assault, she blamed herself for the attack "because she had been drinking," the newspaper says, and didn't report him for fear of being deemed a "difficult woman." Allen writes in her memoir, "I expected him not to take advantage of my weakness," adding, "I felt betrayed. I felt shame. I felt anger. I felt confused."
She told the Guardian that she subsequently turned down a Radio 1 gig where the executive would be present, alleging, "I got punished by Radio 1 with no airplay for my next single, 'Trigger Bang' — I just couldn't tell them why I couldn't take the slot." I've contacted Radio 1 for comment, but haven't yet received a response.
Allen also describes her issues with addiction in My Thoughts Exactly, writing, as the Sun reports, "I was behaving in a way that was the opposite of being sexually liberated or free; I was trapped in a cycle. I was addicted to the drink and drugs I was consuming and the sex I was chasing." She describes a 2014 Halloween party hosted by Kate Hudson in which she knocked herself out by accidentally headbutting Orlando Bloom; Coldplay's Chris Martin drove her home. The following day, at lunch with Martin and Gwyneth Paltrow, the pair gave Allen the contact details for their marriage counsellor. "I didn't go, but it was the wake-up call I needed," she writes. "I realised I was ill."
In her memoir, Allen discusses the challenges of parenthood (she has two children, 6-year-old Ethel and 5-year-old Marnie), explaining that she moved to Santa Monica while struggling with mental health issues. "I was, in effect, hiding from my family and my responsibilities as a mother," she says. "It felt easier to cope with everything — my infidelities, my substance abuse and weight loss, the desperate sense of alienation I was feeling." Her own childhood was a painful one. Her mother — Alison Owen, herself dealing with addiction — would reportedly forgot to collect her daughter from school, while Allen describes father Keith Allen as "narcissistic and cold."
Allen told the Guardian that she no longer takes drugs, and regularly sees a psychologist (the same one she turned to when her first son, George, died during childbirth). The book, she says, is a record for her daughters, in case she "drop[s] down dead tomorrow." Allen split from their father, Sam Cooper, in 2015, as the Guardian reports. Her stance on the book? "My story, from my perspective. And that's not to say that mine is right or Sam's is right… this is just how I felt at the time."