In-N-Out Burger Added A Menu Item For The First Time In 15 Years — & It Involves Chocolate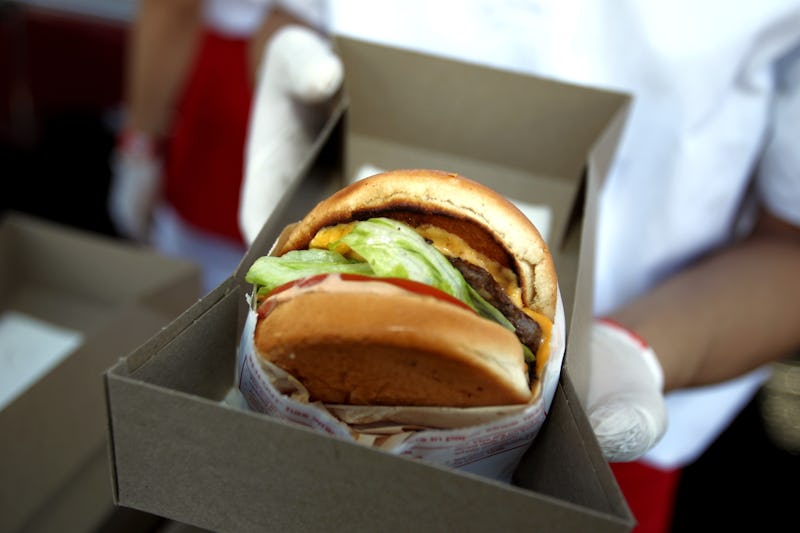 Tommaso Boddi/Getty Images Entertainment/Getty Images
Since its beginnings in 1948, In-N-Out has become the go-to for fast-ish food. The salty fries, the juicy burgers, the smooth and creamy milkshakes — it's no wonder there's always a long line separating you and your Double-Double. While their menu is notoriously short, there's exciting news from the chain restaurant: In-N-Out added hot cocoa to their menu, according to PopSugar — and there's a special twist: if it's raining, kids who are 12 years old or younger get a cup for free, a representative told Eater. Parents, rejoice — free hot cocoa on rainy days! Under all other circumstances, it will vary from about $1.60 to $2.88, depending on your location and local taxes, says Eater. Still, that's a bargain; so really, there's never an excuse not to be drinking hot cocoa from In-N-Out. Plus, it's not seasonal. Yes — hot cocoa is here to stay.
It sounds scrumptious, too. In-N-Out makes it with hot water and chocolate powder from Ghirardelli (the good stuff), and it's sprinkled with freeze-dried marshmallows, says PopSugar. We all know the marshmallows are the best part, so go on, friend — eat them first. Nobody's here to judge you.
In-N-Out is known for a lot of things, namely their rather short menu; but it's one of approximately 3,256 things everyones loves about them.
With a set number of items — including burgers, fries, sodas, and shakes — ordering is a breeze, and it always hits the spot like no other fast food can. The addition of hot cocoa marks the first new menu item to hit In-N-Out in 15 years, according to Eater. The last addition was lemonade — also irresistible. While the hot cocoa is year-round, it'll certainly come in handy right now, on cold winter nights when you're frozen to the bone and your Earl Grey tea just won't cut it.
To be fair, their hot cocoa isn't totally, 100 percent new. Per Today, president Lynsi Snyder — who is the granddaughter of the founders — told The Orange County Register, "This is actually the return of hot cocoa. My grandparents, Harry and Esther Snyder, served it for many years beginning in the '50s. I'm not sure how it fell off the menu but it's part of our culture and something special for kids, and I'm happy that we're bringing it back." She added, via Nation's Restaurants News, "For a certain generation, hot cocoa is an In-N-Out classic, and we hope it will be a favorite of a new generation." The price back in the '60s? $0.15!
In-N-Out currently has over 300 locations across California, Utah, Arizona, Texas, Nevada, and Oregon; and you'll be able to get hot cocoa at all of 'em, all day, every day. The founders would be so proud.
While so many of us are busy sipping our Frapps and fancy teas, the classically wintertime, chocolatey alternative has quietly been gaining in popularity. According to data from The NPD Group and shared in Nation's Restaurant News, hot chocolate servings (I know, I know, it's not ~technically~ the same as hot cocoa) increased five percent as of November of 2017. At that point, 323.3 million servings of hot chocolate were sold. For anyone who has a hard time wrapping their brain around that number, it's a lot.
If you don't happen to live near an In-N-Out, first of all, I'm sorry. But! No need to despair. You can still make your own delicious hot chocolate (I KNOW, I KNOW, IT'S NOT THE SAME) right at home. Put a spin on the classic by adding booze. Save yourself some time by trying a recipe that uses chocolate milk. You might even make pink hot chocolate for that special someone — or, you know, yourself. No matter where you live or what you're doing, anytime is a good time for a chocolatey beverage.