How 'Dynasty' Star Nathalie Kelley Combines Feminism & Fashion To Play An Iconic TV Character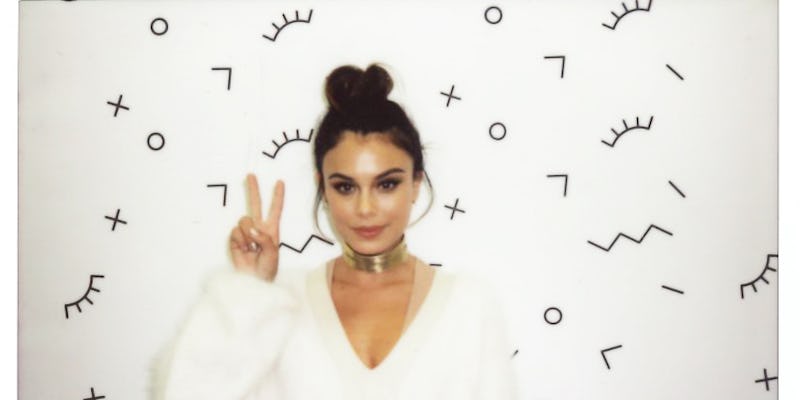 When celebrities hang out with Bustle editors, we want to give them the chance to leave their mark. Literally. So we hand them a pen, a piece of paper, a few questions, and ask them to get creative. The rest is up to them. This time, Dynasty star Nathalie Kelley is leaving her mark in the Bustle Booth.
Hollywood can't get enough of reboots and remakes these days, but what most reboots fail to realize is that a show can't rest on its laurels for too long — it has to grow and evolve to match its modern audience, all while paying homage to the original. The CW's Dynasty is a great example of this — with Nathalie Kelley at the helm as Cristal Carrington, the new Dynasty both nods to the past and is firmly rooted in the present. And that, as Kelley tells Bustle, is exactly how she likes it.
"We've really found our groove, you know?" Kelley says of the show's second season. "We kind of had to figure out what kind of show we were going to be. It's always difficult with something that's already an established cultural phenomenon. You can't recreate it exactly, so you have to find out what it's going to be, and I feel like we've really found it." The Dynasty cast of today is far more diverse than the one of the past, and Cristal (Crystal in the original) is especially emblematic of a new age. She is a Venezuelan immigrant (the original was Caucasian), and she has been through a lot just to get to where she is today.
Cristal is a tough woman, but she still maintains an edge of femininity, an important balance given how female characters are often depicted as one-note — they can often be labeled as tough or girly, but never both at once. According to Kelley, she's truly a mark of the modern age, in which women are redefining themselves on their own terms. "That's one of the beautiful parts of the show, how [Cristal's] femininity balances out everyone's high ambition and hyper-masculinity," she says.
Television is a visual medium, and Cristal's feminine-yet-strong nature plays out specifically through her clothing choices. This is ironic, given that fashion (like many women-centric hobbies or likes) is commonly seen as frivolous or silly. In Dynasty, the clothes tell the story. "There are a lot of times when I'm not sure if I can wear an outfit for a scene because, oh, [Cristal is] standing up to Blake here. She needs to feel strong," Kelley says. "Meredith Markworth-Pollack is our costume designer, and she really gets the stories. It's not just about making us look good, which she does."
Speaking of stories, Dynasty's are fun and frothy, with plenty of tongue-in-cheek camp. After playing mean girls like Grace on the first season of Lifetime's UnREAL, Kelley says that playing Cristal is a bit of a change. "It's always fun to play the mean girl!" Kelley laughs. "But this is my challenge with Cristal… She's the heart of the show, and she is, in a sense, one of the moral compasses of the show, and that's really important. She's balancing out all the manipulation and the darkness and the scheming and the ambition, and she balances out a lot of hurt. I'm grateful I get to do that."
Obviously, Dynasty takes a great deal of inspiration from the original, and it's about to bring back one of its signature characters — the first Mrs. Carrington, Alexis. Played in the original Dynasty by the iconic Joan Collins, Desperate Housewives vet Nicolette Sheridan will take over in the reboot. "She's as juicy as you would imagine," Kelley says of Sheridan's portrayal. "She's really fun to work with. She's killing Alexis. I have to really fight to stay in character when I watch her, because my jaw is on the ground. The outfits that Meredith has put her in? Nobody is ready! So much camp and so much fun, and she owns it. That's an iconic role, but she's killing it."
The original Dynasty was famous for the knock-down, drag-out physical catfights between Alexis and Crystal, but, aligning with the modernity of the reboot, today's Dynasty will smash more stereotypes. "I want to warn people who are wanting a bit of a Cristal/Alexis fight from the get-go. There's a little bit of a build until we get to that," Kelley says. "It's really about Fallon when she comes into the picture, which I think is a more interesting choice, because it's obvious for the ex-wife and the younger wife to immediately go at it."
In today's Dynasty, Cristal wouldn't be threatened by Alexis because Alexis is simply Blake's ex-wife. Cristal is sure of herself, so until Alexis starts her shenanigans, she's not afraid of her, Kelley reasons. "I think it's a more modern approach. Cristal is a woman's woman. She gives everybody a chance at first, and I like that about her."
And, anyway, Cristal's beef, as Kelley teases, won't be necessarily with Alexis. She has bigger relationship problems to solve in her marriage to Blake. Blake and Cristal only knew each other for a few months before they got married, and now that Cristal is firmly implanted in the Carrington clan, she may not like the things she's learning about her new family.
"Cristal starts uncovering things about [Blake] that are pretty unsavory, and it's a really interesting dynamic to play because you love your husband… but then you start uncovering these things about him and this other side of him that's really… it doesn't sit well with your morals and your ethics," Kelley says. "It continues as the season progresses to the point where it drives a pretty big wedge between them and you don't know if they're gonna make it."
While Kelley can't say more than that, lest she spoil the rest of the season, Cristal will be just fine with or without Blake Carrington. She can handle it. "The point is that it doesn't let up for [Cristal], and we see who she is, her moral fiber, and that's the point," she says. It's not easy being the moral compass of such a soapy show, but Kelley clearly relishes the task.