In The Bustle Booth With Michelle Phan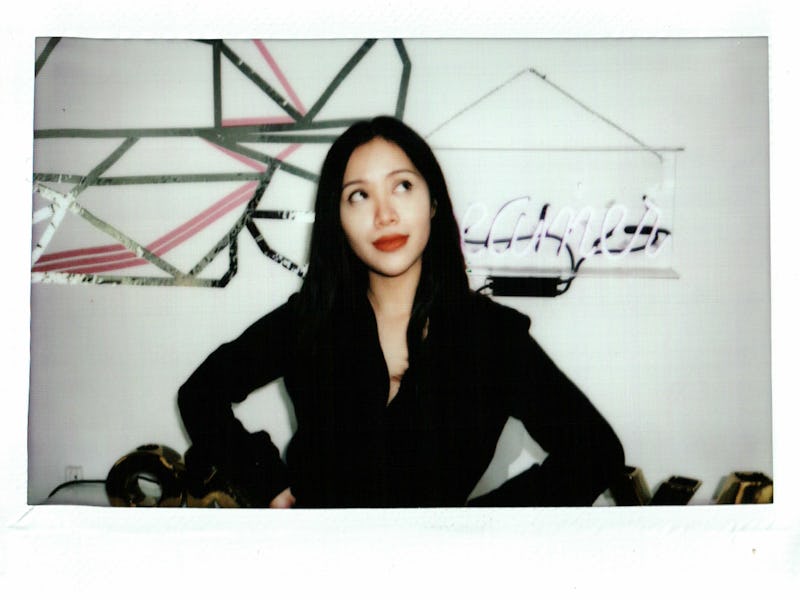 When celebrities hang out with Bustle editors, we want to give them the chance to leave their mark. Literally. So we hand them a pen, a piece of paper, a few questions, and ask them to get creative. The rest is up to them. This time, Michelle Phan is leaving her mark in the Bustle Booth.
Before the Jaclyn Hills and the Manny MUAs, before major makeup brands started to collaborate with beauty influencers, and before YouTubers were raking in millions of dollars a year, there was Michelle Phan, a baby-faced 19 year old, sitting in front of a camera teaching viewers how to get "a natural beauty look."
It's been 10 years since Michelle Phan uploaded that first makeup tutorial, and to say that she's been busy since would be a total understatement. In the last decade, Phan has become a successful entrepreneur (landing a spot on both Inc. and Forbes' 30 under 30 lists), co-founding the popular beauty subscription service ipsy and her very own makeup line, EM Cosmetics, which relaunched in April.
Phan may not be making YouTube tutorials any longer, but she continues to be extremely passionate about makeup and her community of beauty lovers. When relaunching EM Cosmetics, Phan listened closely to what her fans were looking for and toiled over formula after formula to make sure she was confident with the products she was making. The first launch, a velvety liquid lipstick called Infinite Lip Cloud, sold out almost immediately and shortly after, she released two black eyeliners, one with a felt tip and the other with a brush tip (paying homage to her artist background).
There are more products in the works, but Phan's devotees will have to be patient. The makeup maven is a total perfectionist and believes in quality over quantity when it comes to building out her product line. But no one's complaining — her loyal followers have proven they're not going anywhere anytime soon.
Bustle chatted with the beauty mogul about morning rituals, random fun facts about herself, and of course, her favorite emoji. Check out her answers below.