Shep Rose Gives A Sneak Peek Of 'RelationShep' & SO Much More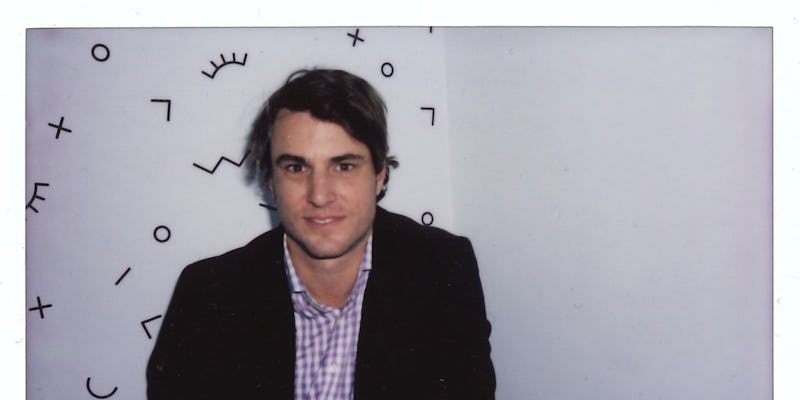 Ashley Batz/Bustle
When celebrities hang out with Bustle editors, we want to give them the chance to leave their mark. Literally. So we hand them a pen, a piece of paper, a few questions, and ask them to get creative. The rest is up to them. This time RelationShep star Shep Rose is leaving his mark in the Bustle Booth.
You may recognize Rose from Bravo's Southern Charm (or, if you're a Charleston local, one of the restaurants he owns), but he's about to branch out into something a little different — his very own reality show. The spinoff series RelationShep, which premieres on Bravo on Dec. 4 at 10 p.m. ET, will chronicle Rose's search to find the lucky lady he wants to spend the rest of his life with. Pals like Cameran Eubanks will help vet women in cities like New York, Austin, and Los Angeles, and, hopefully, Rose will find the love of his life. Or at least that's the goal. But be prepared — this show is nothing like Southern Charm.
For starters, all of the weight is on his shoulders. "There's no one else to throw any scenes to," Rose says. "I think on Southern Charm a lot of stuff gets cut. A lot of stuff that might be interesting to one person, but you know you gotta peek in and see what Kathryn's up to or Thomas, and that's OK," he says, adding, "With this [show], there's a lot less opportunity to cut some things. I hadn't seen it, so I hope that all the things I love made it." Rose, to his credit, is cognizant of how over-the-top reality television can be — in his time in the Bustle Booth, he dubbed it all "ridiculous."
But it's that "ridiculous" business and his ongoing sense of adventure that may land him a new lady. Why even get into the television dating game in the first place? "I mean, it was sort of kicked around and I thought it would be a lot of fun. I thought it'd be like an interesting journey and almost informative. That was my original thought," Rose says. "I wanted to do it not only for me, but I wanted to sort of show that it's a crazy, wild world out there these days. I kind of wanted to ride in that saddle for a while." And none of this, in case you were wondering, is an act. "Of course I took it seriously, very seriously. I'm that kind of person. I'm not a liar. I'm not an actor," Rose says. "I'm not reading any lines; I'm not trying to be someone I'm not. I'm unapologetically me."
Who Rose is, he says, is "probably … a lot of headaches, honestly. That's kind of the thing. I'm very upfront about that … I'm sure I'm a handful. I don't know what I'm doing." But with every journey comes a lesson, and Rose says that this whole television dating business pushed him to be more decisive. "I learned a lot. A lot of the times, I reinforced some things that I already thought, but it's good to do that," Rose says. "My mom used to say, 'Sometimes it's good to know what you don't want to do in life.' Those dates in particular, you're like, 'OK, this is not what I want.' That was an interesting aspect."
Rose went on 14 dates for RelationShep, and while he couldn't comment on who he ends up with, if anyone ("I can't really talk about it," he says. "I can't even post any pictures with any of the girls."), Rose can say what he was looking for going into all of this. "Intelligence is big. I don't want a yes person," Rose says. "Just a strong person with their own life. I think it bothers me when I see girls who date a guy and then everything that they're into, they get into ... I like leading separate lives but also together. I think there's something to be said for that."
So why should Rose's fans tune into RelationShep? Hopefully, he says, they'll be able to see their own experiences (horrible or otherwise) reflected in his. "[Viewers are] going to relate to some dates in the fact that some of them are disastrous and some of them are really good. I think they're going to root for certain people. The girls that come back to Charleston are great. They all end up really getting along well together," Rose says. "Those are the ones I chose and I feel some sort of small sense of pride because I chose these really levelheaded people with a good soul," he continued. "That's another thing I look for, and I think I can tell when someone has a good soul … These are not crazy people. They're real people with real lives."
Real people with real lives on reality television? If anyone can handle that, it's Shep Rose, and hopefully, he finds true love by the end of RelationShep.