Ina Garten Had The Best Reaction To Meghan Making Her Chicken Recipe For Prince Harry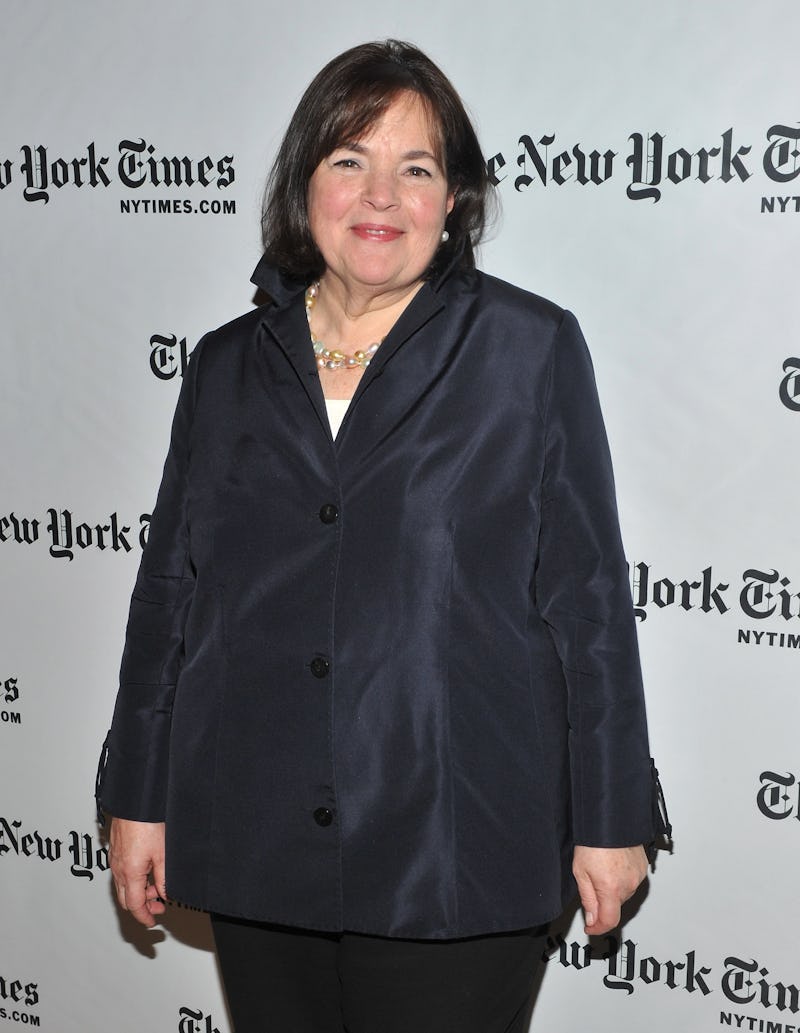 Stephen Lovekin/Getty Images Entertainment/Getty Images
Roast chicken is basically a love potion, and here's the proof. Ina Garten reacted to Meghan Markle making roast chicken with Prince Harry on the night of their engagement, and you need to hear her response. During the Oct. 28 airing of Sunday Today with Willie Geist, the chef opened up about rumors that the Duchess of Sussex made Garten's roast chicken recipe for her now husband right before he popped the question. It's a discussion Harry and Markle fans will want to hear, especially if they believe in the powerful combination of food and romance.
Geist started the conversation with the Barefoot Contessa host by saying, "Another famous woman who you've touched is the Duchess of Sussex." He added, "Have you heard the story?"
After laughing a bit, Garten replied,
"I do know that she liked to cook my roast chicken, right, which we call engagement chicken because whenever you make it somebody asks you to marry them. Whoever you make it for asks you to marry them."
Geist then responded perfectly by stating, "So what we're driving at here is you were responsible for the royal wedding." The Food Network star laughed and then provided the best answer ever by joking,
"Without me, it would never have happened."
After Markle and Harry announced their engagement in November 2017, the couple revealed details about the proposal. Markle told BBC in their first joint interview as an engaged couple, "Just a cozy night, it was — what we were doing just roasting chicken and having ..." Harry chimed in and added, "Roasting a chicken, trying to roast a chicken." Markle continued, "Trying to roast a chicken and it just — just an amazing surprise, it was so sweet and natural and very romantic. He got on one knee."
Soon after their engagement made headlines, many assumed the now married duo made Garten's roast chicken, because Markle once raved about the recipe to Good Housekeeping in October 2016. She told the publication, "
"There is nothing as delicious (or as impressive) as a perfectly roasted chicken. If you have an Ina Garten–level roasted-chicken recipe, it's a game changer. I bring that to dinner parties and make a lot of friends."
Well, apparently, it also made Harry want to be her husband, in addition to all of Markle's other fabulous qualities, of course.
Actually, Garten informed Geist that her chicken has been known as "engagement chicken" for some time now. She explained,
"That came from, I met some young women at Glamour magazine and they said to me, 'Oh, my God, we make your roast chicken all the time and we call it "engagement chicken",' because every time somebody in the office makes it for her boyfriend, they're engaged within 24 hours."
Like Garten said to Geist, "It's a roast chicken. How powerful is that?"
She's not wrong, food is powerful. Whether someone cooks for you or you make a meal for loved ones, food brings people together. Clearly, Markle and Harry's meal was the perfect time to propose.
If you are hoping to walk down the aisle soon with the love of your life, here's the recipe for Garten's roast chicken, aka "engagement chicken." You never know, you just might find yourself immediately engaged, because that's just how powerful Garten's chicken is.