Meghan Markle's Mom Helped Make The Royal's Cookbook Celebration All The More Special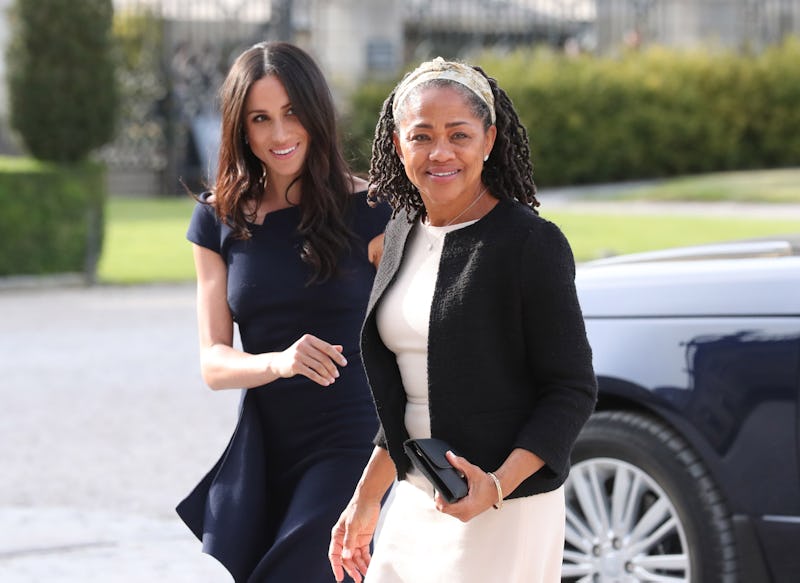 WPA Pool/Getty Images Entertainment/Getty Images
It's no secret that the Duchess of Sussex is super close with her mom, Doria Ragland, so when Meghan Markle's mom celebrated her cookbook launch at Kensington Palace on Thursday, well, it just made their relationship all the more sweet. As reported by People, Ragland joined her daughter and Prince Harry at the luncheon hosted by Markle, which was also her first time hosting a party at the palace. On Tuesday, People reported Ragland had flown to London from L.A. most likely for this event.
As previously mentioned, the party honored the release of Markle's cookbook, Together: Our Community Cookbook, which is available for purchase on Thursday, Sept. 20. Markle wrote the foreword for the book, which is helping raise money for survivors of the Grenfell Tower tragedy. After spending time with women at the Hubb Community Kitchen who were affected by the 2017 event, in which 72 people died and 151 homes were destroyed, Markle decided to create the cookbook and include the women's family recipes, 50 to be exact. Proceeds from the cookbook will help keep the women and keep their kitchen open.
With Ragland and Harry by her side, Markle celebrated these women and the cookbook. As you can see below in videos and photos tweeted by Hannah Furness, an arts and royal correspondent for the Daily Telegraph, the event was held in a beautiful tent and the recipes from the cookbook made up the menu, which looked absolutely divine.
In the photos and videos shared, you can see the pride Harry and Ragland have for Markle. According to Furness, not only did Ragland introduce herself as "Meg's mom," but she said she was "head over heels" proud of her daughter.
During the event, the British Royal family member also gave an emotional speech. As you can watch below in a video tweeted by ITV's Chris Ship, Markle said,
"Working on this project for the past nine months has been a tremendous labor of love. I had just recently moved to London and I felt so immediately embraced by the women in the kitchen — your warmth and kindness, and also to be able to be in this city and to see in this one small room how multicultural it was."
She continued, "On a personal level, I feel so proud to live in this city that can have so much diversity. There's 12 countries represented in this one group of women. It's pretty outstanding."
For Markle, the event, the cookbook, and being able to work with these women has meant the world to her. In addition to noting how "grateful" she is to see her "first project" as a royal family member come to life, Markle's even prouder of the cookbook's message.
She said in her speech,
"I said in the foreword that this is more than a cookbook, and what I mean by that is the power of food is more than just the meal itself. It is the story behind it. When you get to know the story of the recipe, you get to know the person behind it. That's what we're talking about in terms of coming together to really engage and talk and to be able to celebrate what connects us rather than what divides us. That, I believe, is the ethos of together."
The event was clearly a success, as you can see in the above video shared by Ship. The women can't stop smiling and appear to be overjoyed at the presence of Markle, Harry, and Ragland. And for Markle to have her husband and mom by her side celebrating this huge achievement probably means the world to her.