India Won't Tax Pads Anymore & It Could Make A World Of Difference For Girls In School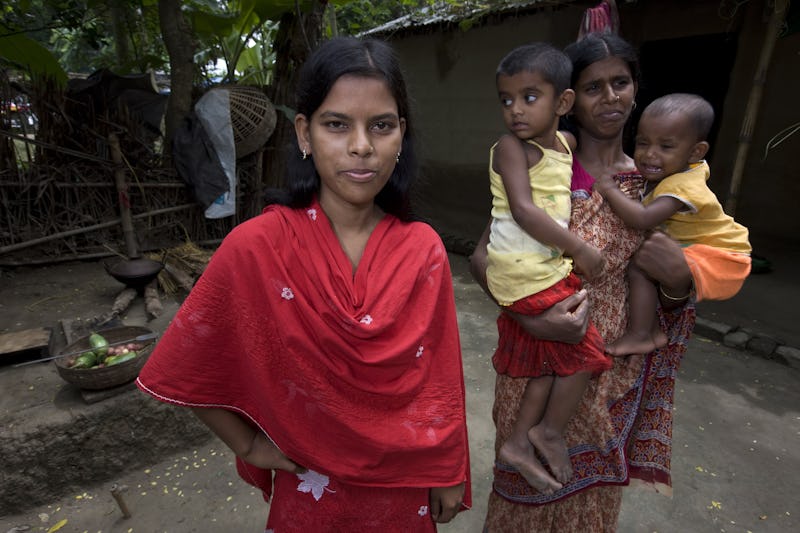 Brent Stirton/Getty Images News/Getty Images
Significant changes are in store for women and girls in India. On Saturday, India canceled a controversial tax on pads that had reportedly made it impossible for large swaths of women and girls to afford buying them at all. According to some reports, eradicating the tax could also help low-income girls stay in school.
"I am sure all mothers and sisters will be very happy to hear that sanitary pads are now 100 percent exempt from tax," Interim Finance Minister Piyush Goyal said during a news conference, according to a Reuters story carried by New Delhi Television Limited (NDTV).
The tax went into effect in the summer of 2017, as part of the Goods and Services Tax (GST), which was characterized as an effort to streamline how sales tax was applied throughout the country. Not all goods were taxed however — contraceptive devices like condoms were reportedly exempt. Meanwhile, sanitary napkins were taxed at 12 percent, Reuters reports.
Taxes were reduced or eradicated on a number of products on Saturday. Fortified baby milk is also reportedly exempt from the tax, and rates were slashed for essential items like "paints, leather goods, bamboo flooring, stoves, televisions and washing machines," Reuters reports.
Young girls are often forced to stay home while they have their periods, Reuters reports, largely because of a lack of access to sanitary products, or even toilets. Removing the sales tax on these essential items is expected to make it easier for such students to stay in school.
The decision to reverse the tax was made by the GST Council, though that decision was not made in a vacuum. The tax on sanitary napkins was met with widespread outrage, and triggered a series of petitions.
One Indian lawmaker — Sushmita Dev — administered a petition that garnered over 400,000 signatures, according to CNN. While ultimately glad that the tax had been repealed, she expressed frustration that it had been in place for so long. "Clearly the government had put forth frivolous arguments for one year and delayed it," she said, according to CNN.
Celebration wasn't limited to political champions. Activists also expressed relief that sanitary napkins would no longer be subjected to the additional tax. Above and beyond, they expressed relief that some girls would be able to more easily stay in school.
"This was a most-awaited and necessary step to help girls and women to stay in school, their jobs, to practise proper menstrual hygiene," said Surbhi Singh, according to ABC. Singh is a founder of Sachhi Saheli, an NGO that, according to its Twitter bio, aims to raise awareness about how menstruation affects young girls, especially school children. "This will help them to grow, to show their true potential."
Many users on Twitter rejoiced at the weekend's news. "Feminine hygiene is now tax free in India," wrote one user. "Sanitary napkins exempted from GST. Finally it happens."
Cutting the tax won't immediately make sanitary napkins available for those who cannot afford them. However, the move does represent a shift toward decreasing barriers for access to essential health products, and will make it easier for at least some young women to consistently pursue their educational goals.