An Indonesian Girl Was Raped By Her Brother & Then Sent To Prison For Getting An Abortion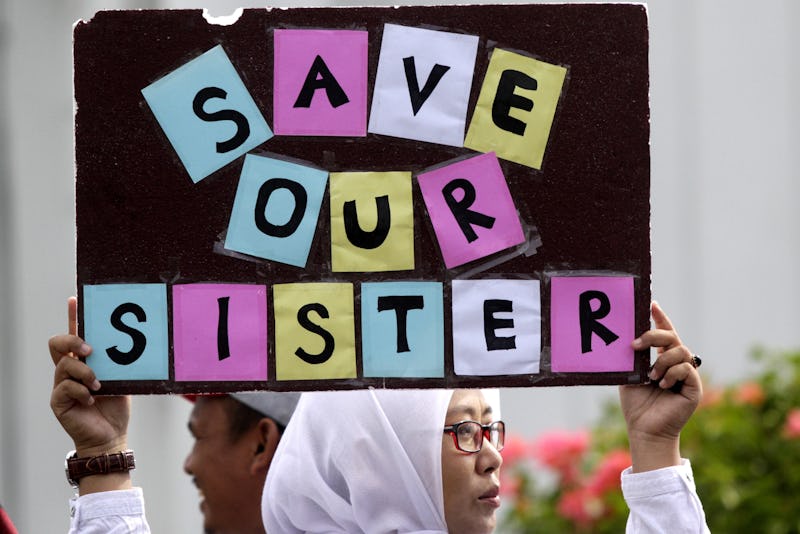 Hotli Simanjuntak / Epa/Shutterstock
On Saturday, a 15-year-old Indonesian girl was sentenced to prison for having an abortion after being repeatedly raped by her brother, according to the Associated Press. Indonesia bans abortion unless the woman's life is in danger or in some rape cases, but the abortion can take place no later than six weeks of pregnancy— when many women are unaware or just finding out that they're pregnant.
Court spokesman Listyo Arif Budiman said the girl and her brother were both sentenced in Muara Bulian district court on the island of Sumatra, the AFP reported. The girl was found guilty of violating Article 77 of Indonesia's Child Protection Law, according to local media outlet The Jakarta Post. She will be released from prison in six months, when she will then have to undergo job training at a juvenile rehabilitation center.
The girl's 18-year-old brother admitted in court testimony to raping his sister eight times starting in September 2016, The Jakarta Post reported. He also said he threatened to physically harm her if she refused his advances. The brother was sentenced to two years in prison for having sex with a minor, local deputy police chief Singgih Hermawan told the Associated Press. Prosecutors requested the girl be sentenced to a year in prison and her brother sentenced to seven years, and the AFP reported that the prosecutors might appeal the decision.
In early June, local residents found the remains of a fetus at a palm oil plantation in Jambi province, according to the AFP. Prosecutors arrested the 15-year-old girl and her brother after investigations proved that she was the mother, The Jakarta Post reported. The girl reportedly performed the abortion when she was six months pregnant with the help of her mother, who is facing separate charges, according to the AP. The mother said she was not aware of the sexual abuse, but that she helped perform the abortion because she feared being shamed by their neighbors.
In addition to the ban on abortion after six weeks, Indonesia's law stipulates that abortions must be performed by a professional, and that people who have abortions undergo counseling prior to the abortion, according to the AFP. The law also requires that a woman receive "a letter of consent from her husband or a family member," and that she signs a "statement guaranteeing that she will practice contraception afterwards," according to reproductive and sexual health organization the Guttmacher Institute.
It's unclear how many abortions occur in Indonesia, but researchers estimate that deaths from unsafe abortion make up 14 to 16 percent of maternal deaths in Southeast Asia, according to the Guttmacher Institute. In Indonesia specifically, abortions reportedly account for 30 to 50 percent of maternal deaths, according to a 2013 World Health Organization report cited by the AFP.
The rate of death and complications from unsafe abortion, in addition to cases like the 15-year-old girl's, have led organizations like WHO and Guttmacher Institute to be critical of Indonesia's abortion policy, but it's doesn't seem to be changing anytime soon.