A Petition To Cancel 'Insatiable" Has Over 115K Signatures And It's Growing By The Hour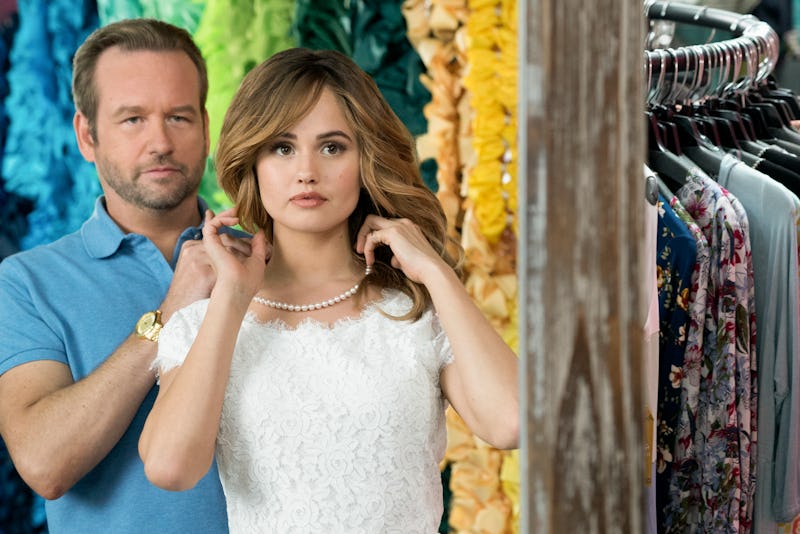 Annette Brown/Netflix
On July 19, the trailer for Netflix's new show, Insatiable, was met with criticism, as some Twitter users felt the show perpetuated fat-shaming. Now, a petition to cancel Netflix's Insatiable has over 118,000 signatures ahead of the show's scheduled Aug. 10th premiere. The Change.org petition, which U.K. artist Florence Given created, alleges, "This series will cause eating disorders, and perpetuate the further objectification of women's bodies. The trailer has already triggered people with eating disorders." Netflix had no response to the petition when reached by Bustle, but did urge us to look at statements from the cast and crew.
The show's premise revolves around a high schooler named Patty (Debby Ryan), called "Fatty Patty" by her peers, who starts off as a fat teenager that gets bullied by her classmates. In the trailer for Insatiable, Patty gets punched by a homeless man, which causes her jaw to be wired shut, leading to a big weight loss. After Patty loses a significant amount of weight, the same classmates who once bullied her shriek, "Look! Patty's hot!"
The Change.org petition explains how the show's supposed glorifying of drastic weight-loss reinforces a common, dangerous message. "For so long, the narrative has told women and young impressionable girls that in order to be popular, have friends, to be desirable for the male gaze, and to some extent be a worthy human...that we must be thin," the petition says.
Hundreds of people who signed the petition themselves have written comments explaining their feelings toward the show's trailer. One signer named Maria wrote, "OUR WEIGHT DOES NOT DEFINE OUR WORTH! Women and young girls deserve more than being fed lies like these."
Despite the Twitter conversation that came from the trailer's release, Lauren Gussis, the creator of the show, shared on Twitter her own story and response to the backlash.
Insatiable star Debby Ryan also shared a lengthy statement posted to her Twitter account, noting that she personally connected to the show as someone who struggled with body image. "I was drawn to the show's willingness to go to real places about how difficult and scary it can be to move through the world in a body," she wrote.
Meanwhile, Alyssa Milano disagreed with some who complained that the show made Patty — especially when played by Ryan in a fat suit — the punchline. "We are not shaming Patty. We are addressing (through comedy) the damage that occurs from fat shaming," she tweeted.
Netflix also pointed to a Teen Vogue interview with Insatiable's writer and executive producer, Gussis. While talking to Teen Vogue, Gussis said,
I really felt like it was important to look at [bullying] head on and talk about it. And what are young women and, frankly, young men taught about appearance and how much appearance matters and whether it's OK to look different and it's OK to be different, and the feeling of 'not enough' which kind of leads through all of the characters. Because every single character in this show has a hole that they're trying to fill and they're insatiable for something whether it be validation or love, or money or power."
Meanwhile, on Change.org, many commenters point out that the show's good intentions could still end up causing harm. "I don't care if you 'think' this is actually progressive and helping, but I can assure you it's not. Putting a skinny actress in a fat suit, and then only sticking up for herself once she's no longer fat? Horrible, horrible message," a petition signer named Camille wrote.
Even as the petition for Netflix to cancel Insatiable continues to amass signatures, it seems unlikely that Netflix will actually cancel the controversial show. When people boycotted 13 Reasons Why earlier this year, Netflix's CEO Reed Hastings said, "It is controversial, but nobody has to watch it. We're an on-demand service," per Variety.
If you or someone you know has an eating disorder and needs help, call the National Eating Disorders Association helpline at 1-800-931-2237, text 741741, or chat online with a Helpline volunteer here.