Trump Insists The UK Loves Him. These British Women Protested To Prove That's BS.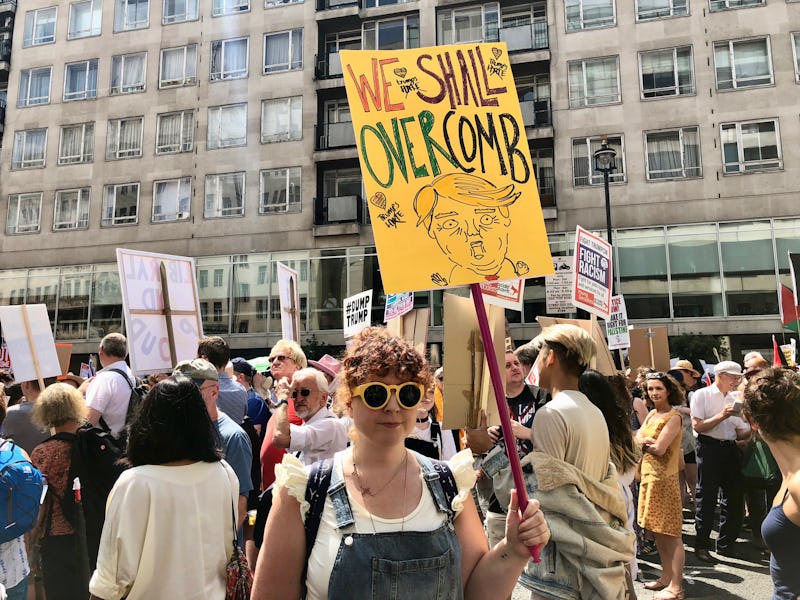 Lauren Holter
LONDON — British protesters had a clear message for Donald Trump on Friday: go home. After the president declared that people like him "a lot in the U.K." earlier this week, British women stormed the streets as part of a monumental anti-Trump protest in London. Protesters tell Bustle they not only want to prove Trump wrong about how popular he is in the United Kingdom, but also show their solidarity with American women who want 45 out of office.
"We're absolutely in this together," Franny Rafferty, 37, tells Bustle. "If we didn't show our voices in the same way that American women have shown their voices for us as well, then we would be letting their side down in a massive way."
If you didn't spot the historic column in Trafalgar Square, where Friday's protest march ended and an evening rally began, it would have been easy to assume you were at an anti-Trump protest in Washington, D.C. Protesters carried signs that read "Dump Trump" and "Pussy Grabs Back," while at least a few women donned pink pussy hats reminiscent of the Women's March.
The rally's organizers estimated that 250,000 people took to the streets of central London as President Trump and the first lady met with the queen, CNN reports. Speaking with Bustle, women at the protest describe Trump using words like "misogynistic" and "racist." They are emphatic that they want to show the American leader how much they detest his views on immigration and women's rights — although they acknowledge that whether or not Trump will listen is a different story.
"His views and ideologies aren't welcome with the people of London," Millie Sadler, 20, tells Bustle. "He just thinks of himself and not his whole country. Protesting him shows that we're in support with America, and we support the people that aren't supporting Trump."
Sadler and many other women at the protest bring up the Trump administration's policy of separating migrant children from their parents at America's southern border. Although a federal judge ordered the U.S. government to reunite children under the age of 5 with their families by July 10, nearly half of them remain in government custody.
"How dare he separate families," Rafferty says. "It's unconscionable that he thinks that's OK, and that he's 'making America great again' by simply saying that the Nazi way was right."
The U.K. has its own immigration battles to sort out, though. When the nation voted to leave the European Union in 2016, roughly 40 percent of Brexit supporters wanted to regain control of EU immigration, according to a study conducted by the Centre for Social Investigation at Nuffield College and published in April. More Brits favor immigration following the Brexit vote, however: Just 17 percent of people claimed immigrants are bad for the British economy in a 2017 survey conducted by the National Centre for Social Research, down from 28 percent in 2015.
Ella Ridley, a 20-year-old protesting Trump with a sign that reads "there is no way all my outrage can fit on a sign," doesn't mention Brexit when criticizing Trump's immigration policies. She says her Muslim relatives living in the United States moved to the U.K. after Trump took office.
"Trump has personified so much with what is wrong with the world into one person," Ridley says. "The way he acts [and] the way he lets his subordinates act is awful to so very many people. I can't pick out a single act that really made me come out here, but he's insulted half my family — I have Muslim family, I have LGBTQ family."
The British women yelling "dump Trump" as they made their way through the streets of central London were focused on standing with the Americans who have protested Trump since his inauguration, and making it known that his views on women and migrants don't align with their own. Despite Trump's support of Brexit and criticisms of British Prime Minister Theresa May, the protesters were more concerned about the future of America than the future of Britain.
"I think his attitude toward migrants is disgusting, and in this country we're proud to have people from many different countries," Kate Duffy, 25, says. "So his views aren't welcome here."