This Trump Family Separation Update Leaves Migrant Parents With Two Impossible Choices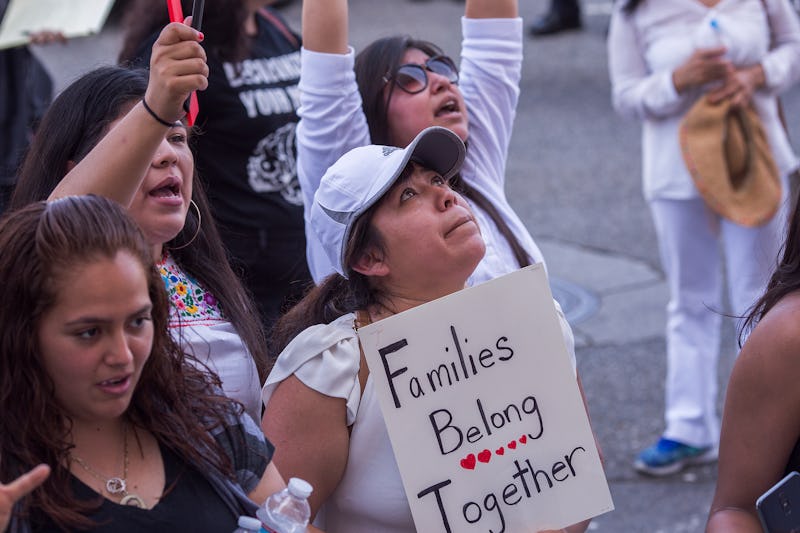 David McNew/Getty Images News/Getty Images
Days after a federal court ordered the Trump administration to reunite the thousands of undocumented families that it has forcibly separated, NBC News reports that there's been an update to President Trump's family separation policy. According to a government form, parents whose children have been taken from them will be given an unenviable choice: Get deported with their children in tow, or get deported alone.
"Class members are entitled to be reunited with their child(ren) and may choose for their child(ren) to accompany them on their removal or may choose to be removed without their child(ren)," the form, as obtained by NBC News, reads. "Any decision must be made affirmatively, knowingly and voluntarily."
The new form, which Immigrations and Customs Enforcement is reportedly giving to undocumented immigrants whose children have been separated from them, does not give parents with outstanding asylum claims the option of reuniting with their children while they await the outcome of those claims. Rather, they are forced to submit to immediate deportation in order to be reunited with their children. Lee Gelernt, an attorney for the American Civil Liberties Union, told NBC News that the organization's legal team is "seeing cases where people who have passed credible fear interviews and have pending asylum claims are being given this form."
A spokesperson for ICE told NBC News that the form in question is being given to immigrants who've already been ordered to leave the country.
"An individual who has received a final order of removal has already been given the opportunity to make a claim of fear about returning to his or her country of citizenship," Jennifer Elzea told NBC News. She did not say, however, whether or not officials will finish adjudicating a parents' asylum claim before giving them the form. "Alien parents who are ordered removed can elect to be removed with or without their children. Neither choice has any bearing on the alien's eligibility to apply for protections available to them under the law."
On June 26, a federal judge in San Diego ordered the Trump administration to reunite all of the families it has separated — over thousands as of late June — within 30 days, referring to the crisis as a "chaotic circumstance of the Government's own making." However, administration officials have not publicly released any plan for reuniting the families, and some observers, including former Republican Sen. Rick Santorum and former ICE acting director John Sandweg, have said that some of the children who've been separated could never see their parents again.
The Trump administration first announced its zero tolerance policy in May. National uproar followed, however, as the news was filled with images of children in cages and reports of newborn babies being taken from their parents by immigration officials. Under immense pressure from the left, Trump signed an executive order in June ending the policy of family separation, and it was subsequently reported that undocumented families apprehended at the border will be detained together.
However, the government hasn't announced any plan for reuniting those families, and according to CNN, the administration has refused multiple requests within the last week to provide detailed statistics regarding children who've been separated from their families.
On the form that ICE is reportedly now using, undocumented parents seeking to be reunited with their children are being asked to sign one of two statements. One says that "I am requesting to reunite with my child(ren) for the purpose of repatriation to my country of citizenship," while the other declares that "I am affirmatively, knowingly, and voluntarily requesting to return to my country of citizenship without my minor child(ren) who I understand will remain in the United States to pursue available claims of relief."
In an attempt to provide relief for detained children, the immigrant advocacy group RAICES has established a hotline to help attorneys identify and reunite families that have been separated.