There's Still A Lot Fans Don't Know About 'Instinct' Season 2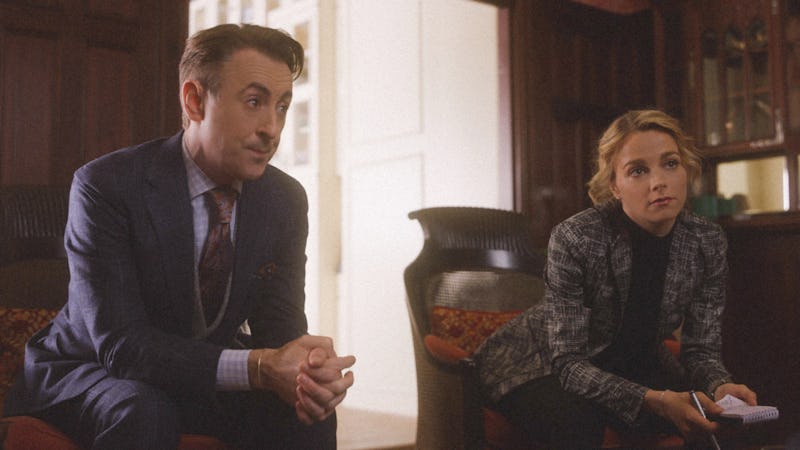 CBS
Spring is a sad time for many television fans, as plenty of viewers are forced to watch shows they love get canceled. However, fans of Instinct are surely happy to hear that the CBS procedural will live to solve crime another day. As reported by Deadline in May, Instinct will return for Season 2. Still, some important details have yet to be confirmed: when it will return, and how many episodes the second season will be.
Instinct stars Alan Cumming as Dr. Dylan Reinhart, a professor and former CIA officer who pairs up with NYPD detective Elizabeth Needham (Bojana Novakovic) to stop a serial killer who's using Reinhart's book as a template for murders. Cumming is a familiar face on CBS, where he spent seven seasons as campaign manager-turned-chief of staff Eli Gold on The Good Wife. The network clearly has faith in his ability to anchor a show, because two years after The Good Wife ended, Cumming returned to CBS with the 13-episode first season of Instinct.
While more and more shows, especially on streaming platforms like Netflix and Hulu, are getting orders of 13 episodes (or fewer) per season, most procedural dramas on network television still have 22-episode seasons. It remains to be seen whether Instinct will stick with the shorter episode order in Season 2 or whether fans can expect a longer season the second time around.
Instinct wouldn't be the first show to see its shortened first season get expanded to a full-season order after renewal. Show likes The Office, Buffy the Vampire Slayer, and Riverdale were introduced to the world with short first seasons before going on to 22-episode seasons for most of their remaining run. A longer season would help Instinct fit right in with the rest of CBS' procedural dramas, including Blue Bloods, Criminal Minds, and the NCIS franchise, which all featured at least 22 episodes in their most recent season.
But it's worth noting that Instinct, which premiered in March as a midseason show, isn't currently on CBS' fall 2018 schedule. The network lists Instinct among the shows that will be rolled out throughout the season — which, depending on when the show returns, could mean the plan is for Season 2 to be similarly shortened. Then again, it could just mean the show won't be taking weeks off between new episodes.
One interesting aspect of CBS's renewal of Instinct is that it indicates the network is shifting towards a new image of what a crime procedural looks like. While long-running series like Blue Bloods and NCIS are more focused on showcasing ensemble casts, Instinct has a clear focus at its center: Cumming's Dr. Dylan Reinhart. This focus on a main character makes Instinct more similar personality-driven procedurals on the network like Bull and Elementary than the ensemble-driven shows that make up some of the network's most recognizable programming.
While Instinct follows the a case-of-the-week structure that is popular amongst network crime procedurals, a second season could bring fans closer to an answer to the question that brought Dr. Dylan Reinhart into the field of criminal investigation: Who is the serial killer using Reinhart's book as inspiration to kill others? Instinct is based off of the book Murder Games by James Patterson, which explores the serial killer plot introduced in the pilot. While the Reinhart of the show has taken time to explore other unique crime cases, a second season of Instinct promises that the show will have more time to explore the question that kicked off the entire series to begin with.
And while Instinct may seem on the surface to be a typical procedural drama, it's also quietly groundbreaking. Dr. Dylan Reinhart is the first openly gay lead of a network drama in television history, according to The Hollywood Reporter, and a renewal of the show is proof that network television is finding success incorporating diversity into its programming. While it remains to be seen what the future of Instinct will look like, the show has already left its mark on history.