iPhone's 'Do Not Disturb' Feature Could Prevent Car Accidents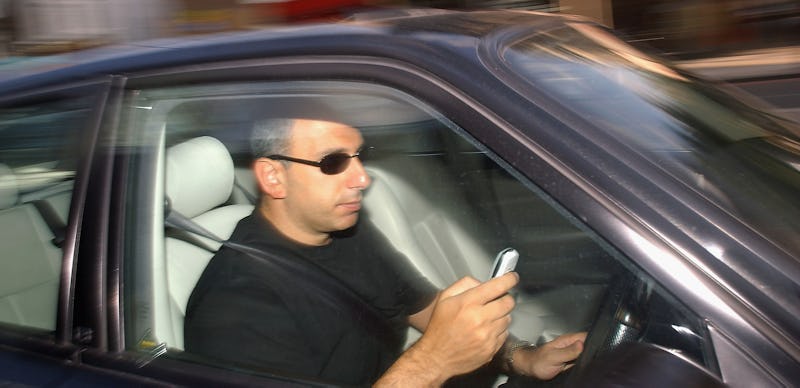 Bruno Vincent/Getty Images News/Getty Images
Apple unveiled a host of new products, updates and software features at its annual Worldwide Developer's Conference (WWDC) on Monday, and one of them could potentially save lives. The upcoming iOS will include a feature called "Do Not Disturb While Driving" that will make it easier to avoid texting while driving. By all indications, it's a rather simple tool from a technological standpoint — but if it works as advertised, iPhone's "Do Not Disturb" feature could prevent car accidents and traffic fatalities, which is more than enough to make it a worthwhile update.
It's pretty straightforward: iPhones using iOS 11 will attempt to detect, either through Bluetooth or Wi-Fi, whether or not the user is driving; if they are, the phone's screen automatically lock, and all notifications will be turned off. There's also an option to have the phone send an autoreply message in response to any texts it receives while in Do Not Disturb While Driving Mode. If it's an emergency, you can force a text through to the user by writing "urgent" in response to the autoreply message.
There's nothing extraordinarily high-tech about this, but it could end up being a lifesaving feature. According to the Centers for Disease Control, eight Americans are killed every day in car accidents that involved distracted drivers. The National Safety Council estimated that more than one in four motor vehicle crashes in 2014 involved a cell phone, and the year before, there were at least 341,000 car accidents that involved texting. If Apple's new feature prevents even a few of these accidents from happening — really, even a single one — that alone will make iOS 11 a valuable update to have.
iOS 11 will conclude that a user is driving under one of two circumstances: If their phone connects to a car's Bluetooth interface, or if the Wi-Fi antenna determines that the phone is moving at a fast enough speed. But although Apple hasn't released the exact details of how this will work, it's easy to imagine scenarios in which it might fall short: If a user doesn't have a Bluetooth system in their car and their Wi-Fi is turned off, the feature presumably wouldn't have any way of kicking in. And it could conceivably result in false positives — if, for instance, someone with their Wi-Fi turned on gets onto a bus, or is a passenger in a car being driven by someone else.
These concerns notwithstanding, it's hard to imagine how the new feature will cause any harm, and it has the capacity to confer a huge public benefit by reducing traffic fatalities and car accidents. From that perspective, Do Not Disturb While Driving could easily end up being one of the most directly impactful software features Apple has ever introduced.