Ireland's Abortion Ban Has Officially Been Banished To The History Books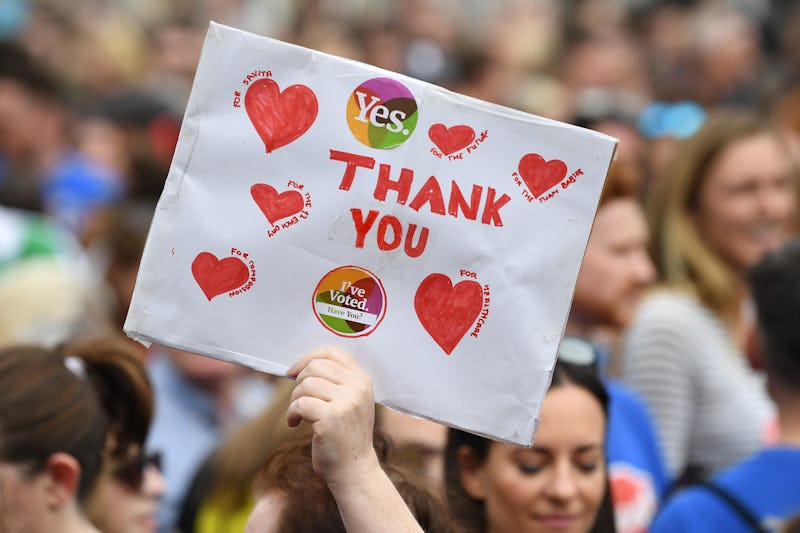 Jeff J Mitchell/Getty Images News/Getty Images
After years of fighting and one historic referendum, Ireland has repealed its Eighth Amendment, legalizing abortion and eradicating a longstanding 35-year ban. Though the country officially voted to legalize abortion back in May, the ban remained in place as several legal challenges mounted to protect it. All of those challenges have since failed.
"The news has just come in that the president of Ireland has signed the referendum...So it is official," Health Minister Simon Harris said in a video statement shared to Twitter. "The Eighth Amendment has now been repealed."
But while abortion is officially legal in Ireland, Harris underscored that there was still work to do. Though the ban has ended, programs and guidelines still need to be developed in order to facilitate abortion access.
"This is a very important day and I know so many people worked so hard to get to this day," he said. "My work obviously continues. We now need to bring in the legislation so that we can enact services to look after women with care and compassion in our own country."
Irish voters opted to repeal the Eighth Amendment in a veritable landslide, with nearly 67 percent voting in favor, according to the Evening Express. But the landslide didn't just happen by itself. It was the result of passionate campaigners fighting persistently to ensure that Irish voters showed up to the polls and voted "yes."
The Eighth Amendment was put into place back in 1983. In order to ban abortions, it placed equal value on the life of mothers and fetuses.
"What we have seen today is a culmination of a quiet revolution that has been taking place in Ireland for the past 10 or 20 years," Prime Minister Leo Varadkar said after the votes were officially tallied, according to The Washington Post.
Abortion services weren't only banned in Ireland prior to the amendment's appeal. Seeking abortions was also punishable by law, and those convicted could face up to 14 years in prison. The prime minister went on to strongly praise how the referendum turned out.
"It's also a day when we say no more," he said at the time. "No more to doctors telling their patients there's nothing can be done for them in their own country, no more lonely journeys across the Irish Sea, no more stigma as the veil of secrecy is lifted and no more isolation as the burden of shame is gone."
As some on Twitter pointed out, the Eighth Amendment had been along for so long that many in the country had never known an Ireland without it. Young people in Ireland will now have access to a procedure that has been outlawed for their entire lives.
It's long been documented that abortions continue to take place even when they are outlawed, except that they are often more dangerous, because many who undergo them are unable or afraid to seek medical help in the event that something goes wrong. Ireland's historic constitutional change will ensure that thousands upon thousands of women gain access to a safe, sanitary, and common procedure, under the care of medical professionals.