Irish Teen Seeking Abortion Was Sent To Psych Clinic Instead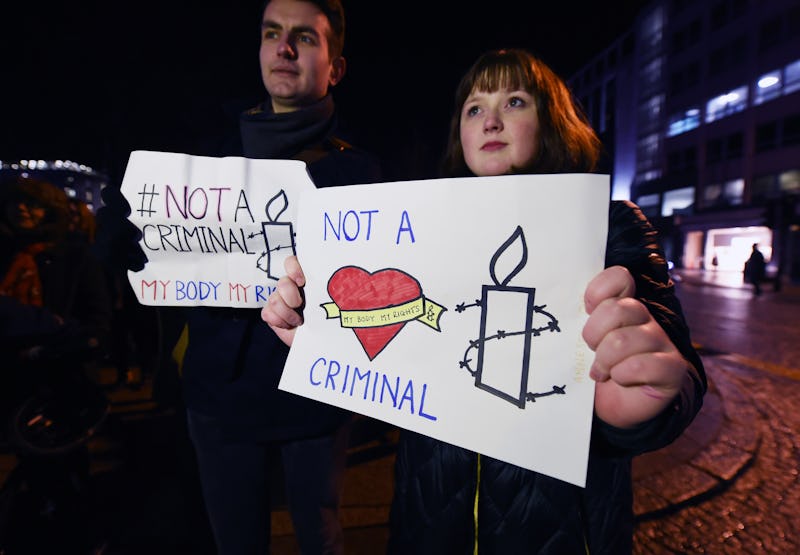 Charles McQuillan/Getty Images News/Getty Images
In a disturbing report detailed by CNN, an Irish minor seeking abortion was detained and sent to a psychiatric clinic for evaluation instead. The girl — whose identity is protected and kept private under the European Union law — was seeking to terminate her pregnancy but was reportedly sent to a psychiatry clinic against her will in 2016, according to a report shared by the Child Care Law Reporting Project on Monday.
According to the report, the pregnant minor was evaluated as "depressed and suicidal." The report detailed that the minor and her mother were under the impression that they were headed to Dublin for an abortion, but were sent to a psychiatric facility instead. According to the report, a referring psychiatrist allegedly believed that the minor should not have sought terminating her pregnancy, as it was "not the solution for all the child's problems at this stage." By invoking the Irish Mental Health Act, the referring psychiatrist utilized a piece of suffocating legislation that allows health care professionals to take patients into psychiatric facilities against their consent.
Ireland's Abortion Rights Campaign said it was "deeply concerned" about the situation. ARC spokeswoman Linda Kavanagh said, "Looking at the report, it's hard not to think that the psychiatrist in this case essentially used the Mental Health Act as a tool to force a child into continuing an unwanted pregnancy because of their own personal beliefs."
Kavanagh also noted that there was a need to establish a "process which ensures medical professionals with such conscientious objections cannot block timely health care in critical cases."
Ireland maintains a repressive attitude toward abortion. Under the Eighth Amendment of the Irish Constitution, abortions are prohibited even in the case of rape and incest. Under this amendment, the right to life of the unborn is given the same amount of gravitas pertaining to the right to life of a mother. The only circumstances in which an abortion is allowed are if the mother's life is at risk.
The report on this young woman exposes the bleak conditions of women's access to safe abortions in Ireland, and shows how certain laws can be twisted and used despite a claim to protect. That said, there is an inkling of hope. Perhaps with the report and the research backing it, the conversation on abortion and access to safe reproductive health care may grow stronger in Ireland. As a result, it might become much more difficult for the government to skirt the issue.