Ward Meachum Is Part Of A Major 'Iron Fist' Family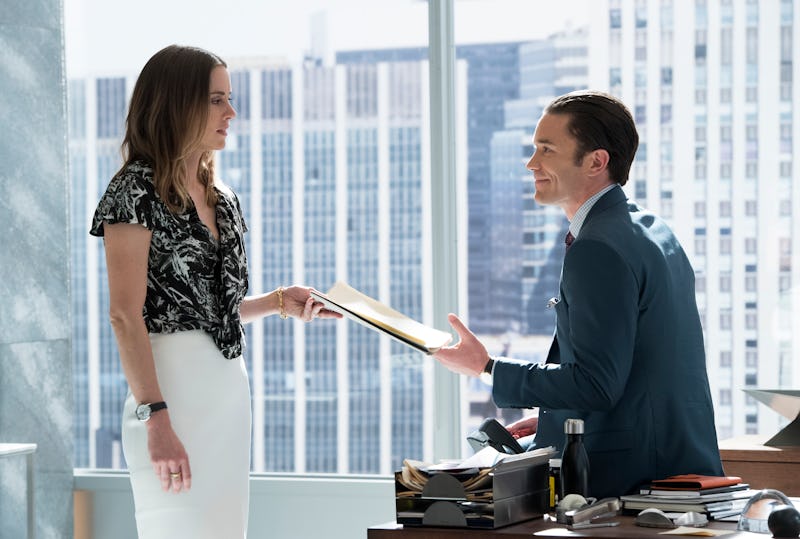 David Giesbrecht/Netflix
Over the past decade, Marvel Studios has mastered the art of comic book adaptation. After over a dozen movies and half-a-dozen television series, Marvel is bringing the classic story of Iron Fist to Netflix and making some changes along the way. One of the characters to undergo the biggest changes from Marvel Comics in Iron Fist is Ward Meachum. The businessman and long-time enemy of Danny Rand plays a major role in both the comics and the television series, but his relationship to the other members of the Meachum family have shifted quite a bit.
In the television series, Ward Meachum is the son of mogul Harold and sister of Joy. The Meachum family takes control of the company that Danny Rand's father helped found, and doesn't take to Danny's return too kindly. Harold is also connected to The Hand, the sworn enemy of Iron Fist. This all fits in nicely with what happens in the comic books, but with a major change in familial standing. In the source material, Ward isn't Harold's son — the two are brothers.
The Ward Meachum of the comics doesn't become a major player in the story of Iron Fist until the death of his brother. Harold's actions directly lead to the evolution of Danny Rand into Iron Fist, specifically when he allowed Danny to watch his father die in front of him instead of saving him, and then abandoning Danny in the jungle. Harold was far from a nice guy, and it seems like that runs in the family. When Iron Fist is suspected of killing Harold, Ward steps up to help run the company alongside Harold's daughter, Joy, while making a hobby out of trying to bring an end to Iron Fist.
While Ward Meachum was one of Iron Fist's longest-running foes, the man rarely got his own hands dirty in the comic books. Ward would usually team up with supervillains that were more capable of bringing an end to Iron Fist, such as Steel Serpent and Master Khan. Ward's comic book run came to an end when a plan to take over the world with the alien race The Skrull got complicated. Ward's paranoia got the best of him, and he pushed his alien allies to turn on him.
Aliens probably aren't going to be showing up in Iron Fist any time soon, but Ward is there from the beginning. The shift from brother to son brings up a lot of interesting possibilities, but most importantly, puts him on an even footing with Joy Meachum. Instead of a uncle-niece revenge team-up, it's a brother-and-sister team-up, which could push their relationship with each other in new and exciting directions. It also allows Iron Fist to make Danny and Ward childhood friends, further complicating their relationship once Danny returns. But don't expect their friendship to last, because matter what his relation to Harold or in what medium he's presented, it's clear that Ward Meachum is bad news.