Lifetime Made A Creepy Mom/Daughter Movie Just In Time For Mother's Day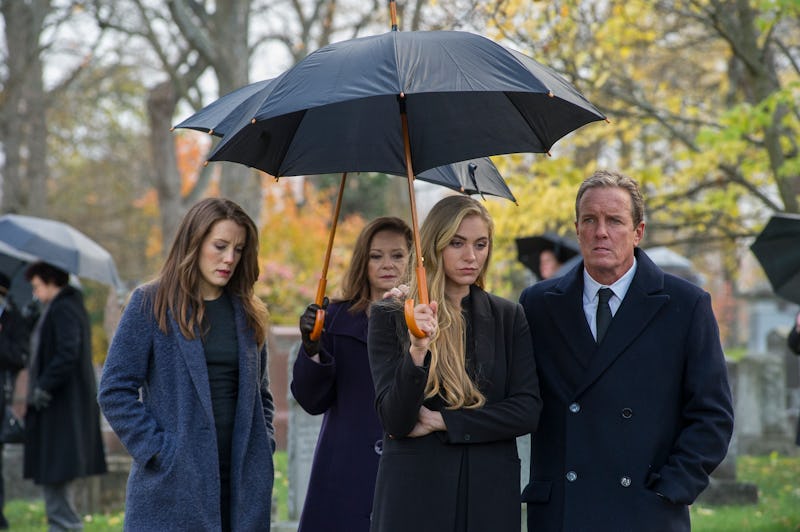 Lifetime Movies
The only thing Lifetime loves more than a sappy love flick is a revenge drama. The network consistently releases guilty-pleasure movies with plots that seem to be straight from a headline news story. Obsession, lies, and murder weave horrifying yet interesting tales about relationships gone wrong. Fans will wonder if their latest film A Daughter's Revenge is based on a true story, but it seems to be totally fictional. But, the movie's plot is something that could happen to a real-life person.
According to the website synopsis, Elle Spencer is a young woman who hates her stepfather David. She blames him for her mom's suicide and she is looking for payback. Her friend Anna Bellcroft comes to live with Elle after a stint in jail for a DUI. Anna has no friends, family, or anywhere to go, so she is depending on her friend's assistance. Anna doesn't know that Elle wants to use her in a plot to get revenge against her stepfather.
In a preview trailer, Elle is shown stirring up cheating drama by framing her best friend Anna as an obsessive other woman. Anna tells Elle that she thinks her stepfather is great and is seen interacting and smiling with him in public, which only helps pad Elle's lie. Elle creates diary entries about Anna's love for David, saying Anna thought she could "never fall for an older man."
David is later seen fighting with his wife and denying cheating accusations as Elle listens outside of the room. A hand is seen dumping an unknown substance into a glass and is immediately followed by a shot of Anna standing over a motionless David lying across a bed. It's not clear why they were together at that moment, but it looks like Anna will take the fall for the (attempted?) murder. Elle takes a picture of her mother and father and angrily launches it across the room. Her ominous words about finally completing her mission wrap up the :30 second clip.
"Tonight, it finally happened. I hate him. He has to pay for what he's done to me."
The trailer for A Daughter's Revenge is a great teaser, mainly because it leaves the viewer with so many questions. If Elle's mother is deceased, then who is David's current wife? Or, is this woman Elle's mom who dies by suicide at some point in the movie? Where is Elle's biological father? And why is she so determined to further ruin Anna's life to get revenge? Anna's relationship with Elle's father David is also mysterious. She is seeing taking photos with him in public and smiling at him inside a car, but why is she spending so much time with her friend's father? It's not clear if he is helping her piece her life back together or if there is anything romantic going on between the pair. There is a lot to explore in this movie.
A Daughter's Revenge is a twist on the network's traditional Mother's Day week programming. Lifetime typically plays a list of original movies about twisted, brave, and vengeful moms known as the 'Don't Mess With Mommy' marathon. A recent Broadway World article revealed that TV talk show personality Wendy Williams will return to host this year's dramatic lineup, which includes A Daughter's Revenge in the Saturday schedule. There is little information or promotion available for this movie, but the Lifetime Movies Twitter page posted a clip of Wendy's commentary about another #DontMessWithMommy movie called Mistress Hunter.
A Daughter's Revenge has all the makings of a Lifetime movie – deception, drama, and an inexplicable need to solve problems through murder. Will Elle's story be able to hold its own among the other #DontMessWithMommy ladies? Fans will find out when the movie drops this weekend.
If you or someone you know are experiencing suicidal thoughts, call 911, or call the National Suicide Prevention Hotline at 1-800-273-8255.