Lifetime's 'The Wrong Daughter' Has A Super Creepy Storyline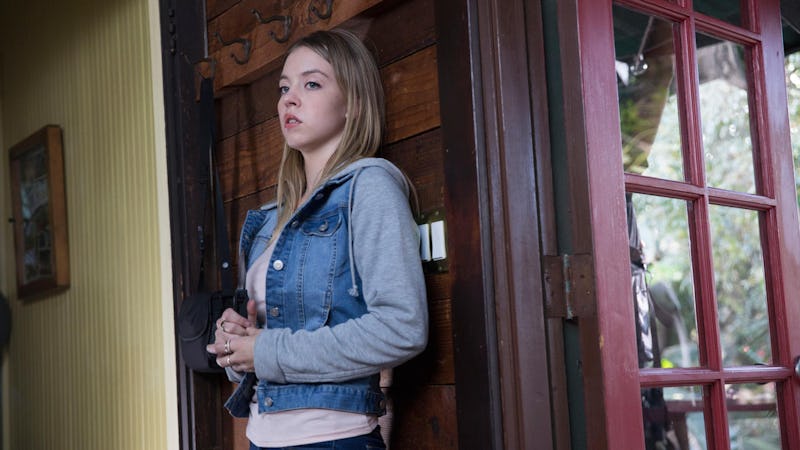 Lifetime
In true Lifetime form, a new female-centric thriller drops on Sunday, May 6. It's called The Wrong Daughter — not to be confused with The Wrong Girl, which premiered in 2015, or Stolen Daughter, another 2015 release from Lifetime, or even My Daughter Is Missing, a 2017 film from the network. With this new entry into the Lifetime film set, viewers may be wondering if The Wrong Daughter is based on a true story, or if it's fictional.
The film's synopsis sounds both bonkers and intriguing in a way that only Lifetime can pull off: "Kate and Joe have longed to be parents and are considering in vitro options," it begins, "when Danica, a child Kate gave up 17 years ago, appears on Facebook." OK, sounds slightly fishy. "Danica comes to live with them, but she's not their real child." Yeah, that checks out. "She's an impostor who will do anything, even kill, to get the mother's love she never had!" Yikes.
Fortunately, Lifetime's website doesn't suggest it's anything other than fanciful fiction (thank goodness, because it sounds like every mom's worst nightmare). Indeed, the fact that Danica found Kate through Facebook taps into everyone's worst fear of social media turning on them. Who hasn't been terrified of a random stranger stalking him or her on Facebook? And what if that random stranger turns out to be dangerous?
The Wrong Daughter also has a top notch cast, starring Cindy Busby as the mother, Kate, Sydney Sweeney as the titular wrong daughter, Danica, and April Bowlby as a character named Ms. Hanson, per IMDb.
Sweeney is an up-and-coming star who recently played Eden, a devout follower of Gilead, in The Handmaid's Tale Season 2. "She's 15," Sweeney told Women's Wear Daily about Eden. "She grew up in Gilead. She doesn't know anything else. She's a true believer. She wants to be a commander's wife." Not only that, but she also played Emaline in Everything Sucks!, the gone-too-soon Netflix show about teenagers in the '90s.
And this 20-year-old's work is far from done. Sweeney will appears as Alice in the upcoming HBO drama Sharp Objects, which stars Amy Adams and is based on a Gillian Flynn novel by the same name. "Working with Amy Adams was incredible," she told WWD about the experience. "It was like being at camp with them because we would travel so much."
As for the rest of the cast, Busby is a French-Canadian actress known for When Calls the Heart, a Hallmark series set in Canada, and a CBC show about horses called Heartland. Bowlby, meanwhile, has appeared on everything from Drop Dead Diva to You're the Worst.
But what roles will Sweeney and the rest of the cast be embodying in The Wrong Daughter? From the trailer, Sweeney's character, Danica, looks to be a knife-wielding psychopath who poses as Kate's daughter. "Giving you up for adoption was the hardest decision of my life," Kate tells Danica through tears. However, enter right daughter, who is presumedly Melissa, and is played by an actress named Kelsey Griswold, per IMDb. Viewers see her telling Kate over the phone, "[That] girl who is pretending to be me is not your daughter." Who is this right daughter, Melissa, and how did she discover Danica's nefarious scheme to catfish her birth mom?
It seems unlikely that Lifetime would give away the film's entire plot in the trailer, so viewers will have to wait until Sunday to discover what's going on behind-the -scenes. Perhaps it has something to do with what Kate did years ago — a transgression she feels the need to atone for. "I need to make this right," she says in the trailer before stepping out of a car to do... what? And where does the in-vitro plot come into play, especially if Kate already placed a child for adoption? Lifetime, you've done it again! Fans will be hooked.