This Creepy New Netflix Series About A Murder In The 1800s Will Send Chills Down Your Spine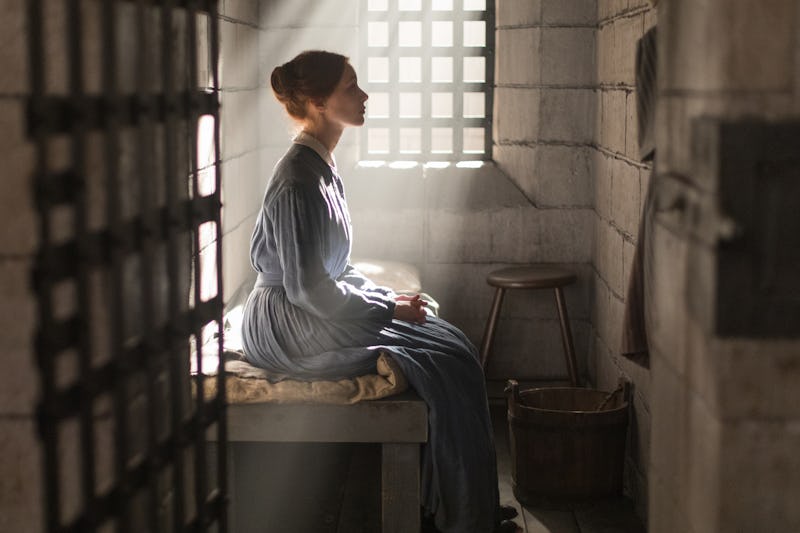 Sabrina Lantos/Netflix
Canadian author Margaret Atwood is having a major renaissance thanks to Peak TV, after the Hulu adaptation of her novel The Handmaid's Tale won top honors at the Emmys earlier in 2017. And now, Netflix is getting in on the Atwood trend by adapting historical drama Alias Grace into a six-part miniseries. And, after The Handmaid's Tale chilled audiences with its shocking plausibility, fans of the adaptation may be wondering if Alias Grace is based on a true story. Unlike Handmaid's, which speculates about a possible future, Alias Grace goes into the past to explore a real case. Because Atwood is so good at writing her way into a character's mind, much of her writing is speculative and fictionalized, but at the heart of Alias Grace is the real case of Grace Marks, an Irishwoman and Canadian servant who was convicted (and later pardoned) for the murder of her employer, Thomas Kinnear and housekeeper Lucy Montgomery.
Set in 1843, when the murders happened and Marks was convicted of the crime, the miniseries goes deep into Grace's mind as she goes from servant to media sensation. In the afterword to the book, Atwood writes, "The details were sensational... The combination of sex, violence and the deplorable insubordination of the lower classes was most attractive to the journalists of the day," according to The New York Times. That means that for a crime that happened over 150 years ago, there's a surprising amount of historical debate about the Grace Marks case. According to CBC, Atwood did try to stick to the facts of the case, saying, "If you're dealing with things that actually are known, you can't arbitrarily change that to suit yourself."
According to The Kingston Whig-Standard, Grace Marks confessed to taking part in the murders in 1843, but named her fellow servant, the convicted James McDermott, as the mastermind of the plot, claiming she was tortured by visions of the murdered woman. "They glare upon me night and day, and when I close my eyes in despair, I see them looking into my soul," Susanna Moodie wrote in the Whig based on the testimony of Grace's lawyer. McDermott contradicted Marks' account, claiming, "She told me she was determined if I would assist her, she would poison both the Housekeeper and Mr. Kinnear by mixing poison with porridge," in his signed confession, according to The Whig.
And, according to Atwood's afterword, there's going to be plenty of scandalous elements still at play:
"Grace Marks was uncommonly pretty and also extremely young; Kinnear's housekeeper, Nancy Montgomery, had previously given birth to an illegitimate child and was Thomas Kinnear's mistress; at her autopsy she was found to be pregnant. Grace and her fellow servant James McDermott had run away to the United States together and were assumed by the press to be lovers."
While Atwood chose to base her novel on the real event, she told audiences at a TIFF screening that "I don't think anyone is a reliable narrator — in real life or anywhere else," according to Indiewire, suggesting that she made no efforts to stick to real life when it came to creating her version of Grace and climbing into her deepest thoughts.
She also created the character Dr. Simon Jordan, a psychologist who is interviewing Grace, creating another level of disconnect between the real history of Marks and the fictional version of the case that she's creating. "There were so many different, contradictory stories about Grace Marks; nobody actually ever knew whether she had killed anybody or not," Atwood said at TIFF. "The interesting thing is the way everybody projects their ideas onto Grace. The fact that she had various stories that she told to different audiences… well, that always affects the story that you tell — who the audience is."
In this case, the version of Grace Marks in Alias Grace uses Atwood's book as a jumping off point for a fictionalized conclusion to this still-unsolved mystery: How and why did Grace Marks help murder her employer and his mistress? While Atwood's book sort of has a final theory, in real life, McDermott's account still sharply contradicts the real Marks' claims, and while writers of the period like Moodie were fascinated by the case, the full truth died when Marks did.