'Luther's Season 5 Trailer Contains An Easter Egg That Is Straight Up Terrifying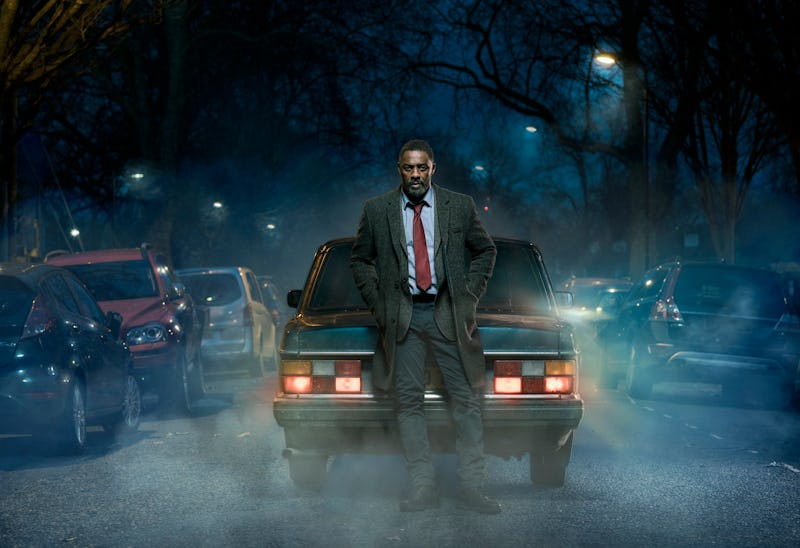 Luther/BBC
He's TV's hottest detective, she's TV's hottest villain. Match made in heaven, right? Well, one might not think so but Luther and Alice really do make televisual gold. However as season five of the Luther approaches the main question all fans want to know the answer to is this: will Alice be in Luther season five?
Well, you guys know it just wouldn't be the same without her, so the creators of the show, of course, chose to bring our gal — who in Season 4 was supposedly killed — back. That's a ten out of ten for me on that decision. Love you BBC. Speaking to The Independent, the actress who plays Alice, Ruth Wilson shed a sliver of light on Alice's return.
"She is in it, it's not what you expect. She's definitely back for a bit. Back with a vengeance."
And as if that wasn't enough, the BBC released a trailer which shows how messed up this season is going to be. All kinds of creepiness and murder. And then at the end, a flipping flash of Alice's face, with blood on it! WHAT?! Like a nano second. God they know how to reel you in don't they? Anyhow, the brief glimpse alone was enough to assuage the fears of all hardcore Luther fans, who know that those two on screen is absolute fire.
Here's a screenshot so you can appreciate the terror. Also can we talk about the person crawling silently along the bottom of the bus. I will have nightmares about that for years to come.
So what is going to happen this season? I am not sure about you, but it has been FAR too long since the last season. And like, as it has been so long, I can't help but wonder, will this smooth detective still have that edge? Well the BBC has released a bit of the storyline, and guys it looks dark AF.
"As a series of monstrous killings becomes ever more audacious, Luther and new recruit D.S. Catherine Halliday are confounded by a tangle of leads and misdirection that seems designed to protect an unspeakable horror."
Oh wow. I guess this level of darkness is what we have come to expect from this brooding detective. A detective who has done more good work for the old fashioned overcoat than perhaps anyone before.
The show's description seems to show perhaps a darker than ever storyline. Guys they are dropping words like sacrifice. Holy flipping moly this is about to be lit.
"But even as the case brings him closer than ever to the nature of true evil, a reluctant Luther must also face the ghosts of his own past. Striding back into the line of fire, he must choose who to protect… and who to sacrifice."
But like with every great TV show, as seasons go on, viewers grow fearsome that this might be the last instalment of their fave slice of entertainment. Well, worry thee not guys, Luther himself, Idris Elba, has confirmed this will absolutely not be the last time we see that angel of a man on screen. Speaking to Empire he shared not only the fact that the show is not over, but that this season will be a bit pivotal.
"This season is not the end. But there are some real changes that will happen."
OMG what changes Idris?!
Well, I guess we will have to wait. Luther season five will be a part of BBC's Christmas season. And boy oh boy, I cannot wait.