The 'American Crime' S3 Story Feels Very Real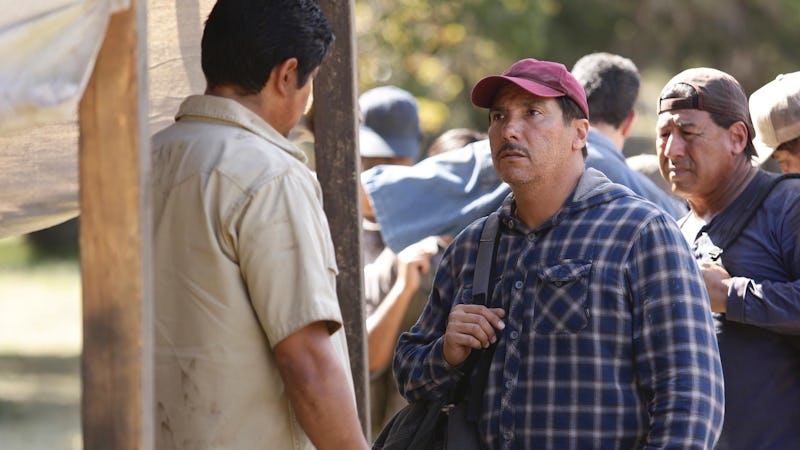 ABC
Since debuting in 2015, American Crime has proved an impressive lens for real world issues, tackling hyper-relevant themes of race, class, sexual orientation, and consent. The same is true for American Crime Season 3, though like previous seasons, the storyline is fictional. This time, the show will explore labor issues, economic divides, and individual rights amidst the backdrop of North Carolina's suburban farmland. As the official description reads on ABC's website,
When a father, Luis Salazar, travels illegally from Mexico into the United States to search for his missing son, he discovers that modern servitude is thriving in the farmlands and agricultural communities. Promised a job and a place to live, these laborers find themselves forced to live in abject poverty. Required to pay for their own food and other essentials, what little money they make is paid back to their employers, and because they will forever be in debt, they can never leave.
The story hits at a time when immigration and undocumented workers have been at the center of national debate, and according to The News & Observer, North Carolina serves as a particularly significant setting. The outlet reports that according to Polaris — an organization that helps run the National Human Trafficking Hotline — 181 cases of human trafficking were reported in North Carolina last year (up from 112 in 2015), putting the state 10th nationally.
"We really wanted to show the collision between an older, whiter population and the new arrival of the Hispanic population," executive producer Michael J. McDonald told News & Observer of the decision. "To set it in California would have been something that we've seen, but as the Hispanic populations are exploding in Georgia and North Carolina and other traditional Southern states, it's a new culture clash that we wanted to expose, that we haven't really talked about."
In addition to its focus on immigrant labor, the season will also address xenophobia, women's rights, and racism. In an interview with Variety, McDonald explained that overall, there is "a lot of examination at what it looks like to not have power."
These narratives will unfold through a web of disparate characters somehow enmeshed in the same cycle of crime. Regina King plays Kimara Walters, a single social worker in her 40s who becomes deeply invested in helping 17-year-old sex worker Shae (Ana Mulvoy-Ten) escape her pimp. Timothy Hutton plays Nicholas Coates, a furniture supply business owner under pressure to cut costs while stuck in a flailing marriage to Clair (Lili Taylor). And Felicity Huffman plays Jeanette Hesby, a woman who married into a family that owns a struggling tomato farm, while Connor Jessup plays a young man estranged from his family and struggling with drug misuse who seeks work there in an attempt to get sober. Slowly, both he and Jeanette uncover the unsettling injustices taking place on the farm.