Andrew Garfield Is Keeping His Love Life Low Key, For Good Reason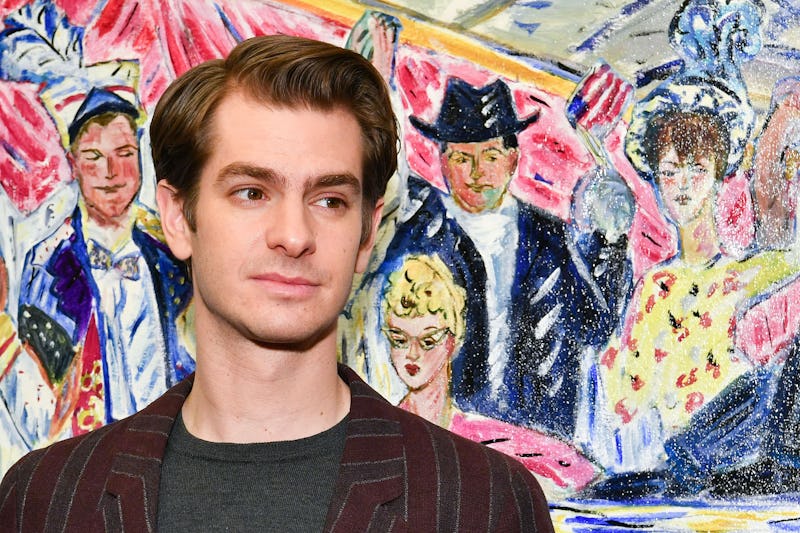 Dia Dipasupil/Getty Images Entertainment/Getty Images
Andrew Garfield has gone from superhero fledgling to box office and stage powerhouse, and he's stolen his fair share of hearts along the way. He'll be making an appearance at the 2018 Tony Awards this weekend, where he's nominated for his role in Angels In America, but it's unclear if he'll have anyone on his arm when he does. So is Andrew Garfield dating anyone?
He hasn't really been spotted getting cozy with anyone since his split from Academy Award winner Emma Stone. Cosmopolitan reports that though the couple never officially came out and made an official statement about their relationship or its demise, it's "widely believed" that they broke up in October 2015, after first stepping out on the red carpet together way back in 2012. Though they both appeared on Saturday Night Live while the other was hosting, and weren't shy about being photographed with each other during their relationship, both of them were very hesitant to actually discuss their relationship in-depth publicly.
"I understand the interest in [celebrity relationships] completely because I've had it, too," Stone told the Wall Street Journal in 2015, according to the same Cosmo article. "But it's so special to me that it never feels good to talk about, so I just continually don't talk about it."
Since the split, they've both been very keen on speaking highly of each other, despite whatever might've happened that ended the relationship. Stone told Vogue in 2016 that Garfield was "someone I still love very much," and Garfield was spotted giving her a standing ovation when she won her Golden Globe for La La Land early last year.
Even now, rumors still swirl about if the two will ever get back together. Page Six reported that they were spotted just this May having dinner together in New York City, prompting some to speculate that it might have been an official date. Of course, they definitely seem to exist as friends post-breakup, so it might have been completely platonic. Stone's been spotted with others, too, like Leftovers star Justin Theroux, though he was quick to clarify that they're just "BFFs" who are co-stars in Netflix's upcoming series Maniac, according to Harper's Bazaar.
So in the end, the truth remains fuzzy. Maybe Garfield and Stone are simply best friends who remained close after the split. Maybe they'll get back together one day. Maybe they're both single, or maybe they're both dating different mystery people! The possibilities are endless, and these two private actors definitely don't seem like the type to make a priority of notifying all of us about their romantic developments, nor are they obligated to.
Plus, Garfield's got plenty more going on that fans can get just as stoked about — like his Tony nomination, for example. In Angels in America, he plays Prior Walter, a gay man battling AIDS, and it's clear what the role meant to him. "I feel I get given a huge gift as an actor," he told Entertainment Tonight. "Every character in this play is so nuanced and so rich and has so many conflicting qualities that you get to experience a whole range of what it is to be a fully living, breathing human being."
Garfield's no stranger to fame — he was nominated for an Oscar for his role in Hacksaw Ridge — but he told Variety that the stage is a whole different animal. "With the Oscars, the performance is done," Garfield said. "For the Tonys, what I'm realizing now is that you keep having to prove that it's good, because you're on stage every night still doing it." Apparently he and the rest of the team succeeded in that — Playbill reports that Angels In America is the most-nominated play in Tonys history — and Garfield had no small part in making that happen.