If You Don't Know Who Anitta Is, You Need To Watch This Netflix Doc Right Now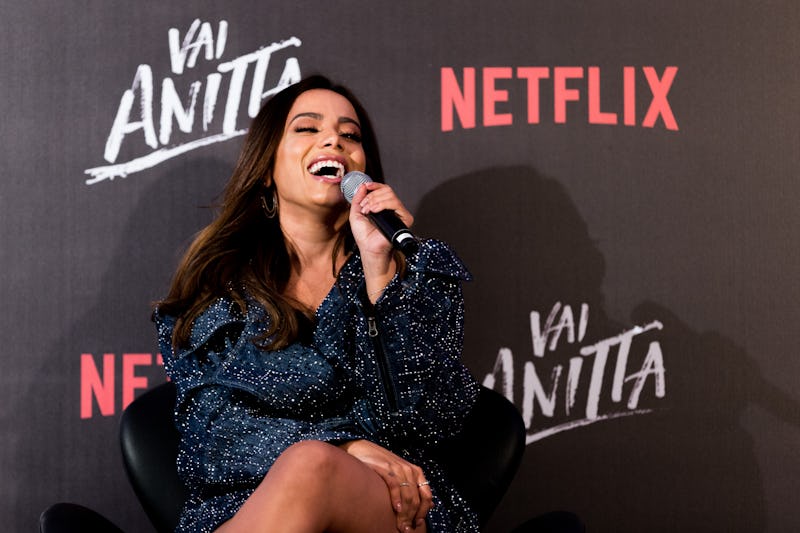 Alexandre Schneider/Getty Images Entertainment/Getty Images
Netflix's latest music documentary, Vai Anitta, puts a whole new spotlight on Anitta, a pop icon from Brazil who is constantly in the public eye and working on pumping out new songs. The trailer for the doc focuses not only on her professional success in the industry, but also some of the struggles she endures behind the scenes. It's unclear if it'll tap into specifics of her dating life, which makes sense, since it's pretty unclear if Anitta is single in 2018.
Whether she's purposefully private on social media or just doesn't have anything to share at the moment, Anitta's Instagram account is pretty void of any romantic content with a special someone. Any pictures she posts with other people appear to be platonic, though she certainly could be in a relationship while playing things close to the chest as far as divulging information to fans.
That doesn't mean the singer, who is also a judge on Mexico's version of The Voice, hasn't been linked to famous figures in the past. Last year, the Daily Mail reported that she'd been seen stepping out with Tyga, and had also kissed Colombian musician Malina onstage during a performance. The publication stopped short of confirming she was in a relationship with either of them, though — and you should take any gossip content with a grain of salt, until it comes from the involved parties themselves — and it's entirely possible that they were just friends who got a little flirty.
That wasn't the first time Anitta's love life had been the center of gossip. Anther celebrity news site, Hollywoodlife.com, reported way back in 2015 that she may be linked to One Direction's Niall Horan, though the main source of evidence was an Instagram post they were both featured in, so who knows how much truth there really is there.
The point seems to be that Anitta is much more focused on promoting her work and her legacy than she is with filling fans in on her romantic life, and that is a-OK with me — her career is an astonishing one to watch. Anitta performed during the opening ceremony of the 2016 Rio Olympics, when she skyrocketed to even greater global visibility.
"The whole world will be watching, and that's very important for me," the star told Billboard ahead of the performance. "I come from the ghetto in Brazil where we don't have a lot of career opportunities, so I'm sure my family and people who live there never imagined that one day I'd become a singer and be able to perform at an event like the Olympics. I just can't believe it's happening!"
There's also way more to come. She told Rolling Stone earlier this year that she's been in the studio with some huge names, and there's more music to come. "I've been in the studio with Pharrell and Rita Ora, and I've been talking to Dua Lipa as well," she revealed. "For me, when doing a collab it's all about chemistry, and whether you think their style matches with who you are. But right now, I want to show more of me, that I can do something by myself and reveal my personality alone. This year I'm going to work more in English, but first I want to get solid in the Spanish [language] industry."
So until she's ready to let the public in on her love life, we can leave Anitta to it. She's got plenty more money moves to make and if her previous work is any indicator, it's bound to be exciting.