Is Beyoncé About To Give Birth To Her Twins?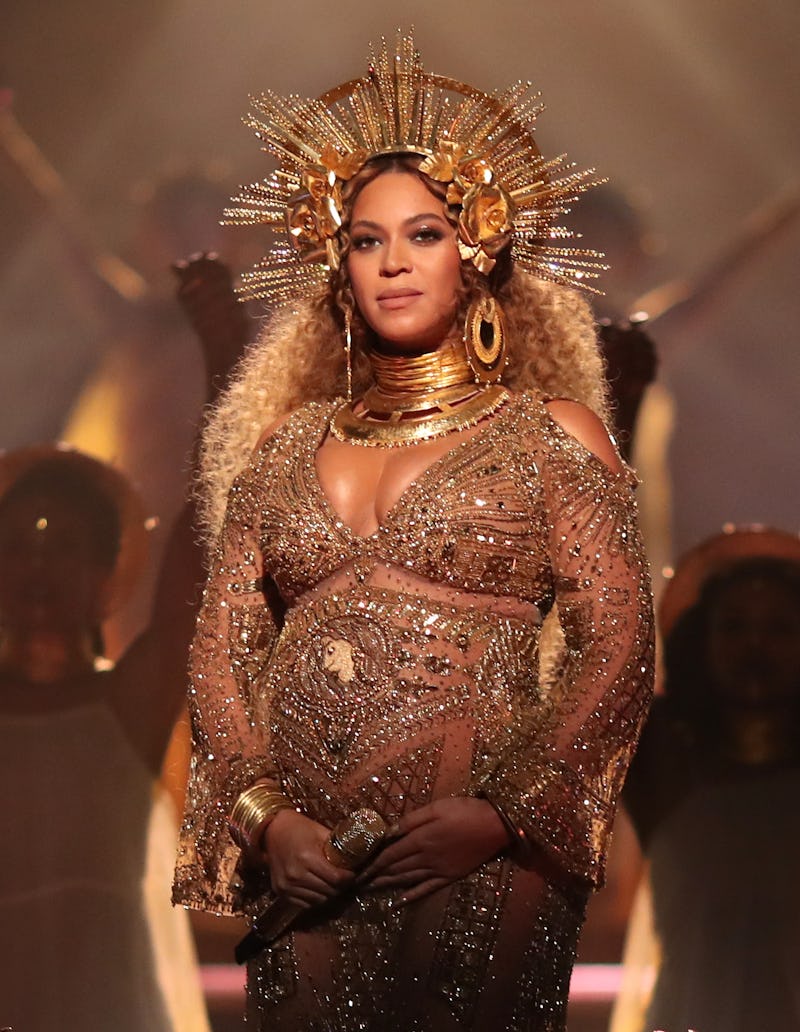 Christopher Polk/Getty Images Entertainment/Getty Images
The world does not want to go one more day without Beyoncé's twins. It feels like years since the singer revealed her pregnancy in an Instagram post, and fans have waited less-than-patiently for the new additions to the Carter-Knowles family since. But the wait might be over soon. On Tuesday morning, rumors that Beyoncé was in labor started online. It might just be wishful thinking, but many Twitter users seem to think there is plenty of evidence to suggest that the singer checked into the hospital and will soon give birth to her twins. Bustle has reached out to a rep for Beyoncé for comment, but did not receive a response at the time of publication.
It's been a few weeks since Queen B shared pics of her star studded Carter Push Party to social media. The event was a celebration of the twins imminent arrival, and it was attended by the likes of Serena Williams, Kelly Rowland, and Michelle Williams. The singer and her mother, Tina Knowles, posted lots of shots from the event, and it seemed like everyone was enjoying a last hurrah before the babies arrived. Given the timing of the soiree, it is definitely feasible that almost a month later the singer might be in labor. However, the recent push party doesn't necessarily prove anything, and fans on Twitter went searching for more evidence that the star might be in labor or have given birth already.
According to Us Weekly, multiple sources have claimed that there is a significant amount of security outside of an L.A. based hospital. This report follows an unverified tip published by The Shade Room that claimed Bey checked into UCLA on Tuesday. The anonymous submission can't be confirmed, but it did point out that celeb hairstylist Chuck Amos posted an encouraging message for the singer on Instagram.
The pic is a selfie of the hair guru with Beyoncé, and it's captioned, "Hang in there, Mama! 💛 You @Beyonce!!". This certainly sounds like the kind of well-wishes one might send to a future mom before labor, but the stylist could also just be supporting the star during the last days of her pregnancy.
Also, the claims about heightened security and private wards at an L.A. hospital do contradict earlier reports that the star was going to have a home-birth. The Daily Mail published an article on Sunday claiming that a neonatal wing would be created in the Carter's home, to respect the couple's privacy and safety. These claims are also largely unverified, however, so it is still very possible that Bey opted for a hospital birth.
In the meantime, Twitter seemed convinced that Tuesday was the day, and was filled with fans both demanding answers and rejoicing. Several users made jokes about the birth, wondering what the hospital staff might be thinking about having such high-profile babies in their midst.
Others prepared for the announcement as best they could:
One fan was particularly certain:
Jokes aside, if the singer did have her twins, it might be a few days before the stars make an official announcement. When Beyoncé and Jay Z's daughter Blue Ivy was born in January 2012 it was at Lenox Hill Hospital in NYC, but the couple didn't confirm the news in a public statement until two days later, according to the Daily Mail. It seems likely that it could be at least a couple more days of uncertainty, so the BeyHive is going to have to hold on just a little while longer.
Of course, there is one huge piece of evidence missing from these reports: If Beyoncé gives birth mid-June, it means the babies will fall under the Gemini star sign. Gemini is represented by astrological twins, so clearly the stars would have aligned for Queen B. The universe is dropping hints, people!