Bill Nye's First "Marriage" Was Complicated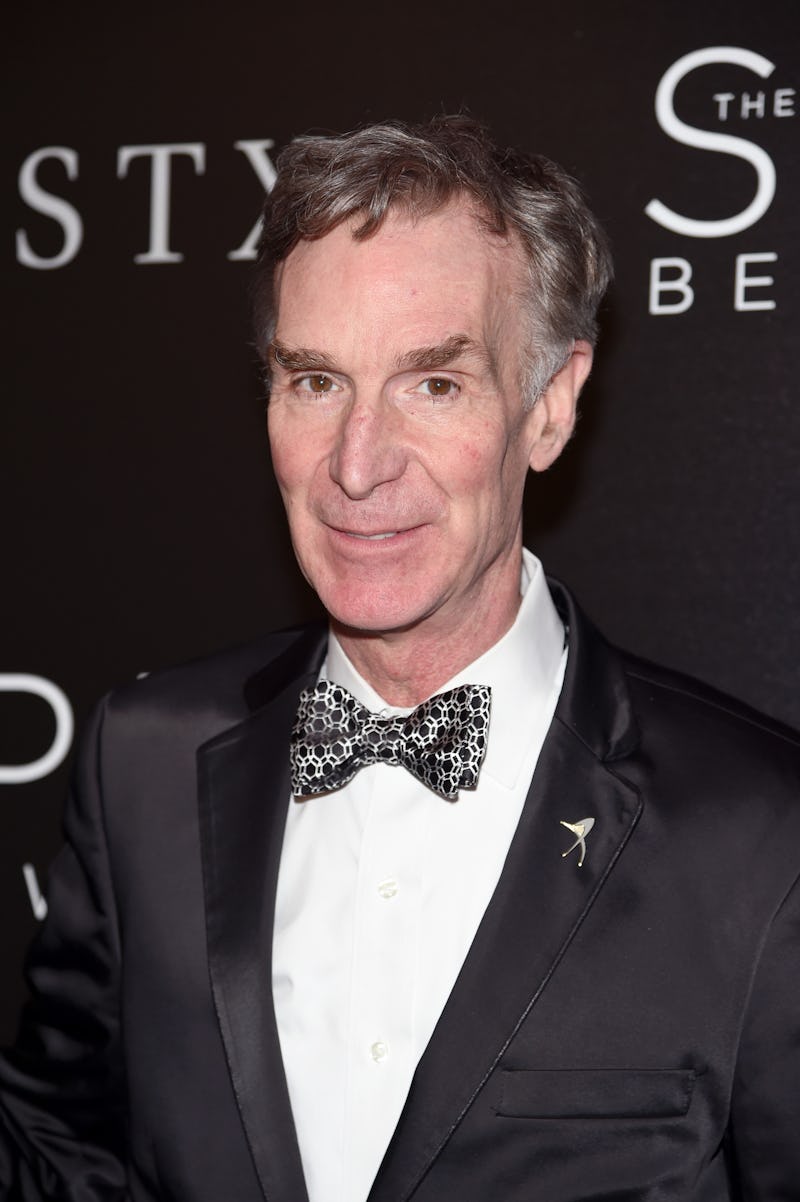 Jamie McCarthy/Getty Images Entertainment/Getty Images
Bill, Bill, Bill, Bill, Bill, Bill Nye the science guy. You know you can't help but chant that every time Bill Nye's name is mentioned. Well, at least I know I can't. Other than recognizing the 61-year-old for his former TV series, you might not know much about his personal life. So, yeah, you probably want to know if Bill Nye is married or not, right? Especially with him being in the news more recently for modeling during a fashion show and his Super Bowl ad. But let's just say that his first and only marriage (so far) was never really a marriage at all. Are you confused? Allow me to explain.
According to a December 2007 CBS News report, during an appearance on The Late Late Late Show with Craig Ferguson, Nye revealed he was engaged to Blair Tindall, who is a writer, musician, and motivational speaker. Tindall also wrote the book Mozart in the Jungle, which inspired the Amazon series of the same name starring Gael García Bernal.
Per CBS News, Nye "surprised Tindall with a spontaneous wedding in 2006." According to a February 2006 Today report, they were married by famous pastor Rick Warren and their wedding march was performed by cellist Yo Yo Ma and MIT Media Lab Professor Michael Hawley on the piano.
However, even though they had a wedding, apparently, it was never legitimate. As reported by CBS News, Nye told the Early Show's Hattie Kauffman, "We were never married. We got a letter from the State of California, with the great seal affixed, that we were never married. So shortly afterwards we both agreed it was not a good idea." He gave no further explanation of why their marriage was not considered legal.
If their marriage-that-never-was isn't enough, CBS News also reports that there was an incident where Tindall "poured a toxic liquid into the garden behind the house they both owned, a substance Tindall later said was weed killer. In November 2007, People reported Nye filed a restraining order against her, but based on documents obtained by The Smoking Gun, she sought to have it lifted. Per People, in the documents Tindall said she believed Nye tricked her into a "false marriage." According to People, she apologized and said, "I am terribly sorry for what I did," referring to pouring weed killer on his rose garden. "I have never done anything like it, and never will again."
According to CBS News, Tindall explained the reason behind her actions and said, "I became very angry, and could only think of destroying the rose garden, so he couldn't give another woman the roses which I had cared for." She added, "I meant to hurt his flowers only, not him."
The former couple was reportedly set to go to court in December 2007. According to a February 2012 TMZ report, around the time of the 2007 situation, Nye "obtained a 6-year injunction against her ... requiring her to stay 100 yards away from him." In the same TMZ report, the outlet said that Nye was taking Tindall back to court after she allegedly violated her restraining order, which in turn allegedly caused Nye to spend $57,000 in attorney fees. Per TMZ, Tindall was ordered by the court to cover the amount, but she allegedly never did so, at least according to Nye. As a result, Nye took her back to court.
Regarding the court case, Tindall told TMZ, "Bill Nye was the love of my life. I'm surprised he has taken this action against me. I have no funds to pay him, and he is a very wealthy man, so I'm not sure where this is coming from." Nye spoke with TMZ in November 2014 and claimed that Tindall was still refusing to pay the amount owed to him. It's unclear if this particular case has been settled in the time since. Bustle reached out to reps for Tindall and Nye, but did not receive a response at the time of publication.
CBS News reports Nye said about the 2007 incident with Tindall, "We need not export just these fascinating stories about celebrities. In my case, I emphasize we were never divorced because we were never married."