Bill Nye's Modeling Debut Was Everything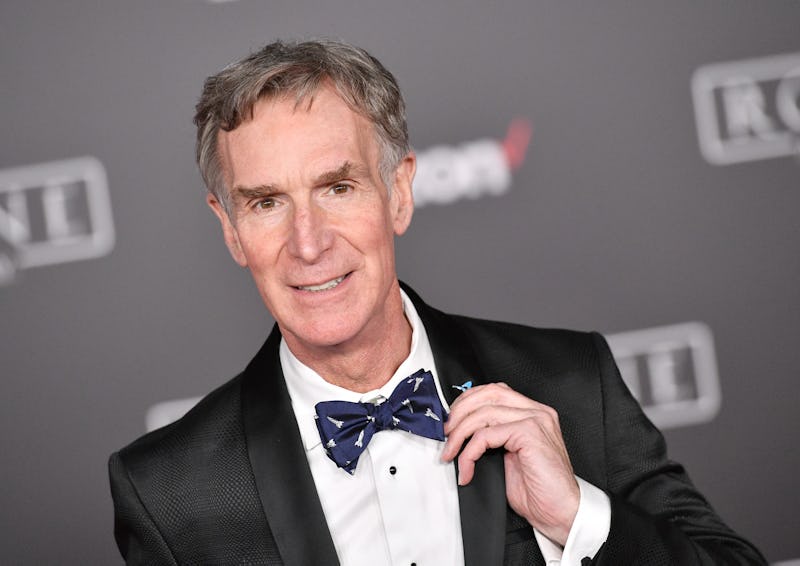 Mike Windle/Getty Images Entertainment/Getty Images
Bill Nye the High Fashion Suit-Wearing Guy? He's known for lab coats, bow ties, and science, but now he's a model. Sort of. During NYFW, Bill Nye walked the runway in Nick Graham's fashion show and he also narrated the menswear designer's Mars-themed, Fall 2017 runway show, according to Vogue. He wore a shimmery suit with rocket print. Yes, yes he did, and it was everything. Astronaut Buzz Aldrin also walked and crushed it from top to bottom.
Nye, formerly known as "Bill Nye the Science Guy" to all '90s kids who loved his educational and super fun TV show, appearing in a fashion capacity is not as unexpected as you might think. Vogue notes that Nye and Graham collaborated on a line of bow ties back in 2015 — swoon!!! Graham is also dressing the TV personality for his new Netflix series Bill Nye Saves the World.
Nye, who told Vogue he has been rocking his signature bow ties since he was in 11th grade, also professed a love of skinny jeans, specifically from The Gap. How '90s!
But seriously, he looked dapper AF while wearing a metallic suit for Graham's show.
Are you ready to get a closer look at Bill Nye in fashiony and silvery threads, doing his thing and strutting down the catwalk? I know you can handle it. So let's do this.
Stylin' and profilin'.
A closer inspection of the blazer reveals rocket print. It pairs perfectly with the sheen of the suit.
Check out that strut and the hand motions. Like, seriously, I can't with him.
Aldrin's ensemble was also glamsual. He made the matching sneakers and jacket look dayum good. He was just too adorbs!
But I am not the only one totally shaking and crying over Nye and Aldrin and their big fashion moments. The Twitterverse shared my enthusiasm.
Look out Kendall, Gigi, and all the supermodels of the day!
Aldrin also slayed all day with his jacket and strut! OMFG, he looks amazing.
You know, that's not a bad idea.
Yes, it is! And that's a beautiful thing.