This 'Pose' Star Has Been Part Of The Underground Culture The Show Celebrates Since She Was 14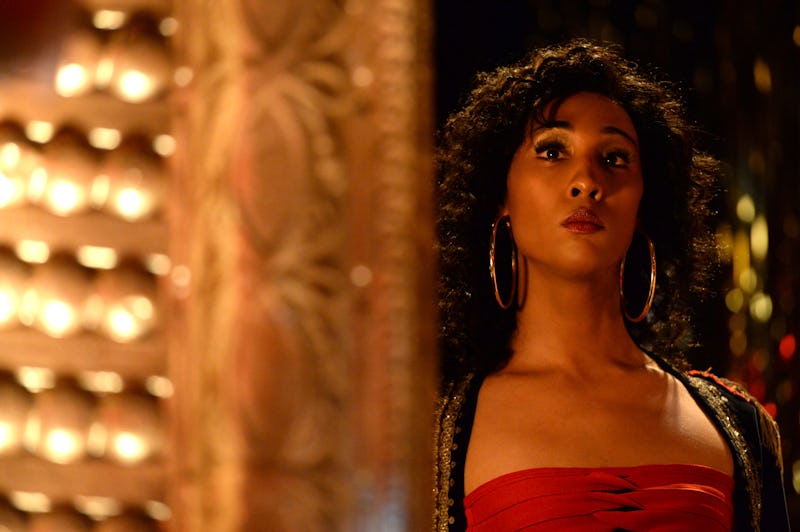 JoJo Whilden/FX
"Balls are a gathering of people who are not welcome together anywhere else," Blanca, played by Mj Rodriguez, explains in the trailer for Pose. Ryan Murphy's latest FX series premieres on Sunday, June 3 and follows a group of individuals who are part of the '80s ball scene. Created by Murphy, Brad Falchuk, and Steven Canals, the show is a huge win for transgender representation on TV. Rodriguez plays the aforementioned house mother; and though Blanca from Pose isn't a real person, the show dramatizes a very real subculture.
The ballroom scene came to prominence in the '80s during the AIDS crisis, as was depicted in the Jennie Livingston documentary Paris Is Burning. It went mainstream in Madonna's "Vogue" music video, but Pose is the first narrative series about the scene. Along with the three main writers, the staff also includes transgender writers Our Lady J and Janet Mock.
What's more, there are five trans actors of color in key roles in Pose — a historic number, per The Hollywood Reporter. "It's like a history lesson," Rodriguez told Entertainment Tonight about the FX show. "To see what [the LGBTQIA+ community] had to go through in 1987 and how we persevered, which is one of the reasons why a lot of us are here today and able to do shows like this."
So while the Pose script is fictional — and its characters by extension — viewers can glean some insights about Blanca from a recent profile on Ryan Murphy by the New Yorker's Emily Nussbaum. When viewers meet Blanca, she's a member of the fictional House of Abundance, under house mother Elektra (Dominique Jackson). However, Rodriguez's character soon becomes frustrated with Elektra's leadership and decides to start her own house.
In the trailer, viewers see Blanca approach Damon (Ryan Jamaal Swain), who is dancing in the park. "You ever consider joining a house?" she asks. "What do you mean?" he responds. "Well a house is a family you get to choose," she explains.
Rodriguez's character proves to be a nurturing and compassionate person who wants to guide others in the community to find their place in the world. "Blanca is a rambunctious, strong, wonderfully powerful character who is trying to find her way and help others find theirs," the actor told Entertainment Tonight.
What's more, Blanca's storyline has some parallels to Rodriguez's own life. "My house father saw something in me, she saw potential and taught me how to vogue," she told Entertainment Tonight. The article describes how the actor grew up in New Jersey and got into the ballroom scene at age 14.
Before she landed Pose, Rodriguez had small roles in Nurse Jackie, The Carrie Diaries, and Luke Cage and also appeared in the film Saturday Church alongside Indya Moore (Angel on Pose). What's ironic about the name of Moore's Pose character is that in 2011, Rodriguez played Angel in an off-Broadway revival of Rent, according to Playbill.
Rodriguez is a singer as well, and after she posted a video of herself singing "Satisfied" from Hamilton in 2016, she was even invited to audition for the role of Peggy Schuyler, per Playbill. "That's a cis female role, and a trans woman was called in for that, and I think that's actually very, very important," she told the outlet.
Rodriguez continued, saying:
"I feel like trans women need to be seen for more female roles, and trans men need to be seen for more cis male roles because it creates that comfortability…because, at some point, it can sometimes seem like a spectacle, and it can put us in a place of 'We're trending.' I don't want that."
And although Murphy told the New Yorker that much of the subject matter of Pose is dark, Mock expanded on that, saying, "But you do want to see Blanca have a moment of happiness and glamour and have her posing and be victorious."
Luckily, fans don't have long to wait for the premiere, when Blanca's story will officially begin.