This Lifetime Movie Will Make You Look At Your S.O. In A Whole New Light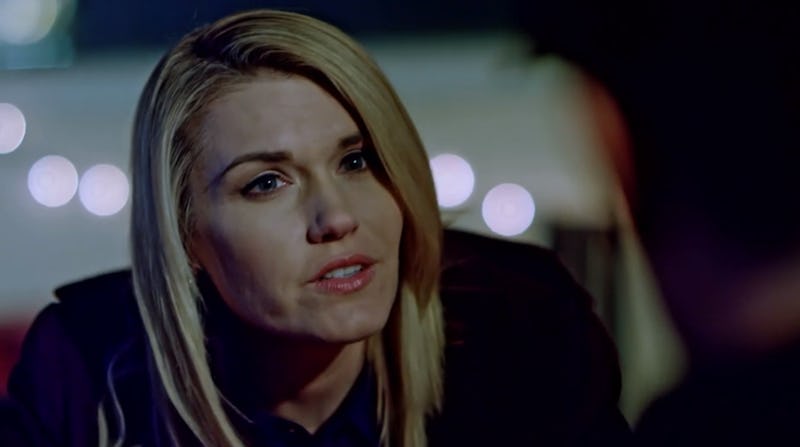 Lifetime
The weekend is here, so get ready for more Lifetime flicks! The network's latest movie premieres Oct. 12, and while Boyfriend's Deceit is not based on a true story, it's still juicy enough to keep you hooked. If suspicious lovers, lies, and murder check all your boxes for a good soap, say hello to your new Friday night plans.
According to Lifetime's description, the film stars Emily Rose as a woman named Annie. One night, she decides to borrow her boyfriend Oliver's (John Shea) car while he's away on a last-minute business trip. However, in true Lifetime fashion, things go off the rails when she's pulled over by the cops for a traffic infraction. The cops discover a bloody knife, start an investigation, and quickly link the weapon to a recent homicide — all of which, understandably, causes Annie to start freaking out.
She calls Oliver to find out what's going on, but he's more concerned with why she took his car. Predictably, he then vanishes into thin air, and Annie is left to take the fall for his crimes (because, hello, he's obviously guilty). The police, meanwhile, have no record of Oliver ever existing, and Annie must find a way to clear her name before she's wrongfully accused of murder.
The Boyfriend's Deceit trailer offers a deeper look at Annie's predicament and her eventual confrontation with Oliver — or whatever his real name is. In it, Annie's car is stopped by a fleet of police officers and she's asked to step out of the car. It takes them less than 30 seconds to find a kitchen towel, pull it back, and uncover a bloody knife. It's not clear if the weapon was in the backseat or trunk of the car, but Annie is visibly shocked to see it. She's apparently not the most observant person — or a good judge of character, considering her boyfriend is a killer — but this is Lifetime, so we'll let it slide.
Later, Annie meets with Oliver, whose black hat and leather jacket aren't helping his whole murder vibe. He says he didn't kill anyone. Yeah, right. Unconvinced, Annie asks him to turn himself in and clear her name, but he refuses, and the two break into a tussle. The scene then cuts to Annie being arrested for John Doe's murder. She screams, "It wasn't me!" as cops take her into custody.
After that, things get a bit confusing. She's tackled by an unidentified bearded man (an investigator, perhaps?) and the police custody van is flipped over. She somehow ends up with Oliver and says, "I wouldn't be in any of this mess If I hadn't met you." Yeah, they packed a lot into that trailer.
Still, it shouldn't be too hard for Annie to take down Oliver. He can't be all that smart if he leaves murder weapons in plain sight in his car. Tune in to Lifetime on Friday at 8 p.m. ET to see how things pan out for Annie.