This New Lifetime Movie Brings Every Parent's Worst Fear To Light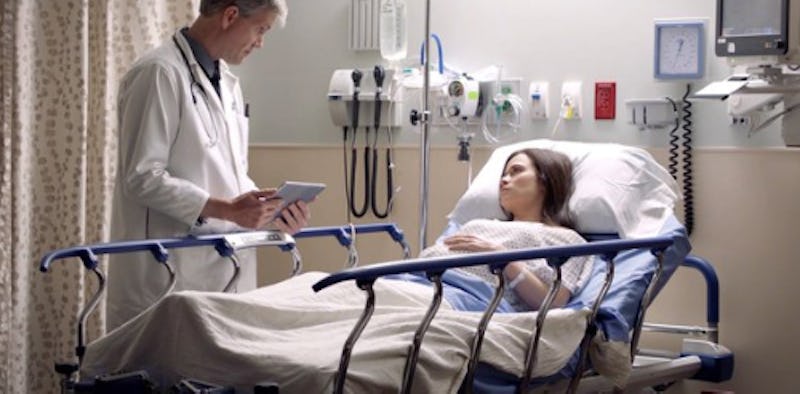 Lifetime
You can always count on a Lifetime TV movie to completely pull you in and make you wonder if anything you're seeing up on the screen has actually happened in real life. Take, for example, the network's latest drama Killer Night Shift, which focuses on a pregnancy nightmare of epic proportions when an expecting mother (Christie Burson) finds herself at the mercy of two home care nurses — one of which is out to steal her baby. It's a terrifying concept to say the least, but is Killer Night Shift based on a true story? The premise of the Aug. 25 film is basically the worst nightmare of any parent.
Of course, the plot of kidnapping a baby is definitely not a new concept. Many shows and movies have made that part of the narrative on numerous occasions. Take Jane the Virgin, when Mateo was abducted by Sin Rostro just moments after he was born. Then there was the 1999 film The Deep End of the Ocean, starring Michelle Pfeiffer as a mother whose youngest son gets kidnapped only to be found by the family nine years later. It makes for a compelling storyline, but that doesn't necessarily mean that the inspiration was drawn from any specific, real-life experiences.
That's not to say that child abductions aren't a serious problem. According to Parents magazine, a child becomes missing or is abducted every 40 seconds in the United States. Thankfully, though, this Lifetime movie doesn't appear to be basing this particular story on a real-life example. But the mere fact that things like this really can happen is bound to make the movie that much more chilling to watch.
So what exactly drives this home care nurse to such terrible lengths? Why does she want to take this woman's baby away from her in the first place? As of now, there aren't that many details available in regards to the overall plot, but it seems like it has something to do with the pregnant woman's husband, who may have wronged this nurse in some way. As for whether or not he's really to blame, that remains to be seen. However, we can probably all agree that there's really never any excuse for tearing a newborn baby away from its mother.
The official synopsis of Killer Night Shift, which can be easily found on Lifetime's website, reads as follows:
"A pregnant woman forced to bedrest, gets the additional help she needs from two home care nurses. Unbeknownst to her, one of them has a vendetta against her husband and is out to steal their baby!"
The film also stars Cynthia Evans (What To Expect When You're Expecting), Johnny Pacar (Make It or Break It), and Vanessa Reseland (The All-For-Nots). Most of those names may not sound very familiar, but that could all change after this Lifetime gem makes its debut over the weekend.
You can watch how it all unfolds when Killer Night Shift premieres on Saturday, Aug. 25 at 8 p.m. ET on Lifetime. And just take comfort in knowing that the movie is all a work of fiction.