This Contestant On 'The Voice' Is In The Top 10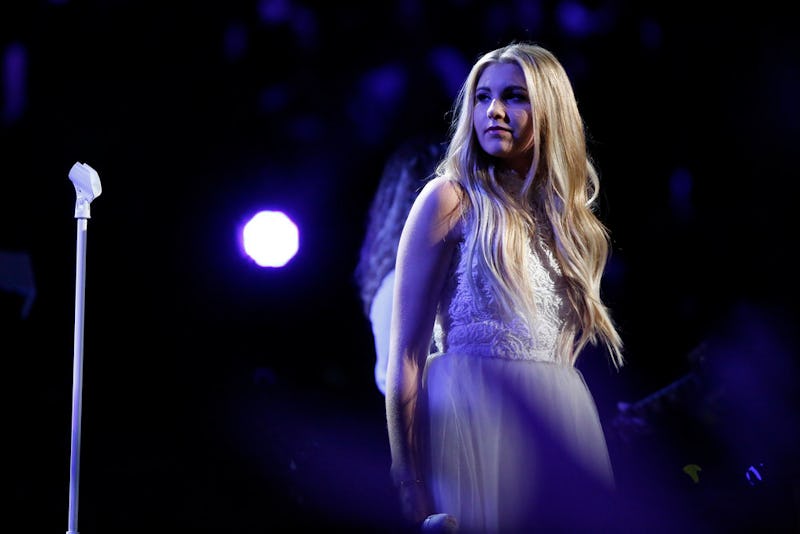 Trae Patton/NBC
It was a nail-biter of a episode, but on Tuesday night's Top 10 reveal on The Voice, we learned that one of the younger contestants in contention to win Season 12 was voted to safety by viewers. Brennley Brown was saved on The Voice and it's not hard to see why.
From the beginning, Brown has always been a strong contender. All talk of age aside (remember, she's only 15 years old), Brown's clearly had the voice of a winner from the very beginning. She has always known with which genres of music she is most comfortable catering to and has displayed a keen intuition for technical mastery of the song she is performing. Without a doubt, these are a few of the hallmarks of a Voice winner.
On Monday night's episode, Brown's performance served as proof that she knew exactly what she needed to do in order to be voted into the Top 10. She performed Joni Mitchell's timeless and beautiful ballad, "River," and yet again left the entire room cheering for her. She put her command of the song to good use, showcasing her breath control and range in the process. There was a sincerity and depth in her rendition of Mitchell's lyrics, yet again touching on that mythical maturity factor that ups the ante for contestants her age.
During the Top 10 reveal episode, Brown got the chance to perform Coldplay's "Fix You" alongside teammate Hunter Plake and coach Gwen Stefani. The performance itself shook the rafters, serving as a showcase for both Brown and Plake's unique musical talents. This performance came on the heels of The Voice host Carson Daly announcing Brown was safe until next week, so there seemed to be an extra reason for her to channel some strong emotions into her performance.
This week has proven that Brown is definitely not leaving the show anytime soon; she's got a lot more to give to The Voice.