Brett Kavanaugh's Past Rulings Give You A Good Idea Of His Political Leanings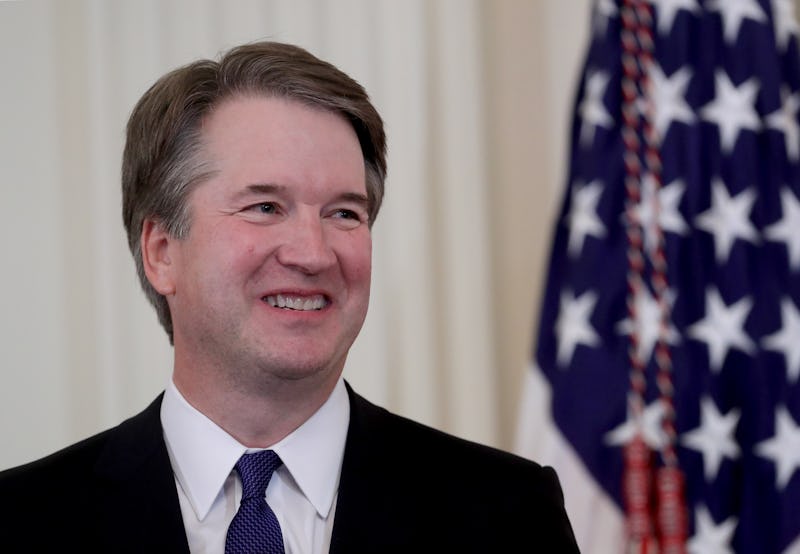 Chip Somodevilla/Getty Images News/Getty Images
On Monday, President Trump announced his nominee to replace outgoing Supreme Court Justice Anthony Kennedy, who announced in June that he would be retiring at the end of July. Supreme Court nominees don't come around very often, and you might find yourself wondering whether or not Brett Kavanaugh is a conservative.
Whenever a president has the opportunity to nominate a justice to the Supreme Court, they virtually always choose someone who is ideologically similar to themselves. Because Trump ran on a Republican platform, and because he almost always opts to align himself with some of the most conservative politicians in the United States, the short answer is: yes, Kavanaugh's rulings suggest he leans conservatively.
His nomination is significant for many reasons, but the most significant reason might be that, if confirmed, the Supreme Court's ideological bent will be firmly cemented in favor of conservatives. Because he is only 53 years old, he could feasibly serve on the court for three or more decades. This could seriously impact the way that constitutional law is interpreted in the United States, and could have major implications for a series of rights only recently upheld in the country.
Kavanaugh actually has a connection to the outgoing Justice Kennedy, having worked as a law clerk for him. Though Kennedy was widely considered a wildcard of a Supreme Court justice, he, too, was appointed by a conservative president.
Because Kavanaugh has a conservative record, Democrats and other liberal-leaning folks are going to keep a close watch, particularly, on how Kavanaugh handles cases that relate to abortion rights, LGBTQ rights, and immigration law. It's impossible to predict with certainty what types of cases will make their way through the legal system, and ultimately land on the Supreme Court docket, but it's not out of the realm of possibility to instigate cases which have a strong possibility of landing there.
When it comes to abortion, Kavanaugh has a bit of a spotty record. Any clues that point toward how he might rule on a challenge to the national legality of abortion must be found in his previous rulings.
Recently, Kavanaugh was involved in a case that had impacts on both abortion and immigration. The case revolved around an undocumented minor, and the question at the heart of it regarded whether or not she could be allowed to leave custody in order to undergo an abortion. Kavanaugh ultimately sided with Trump administration lawyers, writing the majority decision that argued the abortion would have to wait an additional 10 days. That ruling was eventually overturned. However, Politico reported that during a 2006 confirmation hearing for the D.C. appellate court, he confirmed, "I would follow Roe v. Wade faithfully and fully. It's been reaffirmed many times."
Democratic politicians immediately decried Kavanaugh's nomination after Trump's announcement.
"President Trump repeatedly promised to nominate justices to the bench who are hostile to Roe v. Wade, and who will undermine our health care laws," Sen. Chuck Schumer said in a statement. He continued:
He has picked Judge Kavanaugh from a list of 25 people who were vetted and approved by the Federalist Society and Heritage Foundation – special interest groups devoted to overturning Roe and striking down the Affordable Care Act. ...Judge Kavanaugh got the nomination because he passed this litmus test, not because he'll be an impartial judge on behalf of all Americans. If he were to be confirmed, women's reproductive rights would be in the hands of five men on the Supreme Court.
Many Democratic senators expressed similar sentiments.
"Trump's Supreme Court Justice nominee, Judge Kavanaugh, represents a direct and fundamental threat to the rights and health care of hundreds of millions of Americans," Sen. Kamala Harris tweeted. "I will oppose his nomination to the Supreme Court."
Kavanaugh is expected to face a tough confirmation process. Many Democratic leaders are calling for the party to do everything in its power to stall or halt his confirmation. Whether or not that is a possibility will depend on if two Republicans are willing to buck their party and oppose the nomination.