Why The 'grown-ish' Setting Feels So Familiar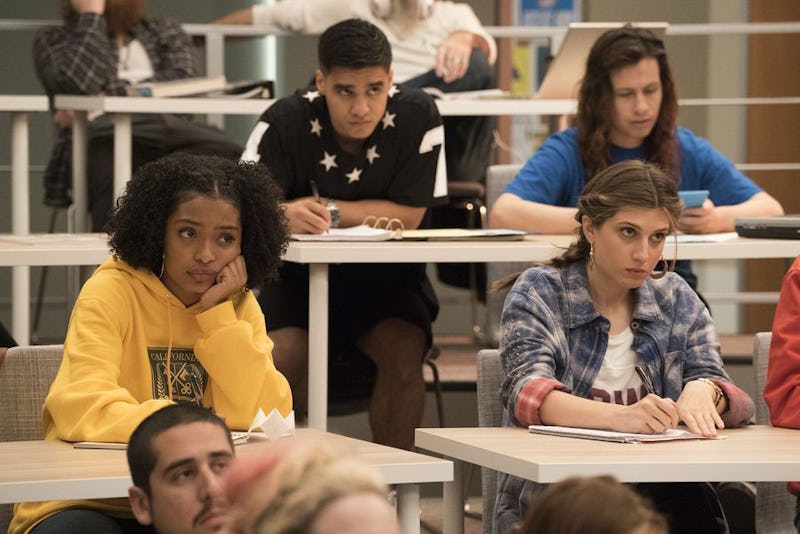 Kelsey McNeal/Freeform
black-ish is testing the waters with its first spinoff series, a coming of age story about Zoey's adventures in college called grown-ish. On Jan. 3, grown-ish will introduce audiences to the students of Cal U, the school Zoey decided to attend at the end of "All Groan Up" in Season 3 of black-ish. But is Cal U from grown-ish a real school?
There is technically a university in Pennsylvania by that same name, but given that Zoey made her choice to stay closer to home, California University of Pennsylvania is not the setting for this series. No, this fictional school seems to be a mix between the University of California state school system and USC. Like the UC schools, Cal U has been repeatedly referenced as easier to get into than Zoey's other choices for private schools like Vanderbilt and Brown, which could be true of a local state school. But like University of Southern California, Cal U is a large university campus in south LA with all of the trappings of stereotypical college life, from dorms, to a quad, to dozens of clubs and tons of students from various backgrounds. black-ish and grown-ish creator Kenya Barris even told Vanity Fair, "Of all the black-ish characters, Zoey is most like my daughter, who goes to USC."
During black-ish Season 3, Zoey toyed with the idea of moving across the country to attend NYU, and not even hearing about the horrors of a polar vortex necessitating a coat (she looks fabulous in layers) dissuaded her. What ultimately led her to Cal U instead of NYU was the idea of being close with her younger siblings, and having the freedom to drop back into the Johnson household whenever she wants. So, while she's been less involved throughout Season 4, she has popped up every so often in a small role.
But beyond simply creating an original canvas for Zoey's college adventures, the choice of Cal U is just one aspect of grown-ish's many references to its closest predecessor: Cosby Show spinoff A Different World, which followed Denise Huxtable through her sophomore year of college. Just like Zoey, Denise was the deadpan, self-possessed, and incredibly stylish big sister in her big family. But, while Denise was more of a free spirit, Zoey is kind of Generation Z's ideal popular girl.
Still, the similarities between the two shows don't stop with their lead character. In fact, both shows have a fictional university as its setting, and wrote arcs where their leads decided where to go to school. Denise decided to attend her parents' alma mater, the historically black college Hillman, the same way Zoey settled on Cal U.
Both shows even kicked off with a storyline about housing. In "Liberal Arts," Dre forgets to submit a form in time, which winds up jeopardizing the Black Student Union's housing, while A Different World's pilot starts with Denise struggling to find the money to make a housing deposit. There's clearly a lot of shared DNA between the two shows, and attention to world building and setting is certainly a big similarity. And Barris was inspired by his 1980s forbearer. "A Different World, for me, was in a lot of ways responsible for me going to college," he said to Vanity Fair. "I wanted to go to a black college, and I wanted to get out of Los Angeles. It's just a natural part of all of our journeys, that idea of leaving home."
grown-ish may be inventing the school where it takes place, but it's paying homage to TV history and has been inspired by two generations of the Barris family — and don't forget the college-aged Yara Shahidi, who will be attending Harvard in 2018. So, the stories and experiences grown-ish is adapting will still feel true.