Candy From 'The Deuce' Will Make You Re-Evaluate Everything You Know About Sex Workers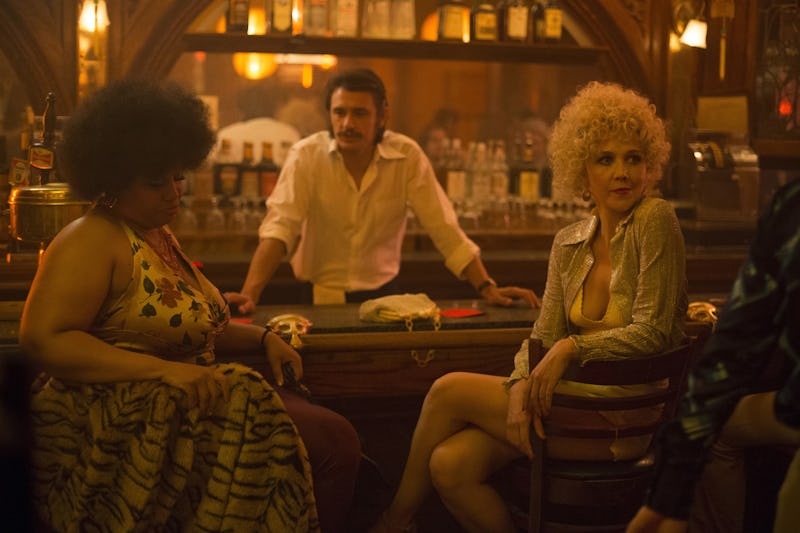 Paul Schiraldi/HBO
The Deuce creates a portrait of 1970s New York City that feels so gritty and realistic that you can almost see the places where the creators lifted directly from history. And HBO's latest drama has some pretty impressive names involved. Maggie Gyllenhaal always turns in a strong performance, and she makes her character feel real — but is Candy from The Deuce based on a real person? As a sex worker who operates outside of the expected "prostitute/pimp" paradigm introduced in The Deuce's pilot, Eileen Merrell, who goes by "Candy" while working, may seem unrealistically contemporary in her independence. But according to co-creator David Simon, Candy is indeed based on the experiences of real women from the time. "She's a mixture of about two people in specific, but other people mixed in," Simon said to Paste Magazine.
Simon said to Paste, "There was a Candy who was a part-time bartender at Vincent's bar who actually started as a prostitute/street walker ... but also had some preliminary involvement in the early days of porn." And, Vincent Martino, one of James Franco's characters, was a real person, but the composite and fictional characters around him help to contextualize the show's themes. For example, Candy's move from walking the streets to working in the adult film world helps explore how sexuality was turned into a business. "I was interested in how a product becomes a product and an industry becomes an industry, and how labor is treated," Simon said to Deadline. According to The New York Times, Gyllenhaal consulted with former sex workers and adult film stars in order to find the details about their experiences that make Candy feel true.
But Candy's move into the burgeoning porn industry is also inspired by a real mid-20th century figure. "There was woman named Candida Royalle…" Simon said to Paste. "She was somebody who found some agency within the world of porn. [She] started as a performer but became the director and tried, at some critical junctures, to create something ... more erotica than it was pornography." After Candy's car salesman speech in the pilot, it seems clear she has a knack for business, so Simon comparing Candy to Royalle suggests that the character's empowerment will continue as she gets involved in the adult film industry.
In 2015, Candida Royalle's obituary in The New York Times credited her as a pioneer: "She defined her work as female-oriented, sensuously explicit cinema as opposed to formulaic hard-core pornographic films that she said degraded women for the pleasure of men," the Times said, crediting her commitment to portraying safe sex as an ahead-of-her-time quality. Royalle used her experiences to become the owner of Femme Productions and wrote a book, How to Tell a Naked Man What To Do: Sex Advice from a Woman Who Knows. In an interview with Smashing Interviews Magazine, Royalle said, "I really feel like there's nothing wrong with people performing erotically, sexually for others to view and enjoy as long as everything is consensual, and the performers are not doing it under duress or being forced in any way, and the people watching are choosing to watch as long as no one's getting hurt."
Even though Candy's character isn't directly based on Candida Royalle's life, and is a composite character, the idea that her character could eventually become a powerful businesswoman attempting to empower women makes The Deuce an even more interesting new drama to watch.