Cardi B Fans Will Be Bummed About This Billboard Music Awards News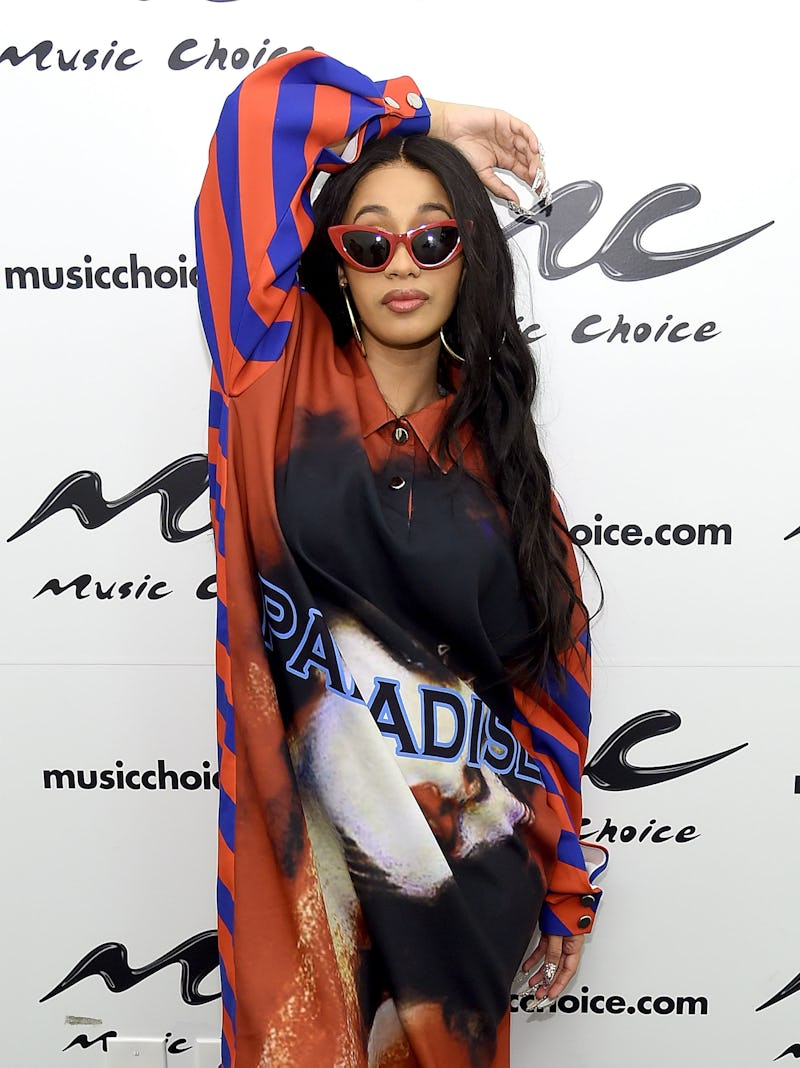 Jamie McCarthy/Getty Images Entertainment/Getty Images
There were plenty of icons crowding music's biggest red carpet on Sunday night, but one staple was noticeably absent. So is Cardi B at the 2018 Billboard Music Awards?
Cardi did not appear on the red carpet, and wasn't spotted in the room for the ceremony, even though she was nominated for Top New Artist, the Billboard Chart Achievement Award, Top Female Artist, Top Streaming Songs Artist, Top Rap Female Artist, Top Streaming Song (video), and Top Rap Song, according to Billboard. Before the show even started, she'd already won Top Rap Female Artist. Her only tweet prior to the awards show was around the time the red carpet started, but instead of featuring an outfit or grand entrance, Cardi simply said she was craving some Chick-fil-A — aren't we all?
She did, however, retweet some comments about her collab with Jennifer Lopez. During the Billboard Awards, when Lopez performed her newest single, "Dinero," Cardi wasn't present for her featured verse. Instead, a black and white video of her played projected on the wall as her vocals pounded through the Las Vegas venue, stunning audiences even in her absence.
Cardi is pregnant with her first child, as she revealed during a memorable Saturday Night Live performance last month, so it's understandable that she may not exactly be super into walking a red carpet and sitting through an hours-long ceremony. Even though she wasn't there, her name was still being tossed around in the best of ways. Lopez told Billboard that she knew "right away" she wanted Cardi on the "Dinero" track. "At that time, 'Bodak Yellow' had just come out, but I just, I don't know, she's from the Bronx, she's Dominican," Lopez told the outlet. "I felt like it was the right vibe, and I don't know, I just felt like she would kill it, and she did."
Lopez also said that Cardi has definitely paid her dues despite her whirlwind success. She's skyrocketed to one of the biggest artists in the industry after an extremely short period of time, but Lopez told E! News that there's plenty of elbow grease that's gone into that success. "I think she's been grinding away for a while. Things like that don't happen overnight. She's a hard worker, and from working with her I know that. She is who she is, and she is unabashedly herself, and people love that. They love authenticity. That's what I loved about her. I loved her before she even started rapping."
There's also a more unfortunate reason Cardi may have avoided the red carpet, and in turn, avoided being asked questions by reporters. According to The Wrap, Cardi and her fiancé, Migos' Offset, are being sued after an incident that allegedly occurred after the Met Gala. Apparently, a man who wanted an autograph claims he was assaulted by a bodyguard of sorts, by the order of Cardi and Offset, and the man has filed a suit in New York's Supreme Court, according to The Wrap.
Neither Cardi B nor Offset responded to The Wrap's request for comment, so it's unclear what their side of the story is. And, aside from that situation, they may have other things to worry about, too. According to Billboard, in a since-deleted tweet, Cardi revealed that Offset had been involved in a car accident. Offset himself also shared some photos on Instagram of the incident, essentially saying he was lucky to be alive. So, while it's unclear why exactly Cardi decided to skip the awards, it's not exactly surprising. Between the typical stresses of being pregnant, and the additional unexpected circumstances she and Offset have apparently found themselves in, it makes sense that she'd skip the Billboard Music Awards. Regardless of her absence, though, the audience in the venue and at home still got to have a taste of her talent.