Here's Where The 'Riverdale' Musical Gets All Of Those Hilarious Songs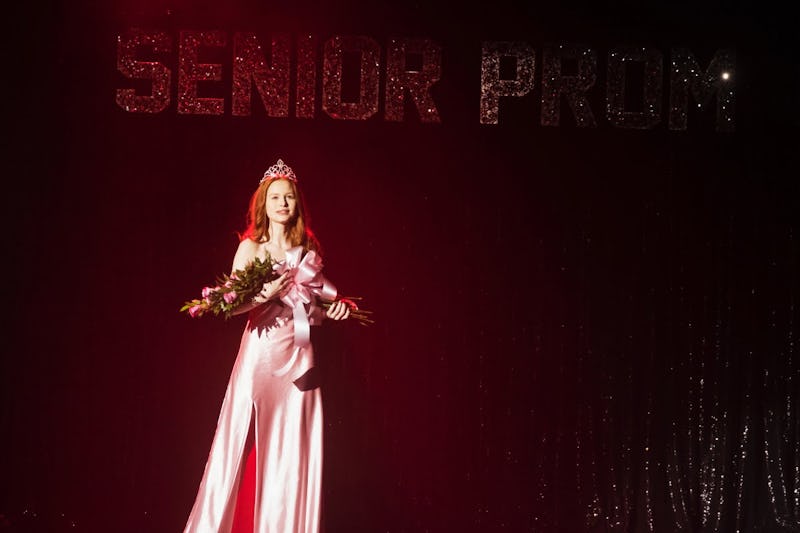 The CW
The wait is finally over. Riverdale returns on Wednesday, April 18, with a much-anticipated musical episode based on the Stephen King thriller Carrie. Wait, what? Is there a musical version of Carrie?
Yes, there was a Broadway adaptation of the classic horror film called Carrie: The Musical, and it was, um, not well-received, per the New Yorker. In fact, negative public reaction to it has become the stuff of legend, in the same vein as Tommy Wiseau's The Room. In 1992, theater critic Ken Mandelbaum published the book Not Since Carrie: Forty Years of Broadway Musical Flops, which presented the Stephen King-inspired production as a jumping-off point for four decades of theater flops.
According to the New York Times, the show's original run debuted on Broadway in May 1988, with a screenplay by Lawrence D. Cohen (who also wrote the film version), music by Michael Gore, and lyrics by Dean Pitchford. The song "Out for Blood" was apparently the most cringe-worthy moment of the production, per Mandelbaum's book, during which students smeared pig blood on themselves and chanted, "Kill the pig, pig, pig," while disco lights flashed overhead in a very campy, '80s homage to Lord of the Flies.
Frank Rich, New York Times' theater critic, didn't mince words when he said, "no expense has been spared in bringing the audience some of the loudest oinking this side of Old McDonald's Farm." And, Mandelbaum said in the prologue to his book that the song was "a nightmare from which no show could possibly recover."
Sadly — or maybe luckily — the musical's run was short-lived, playing just three days before closing, according to the New Yorker. But one unlikely fan? The author himself. ''I liked it a lot,'' Stephen King told the Times back in 1988. ''In fact, I liked it for most of the reasons that Frank Rich did not. He and I saw the same show. We just drew different conclusions from different perspectives.''
Against all odds, Variety reported that the musical re-opened in 2012 off-Broadway. Although it was updated by the same team that did the original, Carrie received similarly tepid reviews in publications like Variety.
I listened to the 2012 soundtrack (now without the infamous "Out for Blood") and definitely got Spidermen Too: 2 Many Spidermen vibes from the stilted lyrics and bizarre subject matter.
So all of this begs the question: Did Kevin, Riverdale High's fearless director, know that Carrie: The Musical was a flop? Or did he even choose it because it was ill-received? It appears so. In a Riverdale High press release for the production, Kevin's bio reads, "As a life-long fan of musical theater, it's a dream come true for Mr. Keller to be making history at Riverdale High with such a transgressive production. He'd like to thank Stephen King, the writers of the musical, his incredible cast and crew, and Idina Menzel." So yes, it seems Kevin is aware of the show's history and is choosing to stage it as a "screw you" to fate. After all, what is one unsuccessful musical after what their town has been through?
As for the Carrie: The Musical cast list, Cheryl, back from her traumatic hiatus with The Sisters of Quiet Mercy, is playing Carrie White. The show-within-a-show also includes Archie as Tommy Ross, Veronica as Chris Hargensen, Betty as Sue Snell, and Alice Cooper (yes, really) as Mrs. White. Not on the list? Let's just say that Jughead feels more comfortable behind-the-scenes.
Despite the naysaying, the circumstances around Carrie really aren't that different from those of Riverdale, if you think about it. Both take place in a small town and center around misunderstood children with uptight parents. Not to mention the parallels between The Sisters of Quiet Mercy and Mrs. White as sexually repressive, religious fanatics.
Plus, the fact that the musical was based on a Stephen King book should inspire confidence. Even NYT critic Frank Rich conceded that a successful version of Carrie was possible: "As the film director Brian DePalma demonstrated in his screen adaptation, Carrie can make for scary, funny and sexy pulp entertainment," he said, "provided the thrills, wit and post-pubescent sensuality are as sharp as that knife."
Let's just hope Kevin has a grasp on the "post-pubescent sensuality" needed for Riverdale High's version to be a pulpy, sexy success. But how could we expect anything less, when campy, soapy drama is what Riverdale does best?