The Real Chris Isn't Exactly As She Seems In 'I Love Dick'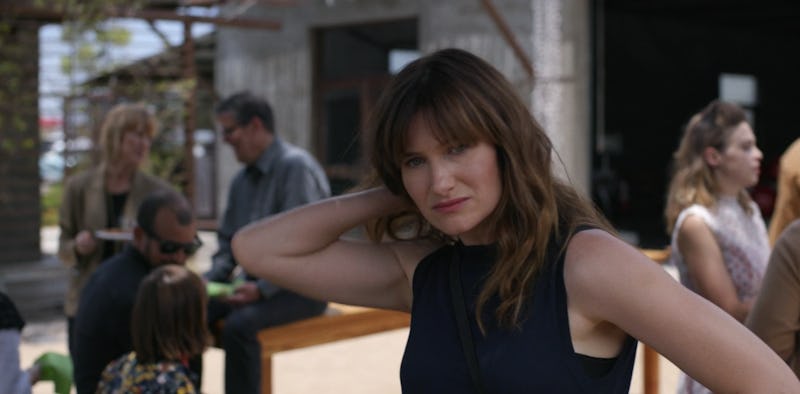 Amazon Studios
On the surface, it's easy to make comparisons between Amazon's new series I Love Dick and Netflix's Orange Is The New Black; both are deeply feminist, often sexually-explicit shows hosted on streaming television providers, based on autobiographical books (or semi-autobiographical, in the former's case) and featuring a fictionalized version of its author. For I Love Dick, this protagonist is Chris Kraus, played by Kathryn Hahn — and I won't lie to you, it's honestly a little jarring to "based on the novel by Chris Kraus" just seconds after seeing an actress playing her engage in some very adult behavior. So just who is the real Chris Kraus, and is she anything like the way she's being portrayed in the show?
As you would expect from watching I Love Dick, the real Chris Kraus also started her career in film, according to an interview with The Believer. But Kraus began earlier than the new Amazon series would suggest; she actually came up in the New York post-punk scene of the 1980s. However, at the time she still found herself dissatisfied with her career. "For whatever reason, my films were of little interest in the art world or anywhere else," she told The Believer in September 2013. "And that was a failure because I'd worked on them very hard. It was my work for more than ten years."
In 1990, Kraus founded an imprint within her then-husband Sylvere Lotringer's independent publisher, Semiotext(e). Called Native Agents, it published fiction by primarily female and gay male writers — as well as her first book, I Love Dick, in 1997. Soon after Kraus transitioned from filmmaking to writing and penned several more books, including Aliens And Anorexia, Torpor (the three together are often taken as a semi-autobiographical trilogy) and Summer Of Hate. Her work still remained mostly in the periphery until I Love Dick was reissued in 2006, which slowly propelled the book into the cult feminist classic it is today. Like, "Lena Dunham gave a copy to Lorde as a present in 2013." That kind of classic.
Kraus also worked with Kathryn Hahn, who plays the fictionalized version of her, during production of the new TV adaptation, as the actress told MovieFone recently:
I met with Chris a couple times, and I fell madly in love. She's just a phenomenal human being. She came to the set, which was incredible, and kind of told us how we were doing, kind of how it really, actually went down, which was very helpful.
Of course, Hahn isn't exactly playing an exactly true-to-life version of Kraus, because the Chris Kraus who appears in I Love Dick is herself a fictionalized version of the author. When describing the novel in a recent essay in The Guardian, Kraus tellingly used the third person to describe her characters in relation to herself as the writer, calling the work "a conte, a narrative, a cautionary tale or fable."
The fictionalized Kraus is also more self-deprecatingly funny than many readers expected when the book was first published, which, as she told the New Yorker last year, occasionally caused problems for her. "People remarked all the time, 'She's so self-hating, she has such a poor self-image.' If a man makes fun of himself, it's a joke. If a woman does, it's a pathology and she needs therapy," she said, comparing I Love Dick's Chris to "the Philip K. Dick character" in Through A Scanner Darkly. "He's a radio repairman. He's a terrible husband. He's a total schmuck. So why can there not be a female antihero?"
Despite the fact that I Love Dick is not strictly true — or perhaps because of that fact — Kraus's seminal work is now seen as ahead of its time for its female antihero and for its frank depiction of women's sexuality. That the book is now being made into a television series is surprising, but not completely unexpected when you look at what it's about.
It's a safe bet that female viewers (and otherwise!) will find something to relate to in this new version of Chris when the full series premieres in Amazon on May 12.