Tiffany Haddish Responds To Her Golden Globes Snub In The Sweetest Way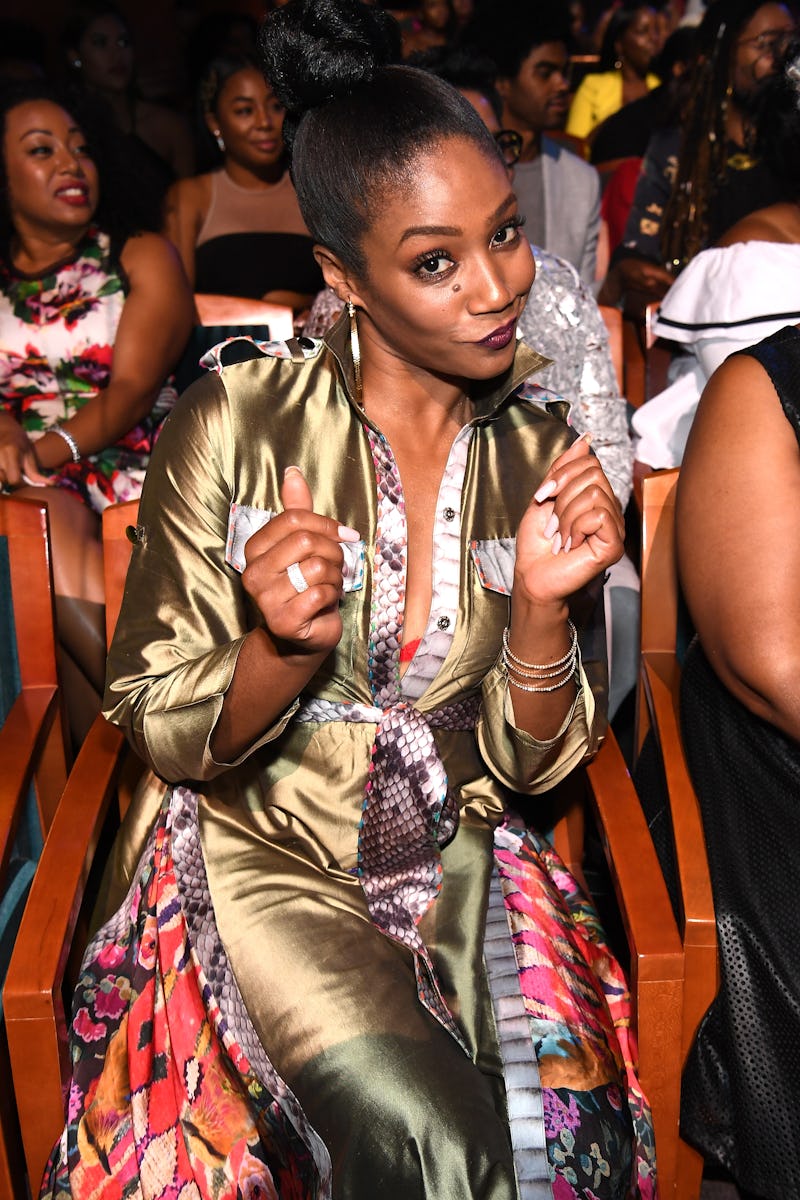 Paras Griffin/Getty Images Entertainment/Getty Images
Despite her incredibly buzzed about performance, her name didn't appear on the list of 2018 Golden Globes nominees. However, Tiffany Haddish's response to her Girls' Trip snub is perfect, because it doesn't focus on being left out in the cold. Instead, the actor is thankful for the support of fans and for her co-star Jada Pinkett-Smith, who recently spoke out in support of her. "Thank all of y'all for your love and support," Haddish tweeted. "I don't know or care much about snubs because I'm not nasty like that!! But I love my girl Jada and I love all of you! @jadapsmith @VanityFair #SHEREADY."
Following the announcement of the nominees for the 75th annual Golden Globe Awards on Tuesday, Dec. 11, Pinkett-Smith took to Twitter to call out the Hollywood Foreign Press Association for not recognizing Haddish's performance in the movie. Pinkett-Smith considered the slight to be an example of "racism," sharing:
"Hollywood has systems in place that must learn to expand its concepts of race, gender equality, and inclusion in regard to its perceptions of art across the board."
In her complaint, Pinkett-Smith explained that her disappointment has nothing to do with the fact that neither Haddish nor Girls Trip received a nomination for the film. Instead, she said that her issue was with the fact that the Hollywood Foreign Press Association allegedly refused to watch the movie, and that the film allegedly wasn't shown at screenings or press conferences. (A source with knowledge on the situation told Bustle that there was a screening on July 18, and the HFPA was invited to the premiere. The source also said screeners were sent to HFPA members.)
The film is also listed on Universal's For Your Consideration site alongside the Golden Globe nominated Get Out, yet the only screening listed is for the latter film. At the same time, Girls Trips' snub has been regarded as one of "the biggest snubs" of the ceremony, according to USA Today. Needless to say, there are some extremely valid points being highlighted by Pinkett-Smith's complaint against the HFPA, although it's unclear exactly why the film was overlooked for this year's Golden Globe contention.
Despite all of that, there's no denying that it's been one hell of a year for Haddish. The star, who was catapulted into the limelight this past summer following her breakthrough performance in the box office hit Girls' Trip, found mainstream success for holding her own in an ensemble cast of veteran entertainers which included Pinkett-Smith, Regina Hall, and Queen Latifah. Yes, that's right. Even in a film with those heavy hitters, Haddish was widely regarded as one of the best parts of the movie.
After three successful seasons on NBC's now-defunct The Carmichael Show, Haddish has lined up a myriad of projects that will, hopefully, continue to boost her into superstardom. The long line of movies that she's set to make appearances in during the upcoming year include: Night School, in which she'll appear alongside fellow comedian Kevin Hart, according to Entertainment Weekly; The Kitchen, which Variety reports is a comic book adaptation about a group of Irish Mafia wives in 1970s New York; and The Oath, a satirical thriller that she'll executive produce on top of starring alongside John Cho, according to The Hollywood Reporter.
Racism and the marginalization of women of all shades is an issue that continues to plague the television and film industries. But even with the push for inclusion now at an all time high, it's always refreshing to see that such powerful women and co-stars like Haddish and Pinkett-Smith have each other's backs through it all.