The Elite Dance School In 'Pose' May Be Based On A Real NYC Institution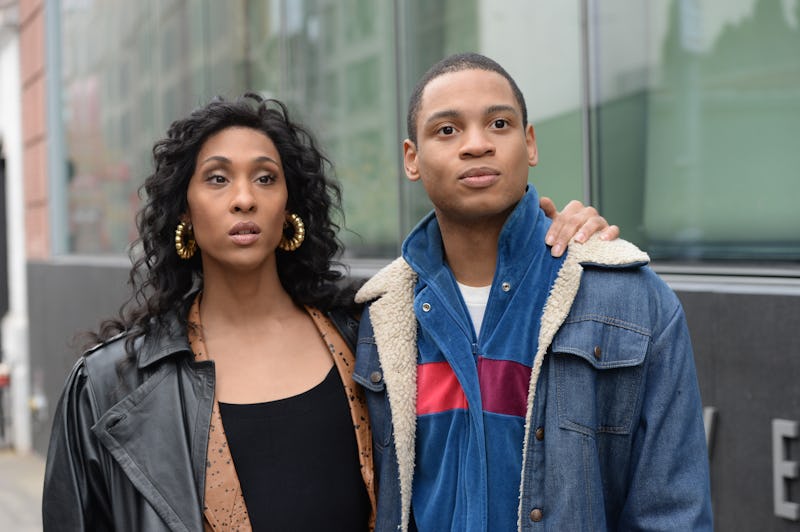 JoJo Whilden/FX
When a film or television series purports to be historical — or semi-historical, or even simply inspired by true events and real people — it can often be difficult to separate the real from the made-up. Is Damon's dance school in Pose real? Or is "The New School For Dance" simply a stand-in for real-life prestigious dance schools like Juilliard or the American Ballet Theatre?
It's especially hard to tell what's historically accurate versus what's embellished for dramatic effect in Ryan Murphy's new FX drama, thanks to its combination of factual and fictional sources. Murphy originally planned the series as a television adaptation of the seminal 1990 documentary feature Paris Is Burning, an account of the New York City ball scene in the 1980s. "I always loved Paris Is Burning. They were rock stars to me when I was growing up," Murphy said about the doc's subjects at the Television Critics Association press tour last January, as reported by Deadline. But Murphy couldn't quite figure out how to translate that doc to the small screen, afraid "to take those iconic people and make a fictionalized version" and not do them justice.
Around that time, a screenplay found its way to Murphy, written in 2014 by a UCLA screenwriting student named Steven Canals, as the showrunner recounted during the TCA panel. Canals was told repeatedly that his script, also an account of the New York City ball scene in the 1980s, was "too niche," but Murphy saw the potential and reached out to Canals. The result — the combination of Murphy's series adaptation of the factual Paris Is Burning and Canals' idea for a fictional ball culture movie — became Pose.
So does The New School For Dance come from the historical side of Pose's genesis, or is it one of the show's original creations? Viewers will be forgiven if they assume the institution is a made-up place, given the vaguely bland name — like Glee's made-up NYADA, an obvious stand-in for NYU or AMDA. But in fact, The New School is a very real place, and they have a very real dance program.
The New School isn't actually "new," that's just its name. Founded in 1919, according to its official site, The New School contains several branches, including the Parsons School of Design, The New School for Social Research, and the Eugene Lang College of Liberal Arts. The latter college contains the dance department, which offers students a Bachelor of Arts, as well as the chance to work with acclaimed artists-in-residence, to teach dance to local grade school students, and to perform in various prestigious NYC venues.
That being said, just because the name of Damon's (Ryan Jamaal Swain) school is real doesn't mean everything about its onscreen depiction is 100 percent accurate. For one thing, The New School is a liberal arts university, not a conservatory — so viewers should be seeing Damon take regular academic courses in addition to his dance training. For another, tuition at The New School (before room and board) is $47,000 per year — and while that price tag was probably less in 1987, it was likely still far more than Blanca could have afforded to support.
Will Damon manage to complete his education at this fictionalized version of The New School? The answer may lie in the real life story of one of Paris Is Burning's central figures. "You get into this amazing dance school, but now you are the talk of the ball world where you truly can also become a star. Is this going to propel him into stardom? Or is he going to stay with the dance goal? It's a Sophie's Choice for him," Murphy teased in an interview with Entertainment Weekly after the Pose premiere. "I was very interested in that story, about the backstory of [Paris Is Burning subject] Willi Ninja, who wanted to be a big superstar, and thought he was going to have to go to dance school but didn't, and he became a huge star in the ball world. It's not completely based on that, but I was inspired by that."
In its obituary for Ninja after his death in 2006 due to AIDS-related heart failure, the New York Times hailed the dancer as "the Grandfather of Vogue," and recounted how he worked his way up from vogueing in Washington Square Park, through the drag balls of Harlem, founding his own "House Of Ninja" along the way, all the way to being a mentor for the likes of Naomi Campbell, whom he taught how to walk down a runway. In 1989, Ninja brought vogueing to the mainstream, starring in Malcolm McLaren's music video "Deep In Vogue"… one year before Madonna's "Vogue" was released.
Damon could be destined for a similar track. He was seen dancing in Washington Square Park in the pilot, just like Ninja, before being adopted by Blanca into House Evangelista. If so Damon's storyline is inspired by Ninja's, then he may not be at The New School for very long, given Murphy's statement. In fact, the promo for Episode 3, "Giving And Receiving," previews that Damon will already be clashing with his instructor, Helena St. Rogers. Looks like Damon's tenure at The New School might be even more short-lived than Rachel Berry's stint at NYADA…