SAG Host Kristen Bell Is Enlisting Her Funny Husband's Help For The Show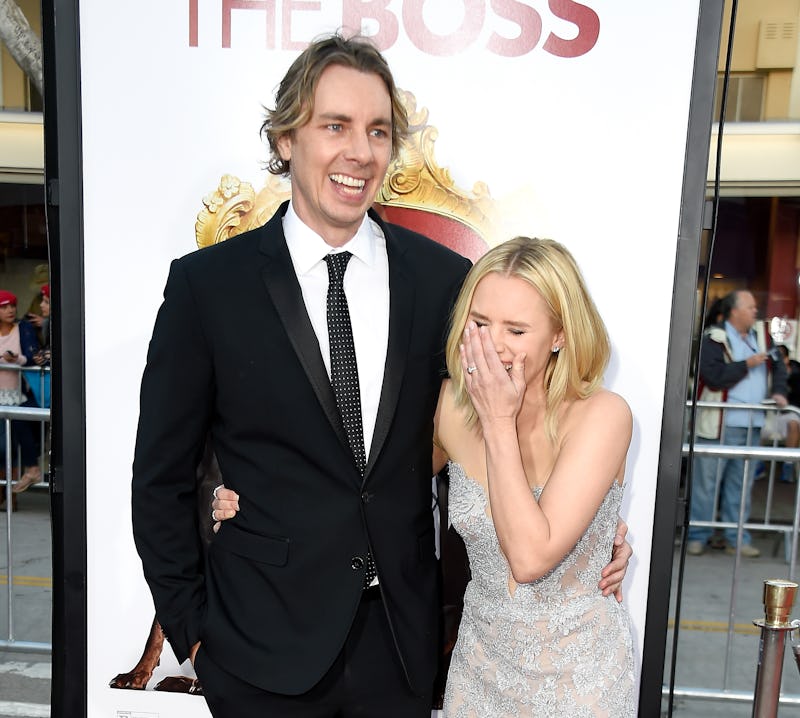 Frazer Harrison/Getty Images Entertainment/Getty Images
You guys know how the saying goes: behind every successful woman there is a successful partner... just kidding. That's not at all how that saying goes. But in this case, it's totally true. Actor Kristen Bell is set to be the Screen Actors Guild Awards' first-ever host, and there is no doubt that the The Good Place (producer: Megan Amram) star will absolutely nail it. But will her husband and fellow actor be there to support her? Will Dax Shepard be at the SAG Awards?
As of right now, it hasn't been announced whether Shepard will be attending the awards, but I'd put down money that he is. After all, everyone knows that Shepard and Bell are #CoupleGoals pretty much all the time. Who could forget the time he surprised Bell with a sloth for her birthday and the Frozen (screenplay by: Jennifer Lee) star totally lost it? There's no way that Shepard would pass up on a chance to see his wife shine as the first-ever SAG Awards host. And, since USA Today reported that every SAG Awards attendee gets to bring a date, it only stands to reason that Shepard will accompany Bell at the awards.
And maybe, viewers will be granted with a guest appearance from Shepard on the SAG stage. The Parenthood star has been helping his wife prepare for the show, and Bell told Entertainment Tonight that her creative process for hosting has been a family affair. "I'm sure [Shepard will] be helping," she shared. "Living with a writer is so great because you can just ask them, 'Is this funny?' He's a little bit of my secret weapon, but also one of my best friends is an amazing writer, so we brought her on the show. Monica Padman — she's a comedian and helps me shape all these ideas and then I run it by Dax and then we hopefully have a show."
But don't expect Shepard to be taking center stage during the show. In the same interview, Bell shared that she plans for the show to center around women's voices, with men taking a backseat. "This is a bit of a blank slate because no one has ever done it before, so we're gonna have some fun, but there's a lot of ladies involved," she told ET. "[We're] really celebrating and honoring every one of the actors, but we're letting the women take center stage and attempt to balance the conversation a little bit. This might be ladies' night." This will translate not only to Bell's hosting, but the format of the entire show. In response to the #MeToo and Time's Up movements, all 13 acting SAG Awards will be presented by female actors only for the first time in the show's history.
"I want to salute women who are coming forward to speak at a very difficult time about very difficult subjects at great risk to themselves," the show's executive producer, Kathy Connell, told The New York Times of her decision to give the role of presenting awards to women alone. Though E! reports that unlike the Golden Globes, where attendees wore black in solidarity with Time's Up and #MeToo, the SAG red carpet should be awash in color, that doesn't mean actors and activists won't be looking to make a statement at the awards ceremony.
"Weirdly, I think that's why I'm proud to not just be a part of [Time's Up] but to be hosting the awards at this particular moment, because I am a person that permanently believes in hope!" Bell told E! News of hosting the SAG awards in the midst of such profound turmoil and change in Hollywood, and across the nation. "Even in the darkest moments I've ever had — and I've had some dark ones — there's something in my bones that believes in hope."
So, whether or not Shepard will be there to support Bell as she makes history as the first person to host the SAG Awards, Bell and other women are the best people to speak about the issues facing women in workplaces across the country. Her husband and the other men at the ceremony will be sitting back and listening this time.