Netflix's New Crime Thriller Is Going To Seriously Stress You Out — In A Good Way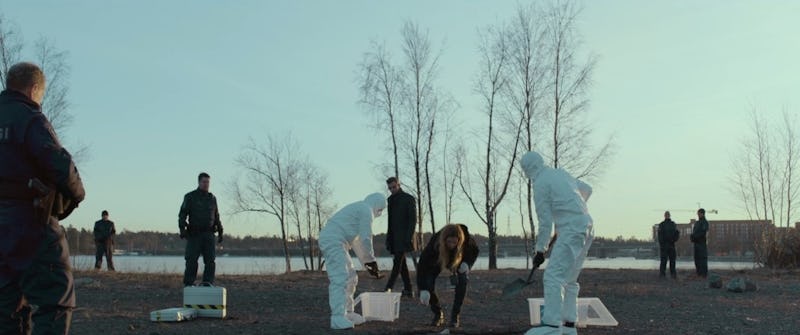 Netflix
It seems like Netflix is churning out a ton of new series each week, each more marathon-worthy than the last. Their latest offering Deadwind, premiering on August 23, follows the story of Sofia Karppi (Pihla Viitala), a recent widow juggling her homicide detective career alongside her duties as a mom. Sofia is paired with newcomer Sakari Nurmi (Lauri Tilkanen) on a case about murder victim Anna Bergdahl, who has connections to a Helsinki construction company. The premise sounds intriguing, but is Deadwind based on a true story? There's no indication that this murder case is real but it definitely seems like a plausible story for someone who investigates crimes.
According to Nordisk Film & TV Fond, the Finnish crime story made its original debut (under the title Karppi) in March 2018 on Yle network. Deadwind was renewed for Season 2, which is expected to drop in Spring 2019, and the show's production company Dionysos Films and distributor About Premium Content (APC) soon inked a deal with Netflix to take the series to a global level. Dionysos CEO and producer Riina Hyytiä spoke to the website about what it meant for Deadwind to premiere on the streaming service.
"We are extremely proud to launch Deadwind internationally on Netflix because we know that the Nordic noir fan base will be there and it's a unique opportunity for our series to reach a large international audience. Signing such a big deal is something you dream about, and at the same time it's just a conclusion for a long-lasting hard work on the series. We've been lucky to collaborate with the right persons, and I'm particularly thankful to APC for their excellent job."
Netflix dropped a suspenseful official trailer to build anticipation for Deadwind's debut. In the trailer, Sofia's daughter coldly tells her that she can't do anything right and questions why her father died instead of Sofia. Ouch. As Sofia starts to investigate the aforementioned murder, she is warned that her new partner recently transferred from the Financial Crimes Unit and is an "unconventional" person. She also realizes that her list of suspects is continuing to grow as she uncovers more facts.
Sofia digs into Anna's personal life with her husband, including a possible affair that could have contributed to her demise. Sofia gets into full-on detective mode and starts to sneak into buildings and confront potential suspects, which may put her in danger at some point. She's also inexplicably questioned about why she isn't a home with her children (annoying, right?) as she races to close this bizarre case. Of course, there is loads of intense dialogue and action to round out the clip. Thankfully, this story doesn't seem to be factual, so viewers can play detective on their own couches and enjoy all the dramatic twists.
There's no word on when (or if) Netflix will stream the upcoming season, but it would make sense to eventually make the entire series available. And, because Deadwind is purely fiction, there are a lot of potential future story lines for Sofia as she continues to move forward as a detective and a single parent.