Solving The Mystery Of Whether Dean Got Back With Danielle Or Kristina After 'Bachelor In Paradise'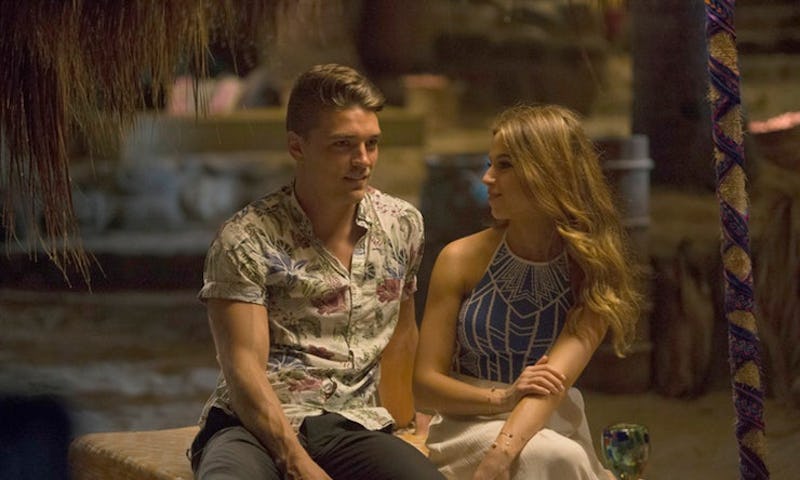 Paul Hebert/ABC
Let's be honest here, Dean has not had a banner season on Bachelor In Paradise. After leaving Rachel Lindsay's Bachelorette season as a true fan favorite, he showed up in Paradise for another chance to find love. He quickly got involved with Kristina (and then Danielle L.) and ended up being kind of a jerk to both of them. But, is Dean dating Kristina or Danielle L. after Bachelor In Paradise? It doesn't seem like either of them stuck around after his shenanigans, and who could blame them?
Dean and Kristina are definitely not an item after Bachelor In Paradise. Not only did Kristina straight up leave Mexico because of his shenanigans, but she was very vocal in person and on social media about how she felt about his quick change of attitude towards their relationship when Danielle L. showed up on the scene. She wasn't pleased to say the least. Can I blame her? Absolutely not. Dean was really inconsiderate of her feelings after they had seemingly cultivated a strong bond, even spending a week together when production on Bachelor In Paradise production briefly shut down. When filming resumed, Dean seemed to have a change of heart once he was given more options back in Paradise again. And, hey, the heart wants what it wants, but Dean didn't go about things with Kristina in the right way when he wanted to start dating Danielle L.
When it comes to Danielle L., things are a little less obvious. Kristina left the show before the finale, but Danielle L. hung in there and still maintained a relationship with Dean for a few episodes later. Last week, he even declined an offer for a one-on-one date with the Ferguson twins (mainly Emily) because he felt strongly enough about Danielle to see where they were headed. Danielle even told Emily that it was up to Dean whether he went on a date or not, and she refused to "forbid" him to go. To me, it seemed like a pretty big relationship test that he actually, surprisingly, ended up passing in the end. Small victories, right Dean? Ultimately, though, he and Danielle parted ways in the final episode. Still, photos of them hanging out in July, post-filming raise suspicions that they reunited post-show.
While Kristina has been vocal about her time with Dean in Paradise and their issues as a former couple, Danielle L. has stayed silent on social media about their coupling and potential relationship outside of the show. Neither of them have given any indication through their social media accounts that they are together, but there isn't any obvious hard feelings between the pair either from what I could tell. Dean did tell Glamour that he found love in Paradise. Of course, this could be referring to the love he felt for Kristina or Danielle that possibly didn't evolve into anything outside of the island, or he could be referring to a relationship with Danielle that he is cultivating in the real world. It is truly hard to tell until the finale airs.
If there is one thing that could possibly point to Dean absolutely not being in a relationship with Danielle L. outside of Bachelor In Paradise, it would be a photo he posted to Instagram about a week ago. The photo is a really cute one of him and Kristina, where he captioned it, "You were out of my league." While I applaud that he came to the realization that a lot of fans did, that doesn't seem to be a caption or photo that someone in a relationship with another woman would post. I don't think Danielle L. would be psyched to see her boyfriend lamenting the fact that he was simply not worthy of the woman he was dating when he met her.
My money is on the notion that Dean came out of this experience still single. I don't think his behavior while in Paradise was really going to afford him the opportunity to truly meet someone and begin a meaningful relationship. Maybe next time.